When USC's TV station halted production, students and faculty moved their shows to Zoom
Some students literally wept when they found out Trojan Vision was shutting down. Then they started flexing their creative muscles and figuring out how they could get back on the air.
From The Wendy Williams Show to Late Night with Jimmy Fallon, live, in-studio television shows across the nation came to a halt due to the COVID-19 pandemic.
The daily shows at USC's official television station, Trojan Vision, were no exception.
Just a few hours before production would come to a halt, it was a typical Friday afternoon in mid-March for Trojan Vision students who were busy producing two shows: the news/comedy series The Breakdown and the sports talk show The Water Cooler.
From the production booth, director Chris Cheshire is heard calling "30 seconds … cue host, host mic up."
But as the final credits finished rolling, students learned that they had just produced their last show.
"When students found out it was being shut down, there were tears," said Kathleen Dowdey, adjunct assistant professor at the USC School of Cinematic Arts. "Students were breaking down."
USC's television production pivots to Zoom
Dowdey teaches CPTR 409 — Practicum in Television Production, a course that works directly with Trojan Vision to produce television shows. The productions are shot live on two soundstages inside the Robert Zemeckis Center for Digital Arts, a fully digital filmmaking training center at the USC School of Cinematic Arts — the only one of its kind in the world at a university.
Dowdey's fellow Trojan Vision instructor and adjunct assistant professor, Brian Roberts, was there when the cancellation announcement came down.
"This can't be the end," Roberts said. "You can't roll color bars and put on a note on the television saying we couldn't finish."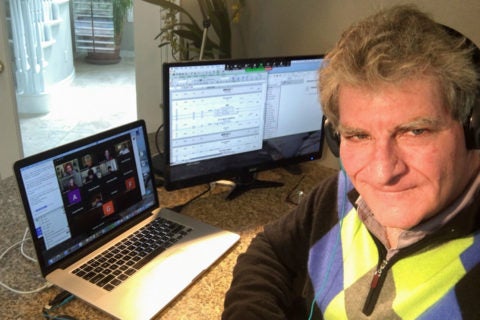 Roberts is known for his directing work on The Drew Carey Show, Everybody Loves Raymond and The Hughleys. He knows what it's like to produce shows during unprecedented circumstances — he was working on The Hughleys during the 9/11 attacks. Students, he said, are facing a similar situation.
"In the face of all of this," he said, "you still have to get a show on the air."
Roberts said he got on Zoom right away because he wasn't familiar with the online videoconferencing system. "I realized quickly that it looks just like a TV show," he said. He immediately called Cheshire.
Cheshire, a senior studying at the USC Annenberg School for Communication and Journalism and the USC School of Cinematic Arts, is known as a gifted director and technical whiz kid. He had an idea: the Open Broadcaster Software (OBS), free software for video recording and live streaming.
"People are afraid to try something that hasn't happened before," Cheshire said. "I'd used the OBS system before in gaming and thought it could work."
Trojan Vision students embrace their new reality
After conferring with Cheshire about OBS, Roberts put together a PowerPoint presentation on how to produce a live, in-studio show, minus one thing — the studio.
"I said, 'Throw away everything you know, and now I'm going to show you how it works,'" Roberts said. "Film and television is a solution-oriented business. If you don't get into that mindset, you can kiss a career in television goodbye."
Not only did students have to get up to speed with the new software but they also had to rebuild their in-studio shows from scratch.
"Shows like Jimmy Kimmel and Stephen Colbert have unlimited resources and budgets," Roberts said. "We had just us."
Students who had been assigned to technical in-studio positions, such as camera operators and audio technicians, were repurposed and reassigned to creative positions. They were tasked with making graphics, a station ID, a show open and even commercials — elements that had all been left behind at the physical studio.
"The students were excited. They said, 'Let us make a new show that's ours,'" Dowdey said. "In my mind, anything that makes students more creative is golden."
We all got thrown out of an airplane at 40,000 feet.

Brian Roberts
The Trojan Vision students — who used to meet on Fridays at the Zemeckis Center on Figueroa Street — now gathered online from remote locations around the country and the world, including New York City, Chicago, Tampa, Atlanta, Sacramento and even Beijing.
There were also unforeseen and uncontrollable obstacles, things like outdated computers and weak internet connections.
"We all got thrown out of an airplane at 40,000 feet," Roberts said. "It was crazy."
USC students also had to learn to execute a live television show in unprecedented ways: Zoom's chat feature became a virtual teleprompter, screen sharing was used for scripts and Zoom box screens served as live camera lenses.
To replicate The Breakdown's studio audience, Julianne Fox — a senior and the program's showrunner — and Roberts created virtual audience members, sending them a link to record their real-time reactions to the show. Fox said it was challenging but a worthwhile distraction.
"I knew in some way I wanted to make some small form of content," she said. "I enjoy it, and I'm just trying to find any joy I can right now."
Lauren Merola, a senior and showrunner for The Water Cooler, said that a university TV show should be comparable to any major network TV show.
"In the real world, TV is still happening; live TV is still being broadcast," she said. "And this is a way to really showcase how professional and realistic The Water Cooler is and how it could survive in a real television market."
Lessons learned have changed USC's television students — and Trojan Vision — forever
Within two weeks, the shows did go on.
"The resiliency of everyone to be able to bounce back from this was incredible," said senior Trojan Vision television host Jordan Hunter. "And not only to bounce back but to produce the show at such a high quality that it seems like you're still watching The Water Cooler from our on-campus studio."
In addition, Roberts said his students learned a valuable lesson in television production that they wouldn't have learned inside the studio before the pandemic.
The show goes on, no matter what.

Daniel Hailpern
"The lesson is how to rise above adversity and continue on doing your work," Roberts said. "They're going to say to their kids, 'Look what we did, we had all this stuff thrown at us when the world was a pretty scary place and we stood up, did our thing and carried on.'"
They may also have changed Trojan Vision forever.
"We are going to hold several meetings over the summer and figure out what worked, what didn't, what we can build on and what we can lose," Dowdey said. "Seeing them just break out and do something like this makes you think, 'Wait, I was really underestimating these students.' We can engage them so much more than we have been."
When production starts up in the fall, sophomore Daniel Hailpern will take over as a showrunner and put what he's learned this semester into action.
"The show goes on, no matter what," he said. "We chose to keep going because we love it. It's my absolute favorite thing I do at USC."
---
If you'd like to be a part of Trojan Vision in the fall, all schools are welcome to participate and there are no prerequisites. Email Trojan Vision for more information.