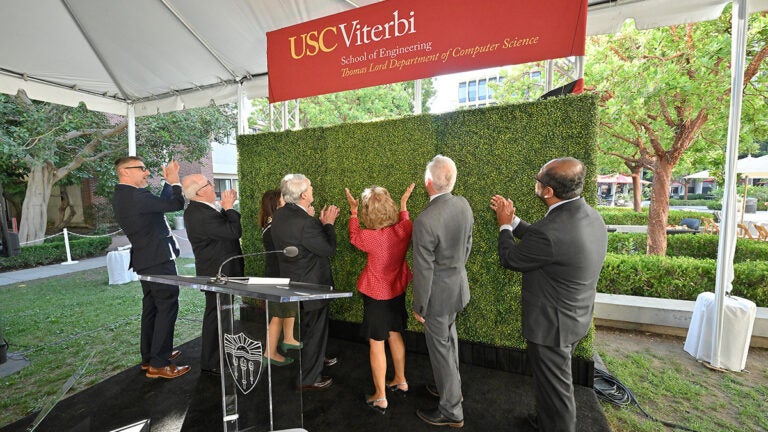 Celebrating the newly named Thomas Lord Department of Computer Science
The naming gift is part of the university's ambitious Frontiers of Computing initiative, the largest and most comprehensive academic initiative in USC history.
Almost 50 years since its inception in 1976, the USC Viterbi School of Engineering's computer science department celebrated the unveiling of its new name on Friday: the Thomas Lord Department of Computer Science. 
As the sounds of the USC Trojan Marching Band filled the air, more than 150 well-wishers gathered at USC Viterbi's Epstein Family Plaza to commemorate the Thomas Lord Foundation's transformative naming gift and a new endowed chair of advanced computing.  
The department will be housed within the newly announced School of Advanced Computing, a unit of the Viterbi School of Engineering. A new, LEED platinum-certified building for computer science at USC, the Dr. Allen and Charlotte Ginsburg Human-Centered Computation Hall, is scheduled to open in the spring.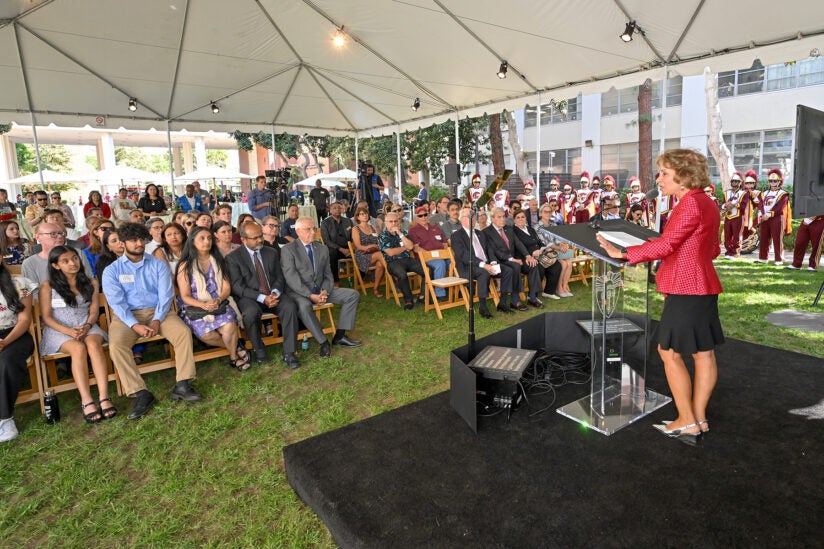 Addressing the audience of faculty, staff and students, USC President Carol L. Folt said the ceremony marked a "seminal moment" in the launch of USC's historic and largest university endeavor. The naming gift is part of Frontiers of Computing, a $1 billion-plus, multiyear initiative that further advances USC's leadership in computing research and education.  
Folt said the initiative aims to "create a digital backbone to integrate advanced computing into all of the university's schools, and into every student's life in a personalized way." Most importantly, said Folt, it will be "deeply connected with ethics and humanity." 
She thanked the Lord Foundation of California for its generosity and the two visionary leaders who made it possible: Thomas Lord and Donald M. Alstadt.  
"We are here, plain and simple, because of the generosity and the confidence of the Lord Foundation of California," said Folt. "They believed in USC's capacity to solve great challenges and, in 2019, gifted USC more than $260 million. With that remarkable gift began the path that we're formalizing today."   
Plans for the initiative include recruiting cross-discipline faculty in advanced computing; developing new programs in AI and data science for all USC students; creating a center for quantum information sciences; boosting innovation in Silicon Beach; and advancing Viterbi's "crown jewel" institutes, the Information Sciences Institute and the Institute for Creative Technologies.  
"Every school at USC will be a part of this effort," Folt said. "That's a big dream. But before we get there, we have to start today, with our computer science department."  
Engineering a better world for all humanity  
In his speech, USC Viterbi Dean Yannis C. Yortsos envisioned this gift's potential for USC.
"By establishing the Frontiers of Computing initiative, the Lord gift will help seed the continuous growth of the many inspiring new initiatives in the Thomas Lord Department of Computer Science and other exciting components in advanced computing," Yortsos said.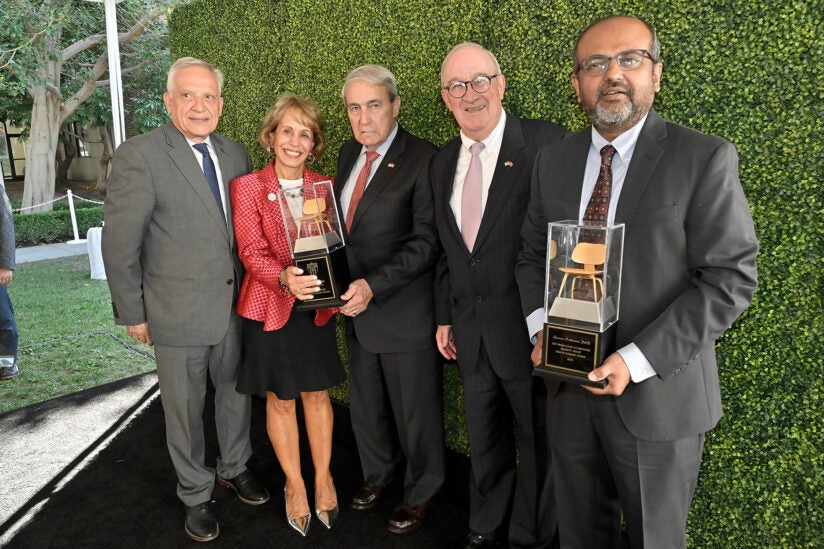 Yortsos said he believes that today's "extraordinary technological revolution," would have been "warmly embraced" by Lord, Alstadt and their colleagues.
Today, computer science at USC boasts a student population of more than 1,800 undergraduate students, 3,600 master's students, and 400 doctoral students taught by more than 90 faculty members. Since 2022, 21 new faculty members have been recruited.  
Pointing to a bright future, Yortsos said about 40% of USC's computer science undergraduate students are women, an astounding statistic, and rare among U.S. higher education institutions.
Yortsos paid tribute to trailblazing USC computer science professors past and present, including Seymour Ginsburg, legendary computer science and original co-founder of computer science at USC; Len Adleman, co-founder of RSA cryptography and DNA computing; George Bekey, leading roboticist and early advocate of technology ethics; Shang-Hua Teng, a two-time Gödel Prize winner for his work in theoretical computer science; and Maja Matarić, who pioneered socially assistive robotics or "robots that care."
An honor and a privilege 
The gift also creates a new endowed chair, the Donald M. Alstadt Chair of Advanced Computing, which was awarded to Gaurav Sukhatme, a professor of computer science and electrical and computer engineering, and USC Viterbi executive vice dean. 
Sukhatme, an Amazon Scholar and recipient of many national awards for his achievements in networked robots, thanked the Thomas Lord Foundation for their "extraordinary generosity," and Folt and Yortsos for their "steadfast support." 
Those of us studying computer science then believed that it would change the world. Boy, were we right.

Gaurav Sukhatme, USC Viterbi
Sukhatme, an expert in underwater robots, recalled joining USC as a graduate student in August 1991 to study AI and robotics. "Those of us studying computer science then believed that it would change the world. Boy, were we right," he said. "We just had no idea how much it would change the world." 
"I am thrilled that our newest school at USC is called the School of Advanced Computing," said Sukhatme, "signaling to the world our mission to ensure that the school provides a digital backbone for education and research across the university." 
A great American story
Folt invited special guests retired Marine Lt. Gen. Fred McCorkle and Paul "Mickey" Pohl, who served together as directors on the foundation's board, to the stage.  
"This is a great American story in so many ways," said Pohl, recounting the Lord Corp.'s humble beginnings.
In the early 1920s in Erie, Pa., patent lawyer Hugh Lord invented a way to bond rubber to metal. The company he founded, the Lord Manufacturing Co., became a national leader in mechanical noise and vibration control, solving many challenges facing the automotive and aviation industries.  
In 2019, the sale of the corporation yielded over $1 billion to support research institutions chosen by Thomas Lord, Hugh's son and successor, and his successor, Donald Alstadt. 
Pohl, a lawyer and decorated veteran, said Lord and Alstadt's "extraordinary philanthropic vision" was an example of "socially responsible capitalism at its best, with the added benefit of having the wisdom to pair with great American universities."  
I just can't wait to see what's going to happen next.

Paul "Mickey" Pohl, Thomas Lord Foundation
Pohl closed by thanking the Trojan community: "I thank you on behalf of all the past trustees with what you have accomplished here, and I just can't wait to see what's going to happen next." 
Also speaking at the celebration was Lavanya Sharma, a junior with majors in computer science and business administration and minors in cybersecurity, digital forensics, and technology law.
Sharma said she was thrilled to be at the forefront of such game-changing innovation.  
"This department fosters the development of students who are not only technically-minded but also conscious of the world they live in – in other words, being multifaceted and intersectional is encouraged because it makes us better engineers," Sharma said.  
Her final message to the audience: "Let's launch computing into the next frontier together, and take our first step today." 
At the close of the ceremony, Nenad Medvidovi?, chair of the Thomas Lord Department of Computer Science; Suzanne Nora Johnson, chair of the USC Board of Trustees; and McCorkle joined the speakers onstage to formally unveil the new name amid resounding applause.  
This story originally published on the USC Viterbi website.