Heartfelt tributes and joyous reunions highlight USC Title IX celebration
TITLE IX: On the 50th anniversary of the landmark legislation, women of Troy and allies look back — and ahead.
Legendary USC athletics administrator Barbara Hedges was clearly the star attraction at the "Title IX: 50 Years of Progress" kickoff event Thursday evening.
She received two standing ovations, had the student-athlete lounge officially named after her and graciously navigated a steady stream of current and former athletes, coaches and staff who wanted to have their photo taken with her.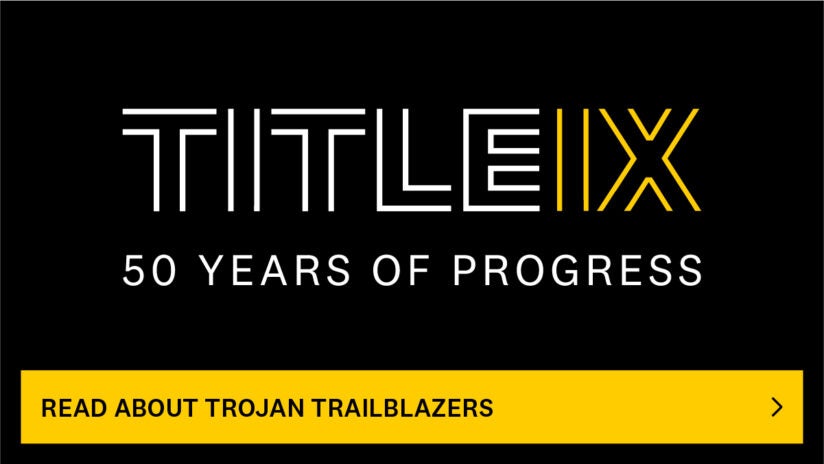 "Your passion, your competitive spirit, your vision, your determination, and your commitment to young women lives on in a big, big way," USC Director of Athletics Mike Bohn said to Hedges before a crowd of nearly 200 people at Heritage Hall.
The evening, presented by USC Athletics, included a screening of a new Title IX documentary featuring Hedges and others and a livestreamed Title IX panel discussion that preceded a sit-down dinner.
It was 50 years ago this week that Title IX legislation prohibiting sex-based discrimination in any school or other educational program receiving funding from the federal government was signed into law. Hedges was hired as coordinator of women's athletics at USC in 1973 and steadily developed women's athletics into a powerhouse during her 18 years at the university.
USC President Carol L. Folt introduced the evening's panel, noting that since the passage of Title IX, USC women have earned 36 team national championships and 91 NCAA individual championships — and that 149 have been Olympians.
"I just want to say to all the women of Troy, you know how to slay it," Folt said.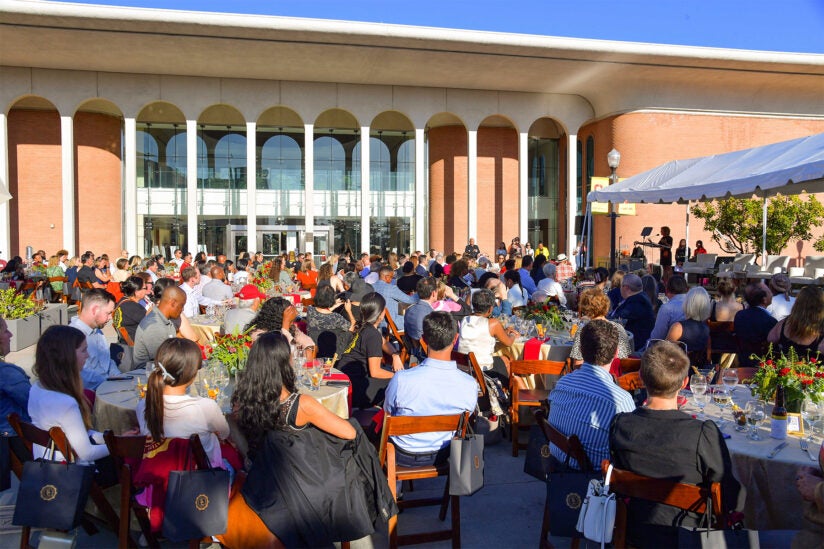 Folt pointed out that since the median age in America is 38, more than half of the people in the country have lived in a world where Title IX always existed.
"Yet most of them may not even understand what it was, how it got here, how precious that work was, and how important it is that we keep it going," she said.
"We still have work to do. I have no doubt that we're going to keep pushing, and we will continue to do the best that we can to be expanding the scope, the promise and the efficacy of Title IX."
Panel of luminaries highlights USC Title IX anniversary event
Hedges and Bohn were joined by Olympian Janet Evans, USC women's basketball head coach Lindsay Gottlieb and USC women's tennis All-American Eryn Cayetano for the Title IX panel moderated by USC Senior Associate Athletic Director Joyce Bell Limbrick.
"I've had a lot of time to think about Title IX today," said Evans, a four-time Olympic gold medalist and USC alumna. "It made me think about my privilege and the opportunity that I always had to swim. Because of people like Barbara, never in my journey did someone say to me, 'You can't do this because you're a woman.' But there were a lot of women before my generation who had that experience. So, I am forever grateful."
Gottlieb said that while she was born five years after Title IX passed, that legislation changed her life more than any other — mainly because she didn't have to think about it.
"It's important for me to be a link and also to educate the young people on how it wasn't always the way it is now," Gottlieb said. "What I need to be able to do is to keep pushing the progress forward and take the torch from people like Barbara."
Gottlieb, who is expecting her second child, said mentoring her athletes is as important to her as being a parent.
"Every single day, I hopefully get to show them through what we do on the basketball court and off, that there's no limitations for who they could be and what they can be," she said. "To me, that's the embodiment of Title IX: those opportunities and what they turn those opportunities into."
Bohn and other panelists spoke about the role men should be taking when it comes to achieving gender equality in college athletics and hiring more women in leadership positions.
"It takes everyone," he said. "There's a consistent, dedicated commitment to what we're trying to put together, whether it's making a difference associated with new facilities to admissions to fundraising to social media to promotion. It takes all of us to do it, and it is an intentional commitment."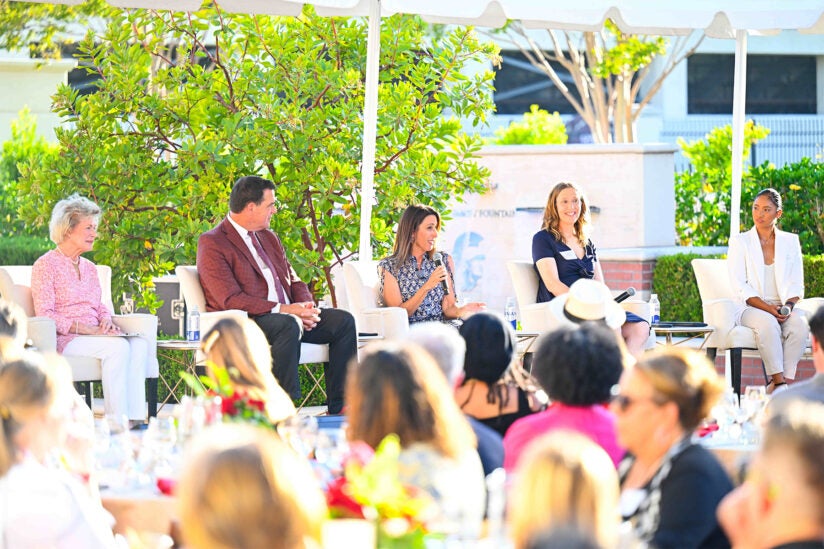 Hedges derided what she sees as a widespread assumption that women don't know enough about football to be athletic directors. She left USC in 1991 to become athletic director at the University of Washington and became the longest-serving female athletic director among NCAA Division I schools.
"You don't have to know about the spread offense," she said. "You need to love football, you need to know the sport just as you need to know all the other sports. And you need to understand the importance of football in the whole scheme of things."
Gottlieb also weighed in on the topic, saying, "The next step in women's sports is having it not just be a women's issue. People in positions of power need to not only look to help women but literally move over and make seats at the table. We're wasting 50% of talent if we're only hiring men."
Documentary at Title IX anniversary event brings back memories
Prior to the start of the outdoor panel and dinner, the Title IX: 50 Years of Progress documentary by USC alumni Jasmine Blevins and Gage Masterson was screened several times indoors. Hedges was seated in the front row for the final screening and was quickly surrounded afterward by former USC athletes for hugs, joyous reunions and selfies.
"It really gives me chills watching the video," said Tamryn Wilkins, who as Tammy Story played on the USC women's basketball team from 1988-92. "I hope that everyone who came after me knows just how special a place this is, how top-tier we are. I love being with my old teammates and seeing women who came before me and paved the way for me."
LeeAnne Sera, who played on two national championship basketball teams in the early 1980s, was also emotional. She traveled from Northern California for the event and was reunited with several of her teammates.
The documentary and the footage of our championships, it absolutely takes you back.

LeeAnne Sera, member of two
USC national championship basketball teams
"When I look back at what we were able to experience 30 years ago and how far women's sports have come, it brings tears to my eyes," Sera said. "The documentary and the footage of our championships, it absolutely takes you back. You can feel the tradition and that heartfelt connection. What Barbara really instilled in us is that we are human beings who can do anything. It still stays with me."
Barbara Hallquist DeGroot, the first female student at USC to receive an athletic scholarship, was featured in the film and enjoyed catching up with other athletes.
"It's just a flood of good feelings and memories," said DeGroot, who won the national collegiate tennis singles title in 1976 and 1977 and later turned pro. "Seeing Barbara Hedges here is just so special. She's the reason I'm here, she's the reason we're all here. She was the trailblazer, and all I had to do was step on the trail. She made it all make sense for me and so many other female scholar-athletes, and we're just indebted to her forever."
At one point during the evening, Hedges asked the athletes she had worked with in the '70s, '80s and early '90s to stand and take a bow.
"This program began with young women who were willing to work hard," she said. "They didn't have everything in the beginning, they didn't have everything for quite awhile. But they were willing to work hard, and they were willing to make their commitment to USC. I call them the legends of USC."