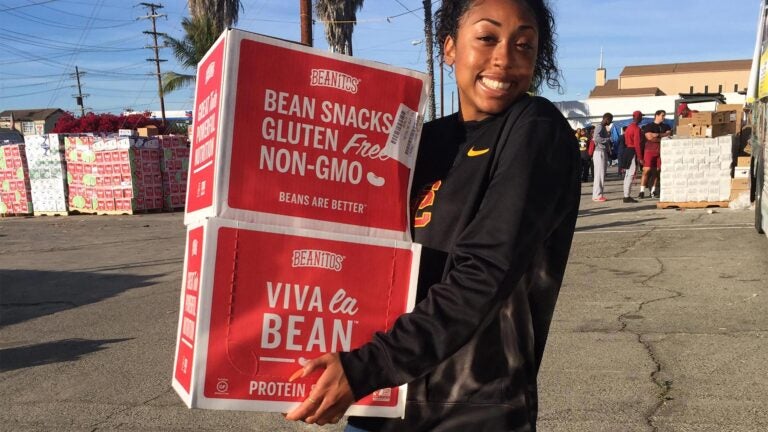 USC track team lends a hand to help free turkeys get to their Thanksgiving tables
Student-athlete joins in a longtime South Los Angeles tradition: distributing holiday groceries to the community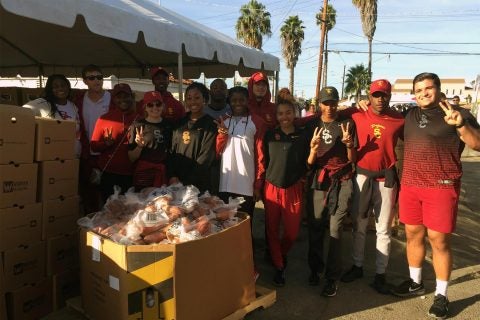 USC track and field team members were up bright and early Tuesday to help distribute Thanksgiving turkeys and groceries to the community.
The Trojans joined in the Jackson Limousine Turkey and Grocery Giveaway, a 35-year-old tradition begun by company founder E. J. Jackson. The student-athletes helped pack and distribute boxes with turkeys, stuffing, yams, asparagus and other traditional Thanksgiving items.
"Even though we're athletes at a top university, we know the community members' time is just as valuable as anybody else so it is very important for us to be out here today, helping out," said Mecca McGlaston, a sophomore student-athlete studying communication.
Among the thousands of people who received a grocery box was Berta Angel, who came to pick up her Thanksgiving dinner here for the second year in a row.
"I am very grateful for what they are doing," she said. "It helps us have an actual Thanksgiving."
McCall Hall, director of community outreach for USC Athletics, said the student-athletes are happy to help out right in USC's backyard.
"These are all folks that drive by our school, support our teams, support our student-athletes," she said. "It's really important that we show them we care about their welfare and that we make sure they have a happy holiday season."
This year's event distributed about 5,000 boxes of groceries.