USC trailblazer Tracy Poon Tambascia is no stranger to being a 'first'
TITLE IX: The USC Rossier professor — the first woman of color to lead the university's Academic Senate — mulls the impact of the groundbreaking legislation that prohibited sex discrimination in educational institutions that receive federal funding.
Editor's note: Title IX — the landmark legislation that prohibits sex discrimination in educational institutions that receive federal funding — was signed into law on June 23, 1972. In recognition of this anniversary, we'll be profiling Trojan Title IX trailblazers throughout the academic year.
As the first woman of color to hold the position of president of the USC Academic Senate, Tracy Poon Tambascia is no stranger when it comes to being a "first."
The courage to do difficult things is a skill that the USC Rossier School of Education professor inherited from her parents. They relocated from Hong Kong and immigrated to Southern California when Tambascia and her siblings were young. Her parents didn't yet speak English, and they hadn't lined up jobs prior to their arrival.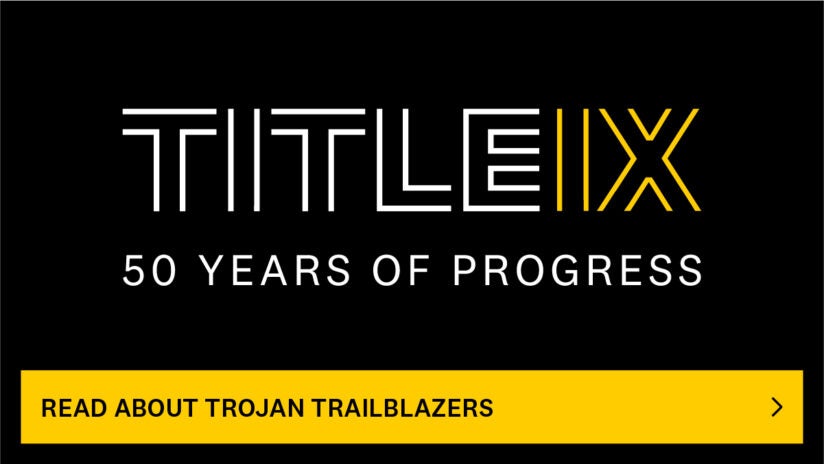 Straddling those two worlds — Hong Kong and the U.S. — "very much shaped my upbringing," Tambascia said.
She and her siblings would emulate their parents' bravery as the first in their family to go to college. Tambascia attended Occidental College, where she studied psychology. At the time, she did not know what it meant to be a first-generation college student, but realized "after the fact that there were things that I didn't understand."
But Tambascia did not let the unknown damper her pursuit of knowledge. She earned her master's degree in psychology from California State University, Los Angeles, and her EdD in educational leadership from USC Rossier, where she now teaches courses on topics such as student affairs, governance and finance in higher education, and international higher education policy.
USC Title IX trailblazer sees legislation's impact beyond athletics
Title IX is often remembered for how it transformed student athletics. But Tambascia recognizes there is much more to the landmark legislation and wishes there was a broader understanding of it.
[Title IX is] really about ensuring equitable access to education. And that, I absolutely celebrate.

Tracy Poon Tambascia, USC Rossier
"It's not just about the equal number of teams, women athletes or funding and scholarships," she said. "[Title IX] is very importantly about preventing assault and harassment, but it's really about ensuring equitable access to education. And that, I absolutely celebrate."
Tambascia believes she has greatly benefited from Title IX as she has carved a path in higher education with many achievements, from her 2014 Professor of Color Recognition Award from the USC Undergraduate Student Government to her 2020 Distinguished Faculty Service Award from the USC Academic Senate.
And while Tambascia says she is not one to have heroes, she has certainly had mentors — especially women in key positions who hired her and believed in her throughout her journey. She also draws inspiration from women who lead universities as presidents and provosts.
The strength these leaders have is particularly encouraging, she notes, "because it's not easy to be a leader in higher education as a woman" — something she knows firsthand as president of the USC Academic Senate from 2021-22.
Staying true to herself is key to USC Title IX trailblazer
During her term, Tambascia further honed her leadership skills, all the while staying true to her own method of leading, one that prioritizes listening and observing, as well as bringing in the voices of others. It is an approach that has worked for Tambascia throughout her career, but which she says has been questioned at times — especially by men. She recalls having been told to be more assertive or to push harder — attributes often identified as masculine and believed by some to be the correct way to lead. Tambascia says she is showing people around her that there are indeed other ways to lead effectively.
Reflecting on her year at the helm of the USC Academic Senate, Tambascia cites the challenges of leading during a time when many were focused on COVID-19 concerns and gave less attention to challenges looming further ahead. As a result, one of the projects Tambascia focused on, the Faculty Fellows Program, will be launched this year under the support of a new president of the USC Academic Senate. The program includes two initiatives, one which will look at junior and mid-level faculty, their generational differences, expectations and needs, and the other to help prepare faculty to take on leadership roles, with a curriculum developed by their peers to help them understand university finance, compliance, administrative structures and policy.
When thinking about her purpose and why she committed to a career in higher education, Tambascia points to her experience as a first-generation college student. Supporting student success is at the heart of what she does, especially those who might feel marginalized or who have had limited access to the knowledge capital necessary to succeed in college — those students who are trailblazers in their own right.
"I think we're here to serve and support students' success," she said. "That's our job regardless of where we work, what division or what department."