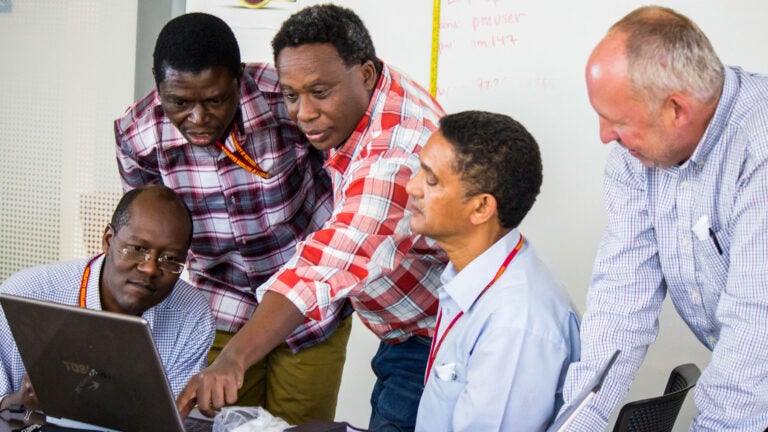 USC training launches a new era of air pollution health research in eastern Africa
Lead investigators from Ethiopia, Kenya, Rwanda and Uganda collaborate with USC and Addis Ababa University to establish a Global Environmental and Occupational Health Hub
Working to save lives through prevention and policy, eastern African researchers trained with expert environmental health scientists at USC to lay the groundwork for air pollution and health research in their countries.
Lead investigators from Ethiopia, Kenya, Rwanda and Uganda are collaborating with USC and Ethiopia's Addis Ababa University to establish the Eastern Africa Global Environmental and Occupational Health Hub — one of only seven in the world. Housed in Ethiopia, it is a research and training collaboration funded by a five-year $3 million National Institutes of Health-Fogarty grant awarded last year.
Data proving the adverse health effects of smog-choked urban centers and indoor cook stoves, for example, are vital to prove the urgency — and necessity — of government action, according to USC principal investigators Kiros Berhane, professor and director of graduate programs in biostatistics and epidemiology, and Jonathan Samet, director of the USC Institute for Global Health and holder of the Flora L. Thornton chair in the Department of Preventive Medicine. Both teach at the Keck School of Medicine of USC.
In addition to the health effects of air pollution, the hub focuses on occupational health and safety as well as climate change and health.
"These three environmental related issues are a big concern in Ethiopia as well as all parts of our countries in Uganda, Rwanda and Kenya," said Abera Kumie, associate professor and head of environmental and occupational sciences at Addis Ababa University and principal investigator of the overall hub. "Climate is really affecting every country and heat stress is one component — especially in indoor workplaces like greenhouses."
Health assessment techniques
The training curriculum at USC covered all aspects of the GEOHealth project, from air pollution monitoring to health assessment techniques. It focused especially on the health impacts on children, who are the most vulnerable to the impact of air pollution.
The African investigators presented findings from their countries' situational analysis and needs assessment reports, which identified critical gaps for research and policy. USC faculty discussed the evolution of air quality policies in the United States and shared insights from the USC Children's Health Study, which will be adapted and carried out in eastern Africa.
For Augustine Afullo, professor of environmental health at Kenya's University of Kabianga and the country's lead GEOHealth investigator, the project brings his career full-circle. As a health researcher, he has coincidentally studied each of the earth's classical elements and how they impact health — water pollution, solid waste and soil pollution — and now, air pollution.
Kenyans know the realities of climate change, he said — and respiratory health is a special concern in the rapidly urbanizing country.
The capital, Nairobi, hosts nearly 10 percent of Kenya's population of more than 47 million. Following a 2011 act passed by Parliament to support governance in urban areas, people have been moving to rapidly developing city centers.
"Whereas respiratory problems have, until now, only been in Nairobi, we are at a level now where there will be 47 Nairobis in Kenya," Afullo said.
Optimism reigns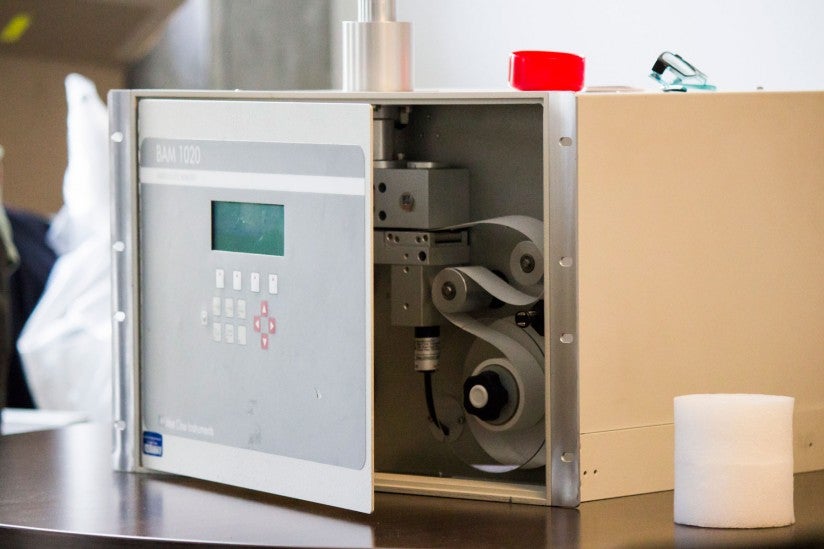 The situation is similar in all four of the hub's eastern African countries.
Despite the work ahead, the researchers remain optimistic.
"With evidence and a research-based approach to policy change, we are likely to influence policy because our partners are very key and very keen on this project," Afullo said.
In addition to schools and hospitals, the GEOHealth hub strategically engages government ministries in the research so, with understanding of the process, they may act as change agents in their countries' policies.
Next, the researchers will install air monitors in schools to measure air pollution and use special instruments called spirometers to measure the lung function of children, starting with Ethiopia and then followed by Uganda, Kenya and Rwanda in subsequent years. They will also partner with hospitals to compare daily mortality data with air pollution levels to better understand the health impacts of air pollution.
Partners from the South Coast Air Quality Management District trained the team to use particulate monitoring stations, known as Beta Attenuation Monitors, or BAMs, which will be installed to monitor air quality in each of the capital cities. The AQMD also instructed the investigators about processes for translating findings into policy.
Expanding research
The GEOHealth Hub brings active research to a previously dormant field in eastern Africa.
"It presents the opportunity to ask us researchers and teachers to expand our research profile," Afullo said, explaining that he believes he will be a better teacher from this experience. "It's easier to teach when there are live examples to cite; my students will see an opportunity to engage directly in this live research."
In addition, the hub reframes issues that hadn't been connected to health previously. "In Kenya we've had a challenge of tending to over-own some sectors," Afullo said. "Like public health, somehow, has been interpreted to mean specific diseases like HIV/AIDS and malaria."
This left some other problems neglected entirely, especially environmental health.
"Somehow, we minimized, we reduced the scope of public health and wanted to look at it like an extension of curative medicine," Afullo said.
But the Eastern Africa GEOHealth Hub presents a game-changing opportunity for scientists to appreciate the value of the interaction between environment — in this case, air pollution and health.
The Eastern Africa GEOHealth Hub is supported by the U.S. National Institutes of Health's Fogarty International Center, the National Institute of Environmental Health Sciences, the Centers for Disease Control and Prevention, and Canada's International Development Research Centre.