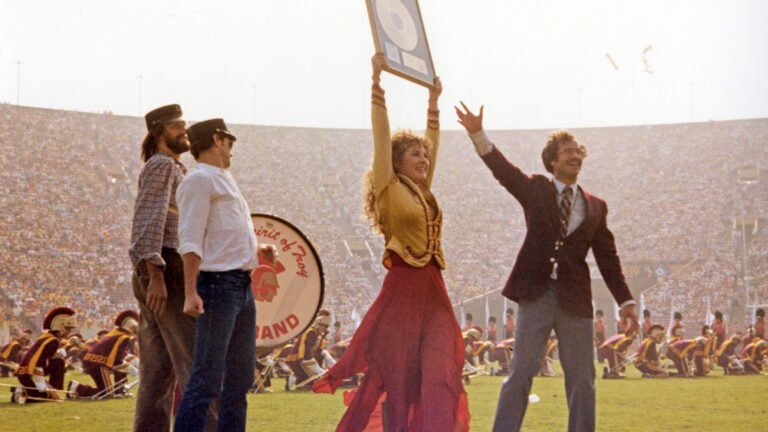 Relive Legendary Moments in Trojan Marching Band History
Take a trip back in time with "Hollywood's Band," one of the most recognizable musical forces in college athletics.
Long before you see the members of the USC Trojan Marching Band, you can usually hear them. Their sound might be a trumpeting fanfare or driving drumbeat, the familiar strains of "Conquest" or the steady, rhythmic march of hundreds of spats-clad feet. (And, of course, Fight On!)
The band's history is marked by confident strides and flashes of brass. The Spirit of Troy may have begun shortly after the University of Southern California was founded in 1880, but today, it remains one of the lasting icons of collegiate sports.
Growing from a small group of music students to a corps hundreds strong, the Trojan Marching Band has taken its signature sound from college football championships to the Super Bowl, from the World Series to the World Cup. The group has appeared at the Rose Bowl 34 times — more than any other collegiate band — as well as other bowl games from the Orange to the Fiesta. It also takes its show on the road as a goodwill ambassador for the university. The band performed in Normandy, France, for the 50th anniversary of D-Day, as well as at historic sites such as the Great Wall of China and the Roman Colosseum.
Since Arthur C. Bartner became band director in 1970, the band has tripled in size and put out several albums. It features more than 300 students with diverse majors, making it the largest spirit group at the university. And it's not alone: The band performs together with the USC Silks (tall flags) and the famous Song Girls.
Now as Bartner prepares for his 50th football season, relive a few of The Spirit of Troy's history-making moments in our interactive timeline.
---
[iframe src='https://cdn.knightlab.com/libs/timeline3/latest/embed/index.html?source=1VQ0zjQ1OcBSX0kYFW90retloxMNUQ59TJM1YAyZ-ZXE&font=Default&lang=en&initial_zoom=2&height=&width=800;height=600′ width='800′ height='600′ frameborder='0′>/iframe]
---
The Trojan Marching Band will hold a gala and concert on May 2, 2020, to recognize Bartner's 50 years as the band's director. Visit the USC Trojan Marching Band's Golden Legacy page to learn more about the 50th anniversary celebration.