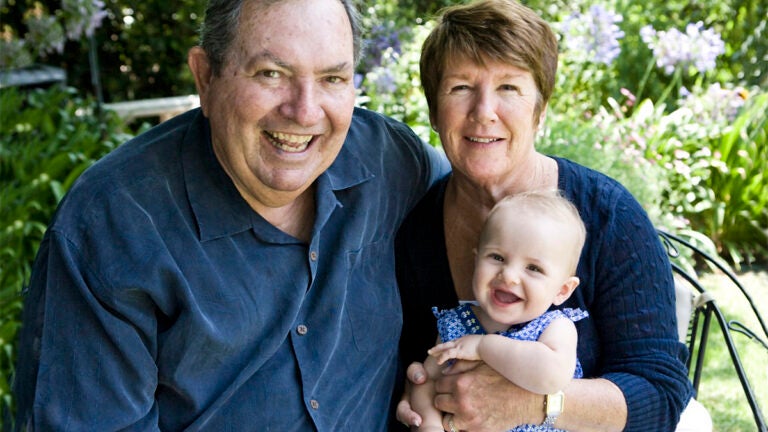 USC-UCLA football: A love story?
A Trojan Family began with the storied crosstown rivalry
When John Stephens '63, JD, '67 picked up Sharon Lee Case '65 for their first date, he wore a sports coat and a tie, and brought her a corsage. She wore a sweater set with pearls, and skirt — below the knee — over nylons.
Then the students walked from West Adams to the Los Angeles Memorial Coliseum, surrounded by thousands of cheering fans to see USC play UCLA. It was Nov. 20, 1965 — the 35th time the two football teams had met on the field since the storied rivalry began in 1929.
Today, traditions have changed when it comes to watching football. Fans wear T-shirts instead of sports coats and opt for face paint over pearls. Students travel to the stadium in packs. And taking a "date" to a game? It's practically unheard of.
But for one couple with a very LA story, there's still a little '60s nostalgia and sweetness to the USC-UCLA game. It's a day that remains frozen in time.
Not-great first date
Five decades ago, John and Sharon watched the Trojans and Bruins go at each other in the Coliseum, only to see No. 6-ranked USC lose to the "Gutty Little Bruins" 20-16 thanks to UCLA's recovered onside kick in the final minutes of the game. John, a night student at the USC Gould School of Law, walked Sharon, a student teacher at the John Tracy Clinic, back home. He'd hoped to continue their date at a friend's "victory party," but that was cancelled, and he didn't have enough money to take her out to dinner. They said goodnight.
Despite that inauspicious beginning, they went out again — and again and again. They married only six months after the game.
Fifty years later, USC Trojans Football remains a central part of their lives. The Stephenses have rarely missed a game, often traveling across the country during football season to see the team.
"There's something very special about the Trojan Family," said Sharon, whose mother and siblings are also alums. "Students today have the same enthusiasm and appreciation of the school that we did."
Five decades of football
The couple's daughter, Jennifer Acree '92, and her husband, Alan Acree '87, are both USC grads, and they have their fingers crossed that their granddaughter Addison—age 7—will matriculate with the Class of 2031.
As college students, the Stephenses walked the 2 miles from the dorm that housed them both (today called the Regal Trojan Apartments) to the Coliseum. This Saturday, the Pacific Palisades, Calif., residents will drive. As members of Athletics support groups The Committee and Cardinal & Gold, they'll park just outside a gate.
The Stephenses plan to host a huge tailgate party after the game to celebrate their 50th wedding anniversary.
No matter who wins, they'll still be together where their own Trojan Family all began.