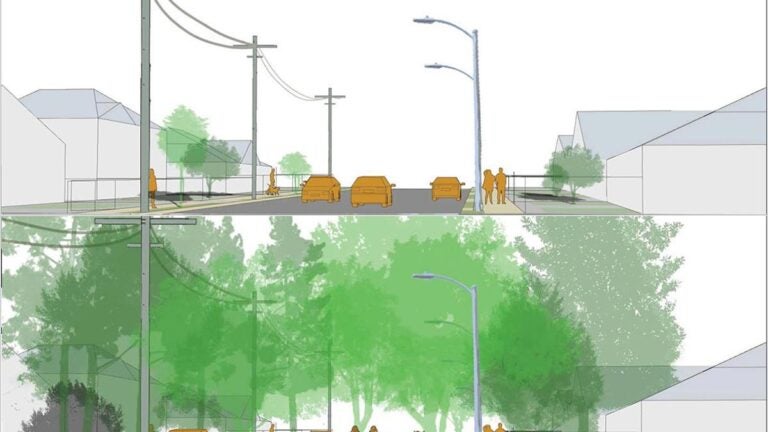 USC experts say tree planting could double shade across L.A.'s Eastside
University scientists, working with the city of Los Angeles, have developed a plan to grow an urban forest in communities vulnerable to heat waves and air pollution.
A new blueprint by USC researchers identifies four places best suited to plant shade trees across Los Angeles' Eastside to bring cooling relief to thousands of people at risk for heat waves and air pollution in a warming global climate.
In some scenarios, the tree canopy could be doubled across much of El Sereno, Ramona Gardens and parts of Lincoln Heights near USC's Health Sciences Campus, the researchers report. Today, the area is one of the most tree-poor urban landscapes in the city.
Better still, the scientific tools that the USC researchers used have wider application to guide tree-planting efforts in other communities across L.A.
The USC Urban Trees Initiative provides a science-based approach to help advance L.A. Mayor Eric Garcetti's Green New Deal, which calls for increasing forest canopy specifically in low-income heat zones by 50% by 2028.
"Planting a thriving urban forest requires diligent planning and input from multiple perspectives," said Professor John P. Wilson, principal investigator for the project and founding director of the Spatial Sciences Institute at the USC Dornsife College of Letters, Arts and Sciences. "We have taken a deliberative approach based on robust data and community input to ensure that residents enjoy the many benefits of a rich canopy of trees."
President Carol L. Folt helped launch the urban trees project as one of many recent sustainability solutions spearheaded by USC. The USC Dornsife Public Exchange leads the urban trees initiative in collaboration with experts and students from the SSI, the Center for the Study of Urban Critical Zones and the Landscape Architecture + Urbanism program, as well as the city's Department of Public Works, community leaders and nonprofit organizations.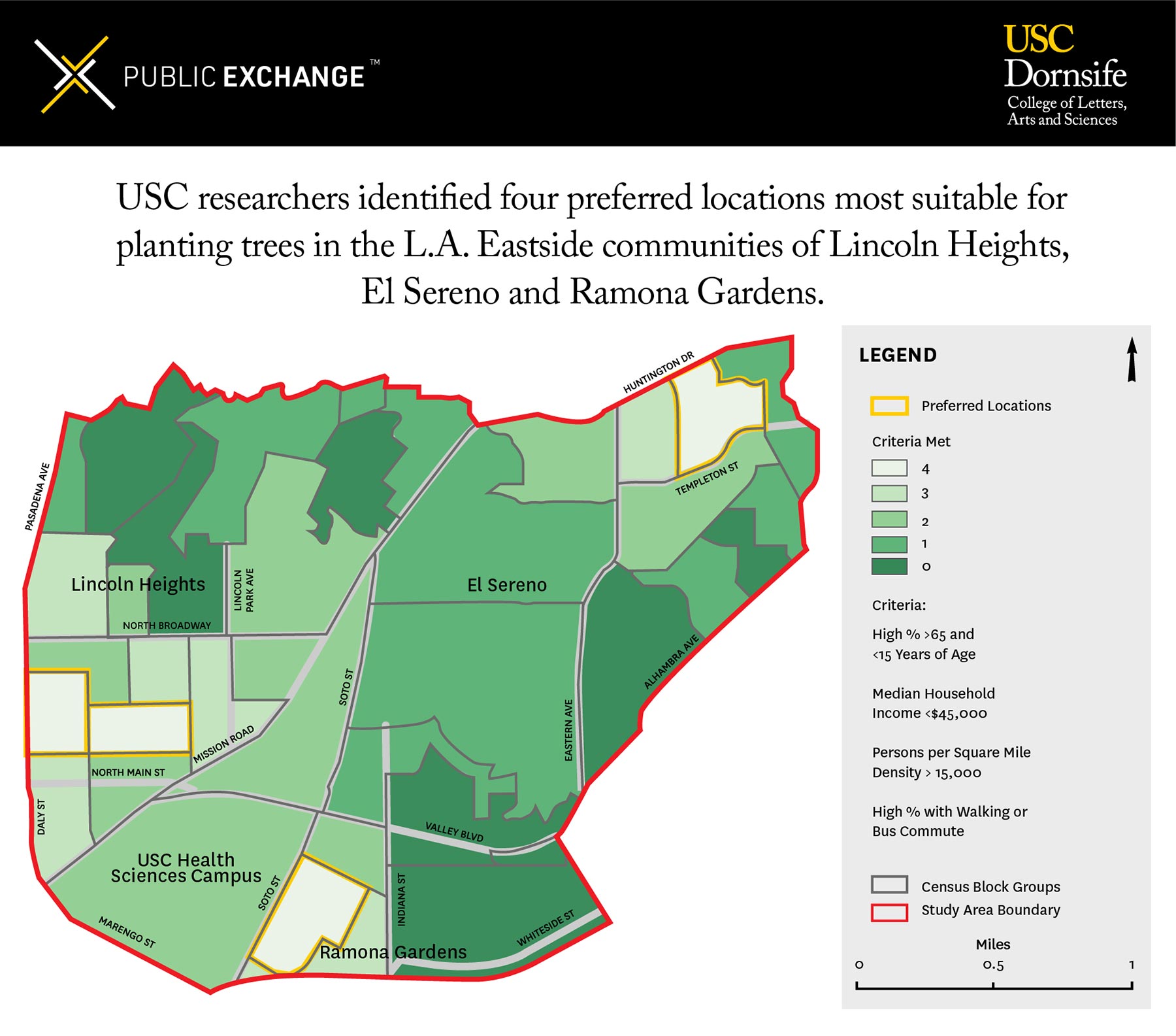 For eight months, the USC researchers focused on a five-square-mile study zone on the Eastside. They deployed computer models, air sensors and other tools to help determine the locations where trees would have the biggest impact on air pollution, shade and heat islands. The research team developed maps and collected census data and aerial images. Layering those datasets and images, they identified suitable land for trees based on public access, existing landscaping and rights of way.
Some promising areas to host new trees include:
Hazard Recreation Center.
Ramona Gardens, a public housing community.
Select small and large residential streets.
Murchison and Hillside Elementary Schools, among others.
For example, at Ramona Gardens near Soto Street and Interstate 10, 183 trees could be added, a 66% increase. Renderings show how the public housing community's vast, open lawns could be transformed into verdant forests of big trees. Greening Ramona Gardens has been a focus for the nonprofit North East Trees organization and others for several years. North East Trees is one of the many local nonprofit groups, city council representatives and business leaders who participated in the visioning meetings for this initiative.
Hazard Park, a 24-acre site near Soto and Norfolk streets, has about 200 trees and enough open space to accommodate around 100 more, including tree species that help reduce air pollution. The proportion of per capita park space in the study area is one-third of the citywide average, and the parks in these neighborhoods have an average of about six trees per acre — half the average number of trees at other parks citywide, the study found.
In addition, some of the Eastside's residential streets have excellent potential for large shade trees. The researchers found that nearly one-third of the 1,157 streets in the study zone have no trees to shade hot paved roads. One two-block street had just a single tree, whereas the scientists say it could support 34.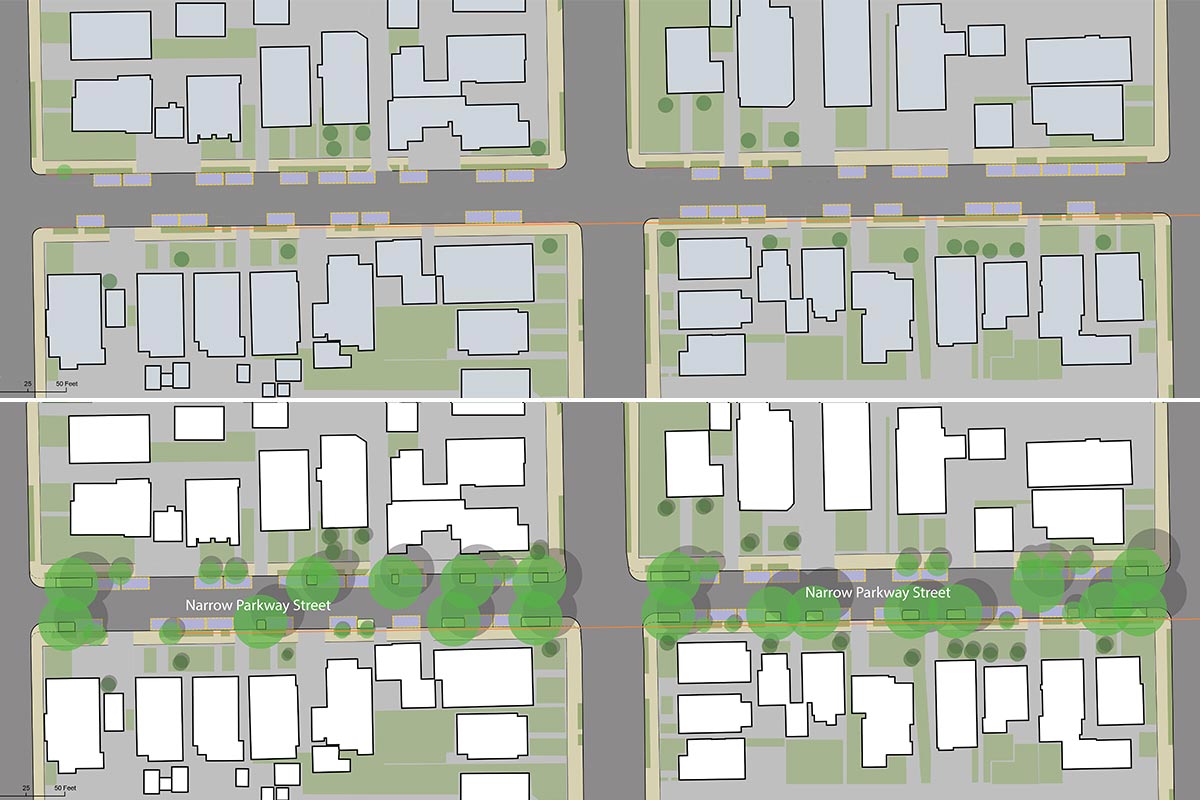 "This research gives us a tangible way to use science to create a more equitable urban forest," said Rachel Malarich, city forest officer for L.A. "It's this kind of collaboration between the city and a strong community partner like USC that's going to allow us to achieve Mayor Garcetti's Green New Deal goal of increasing tree canopy in underserved communities by 50% by 2028."
Before the city begins planting trees, more study will be needed to determine precise locations, configurations and types of trees. Meanwhile, city officials are seeking funds for tree planting.
Among other findings, the researchers report that the Eastside study zone has more people than trees: 57,000 to 38,000. And private property proved less promising for planting new trees than expected because yards and gardens had been paved.
"Trees comprise 'green infrastructure' that helps cool cities, conserve water, benefit wildlife and create parks, open space and bikeways that make cities more livable," said Esther Margulies, a professor at the USC School of Architecture and one of the experts who contributed to the study. "People like living in cities, so we need to build cities better in response to climate change."