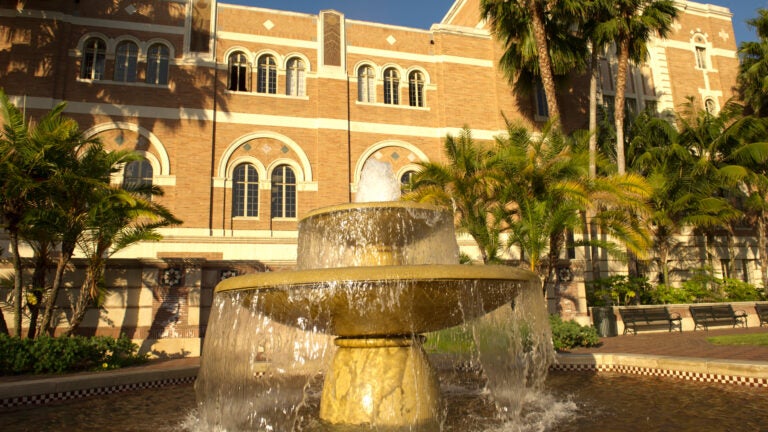 USC to launch values poll aimed at changing university culture
The USC Cultural Journey Values Poll will ask all faculty, staff and students to contribute ideas and help change how the university functions.
When the USC Cultural Journey Values Poll launches on Oct. 14, it will mark the first time that all of the university's faculty, staff and students have been asked to contribute ideas to a larger process aiming to bring sustainable change to how USC functions.
Most people think about crowdsourcing — or the concept of collecting contributions from many individuals — as something akin to the reviews found on Amazon.com. For USC, the crowdsourcing concept will take shape through a four-question poll that will take about 15 minutes to finish. The goal is to help people identify personal values, current USC organizational values and desired USC values. The collective results will form a starting point to enable meaningful conversations about USC culture over many months.
For faculty, staff and students, it's a chance to join the conversation about how USC can improve by answering four questions:
Which 10 values most reflect who you are?
Which 10 values most reflect…

Your experience of your immediate environment (school or unit)?
Your experience of USC as a whole?

Which 10 values do you believe are essential for USC to achieve its highest potential?
"We are focused on understanding our values, and we need you to share your voice," said USC President Carol L. Folt in a letter sent to faculty, staff and students. "Your insights on our current culture and desired culture are an essential part of driving toward a bold vision for the future of USC."
USC Values Poll: What comes next
Once the poll is complete, the results will be shared with the USC community in early spring, along with in-person engagement opportunities so that faculty, staff and students can discuss the poll and work toward a shared view of the future.
The Values Poll results are a starting point for conversation about USC's culture, not a diagnosis of everything right or wrong with the university. By starting with an assessment of current and desired values, the community can work together to shape USC's values and build an organization designed to help everyone achieve them.
We are focused on understanding our values, and we need you to share your voice.

Carol L. Folt
Participants should feel comfortable that their honest answers about university culture will remain confidential. All results will be reported for large groups of people and will not contain names or other information that identifies participants. The planned engagement sessions will be safe places for frank discussion, led by trained facilitators from inside and outside the university.
For Working Group member Atia Sattar, an assistant professor of writing at the USC Dornsife College of Letters, Arts and Sciences, the goal is to facilitate a conversation about culture change from the ground up.
"It's not about providing a set of scripted talking points," she said, "but rather listening to our diverse communities and helping them understand what we're trying to do and that we care. To create a lasting, beneficial change in our culture, we need to rebuild trust and create space for people to share in their own authentic voice, even if it means listening to things that are difficult to hear; only then can we move forward together."
Using Keck Medicine of USC as a model for culture change success
In developing this cultural change journey, USC has drawn on the experience of its faculty, staff and students, of outside experts and of those involved in the culture change efforts that have been underway at Keck Medicine of USC since 2013. A key insight drawn from the Keck Medicine of USC culture change effort is the importance of improving the flow of communication from employees on the front lines all the way to the top.
At the medical enterprise and the university as a whole, there is no shortage of individuals who are deeply committed to the organization's mission. Tapping into that commitment and motivating people to step up and engage in the culture change process will be critical to the larger effort's success.
That will take commitment at all levels. And that means that everyone needs to feel like they can speak up and be heard. Participating in the poll is the first step.
"Culture change is a journey," Folt said. "It is something that we develop together over time through honest, open conversation and the actions each of us take every day."