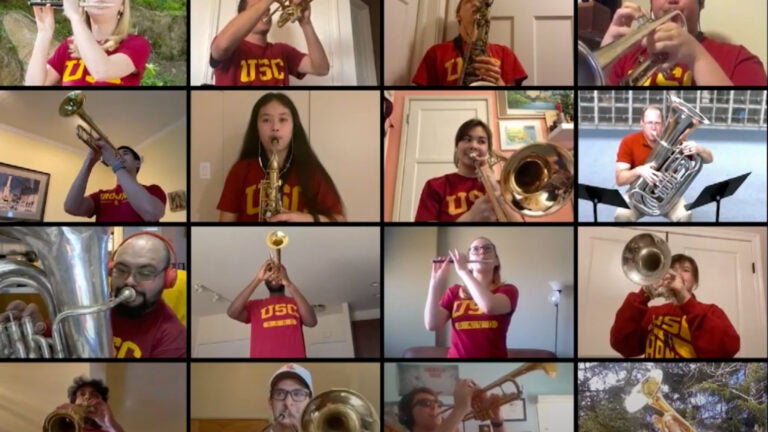 More than 19,000 graduates recognized at USC's virtual conferring of degrees
Amid unprecedented circumstances, university leaders, students, the band and even a familiar comedic face gathered virtually to send off the Class of 2020.
Though she expected to be giving her speech directly to her fellow graduates rather than online, valedictorian Isabella Hauptman refused to let the last two months of her senior year define her entire USC experience.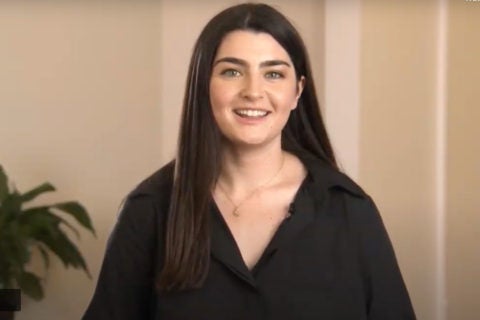 "The decision to attend USC turned out to be the best decision I've made in my life thus far," she said.
Hauptman's address was a highlight of Friday's virtual conferring of degrees, the focus of a daylong celebration of USC's Class of 2020. The online event was a substitute until the class's traditional, in-person commencement can be held at a date still to be announced.
As a graduate of the USC Dornsife College of Letters, Arts and Sciences, Hauptman spoke about her lifelong dream of becoming an epidemiologist — and how USC helped make that dream possible by pairing her with top instructors, classmates and organizations throughout the university that all share her passion.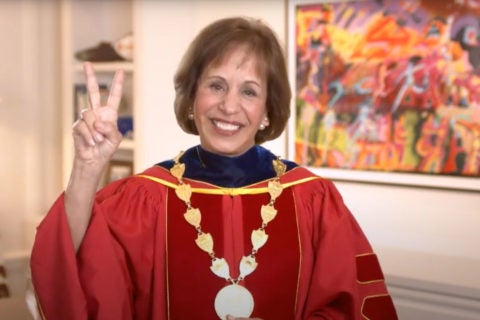 "I've taken classes with professors who are the experts in the field, alongside students who are equally as passionate about their studies," she said.
"I took advantage of the amazing opportunities to get involved with impactful research, both on and off campus, and become involved with organizations such as Camp Kesem that make causative differences in our surrounding communities."
President Folt highlights USC student resilience during virtual conferring
More than 35,000 people watched the live event, which was broadcast in three languages. Of the 19,832 degrees conferred, nearly 6,000 were undergraduate degrees and more than 10,000 were master's degrees. This event also held a special place for USC President Carol L. Folt, as it was her first at the university.

"Much of what I've come to love about our university, about the Trojan spirit and the Trojan Family, comes from my experiences with you, especially in these recent difficult times," she said. "I've watched in awe as you've faced disappointment and hardship and kept going."
Folt recognized the Class of 2020's positive outlook, sense of humanity and charitable spirit.
"You're a remarkable group of individuals with an extraordinary education, and you're living in a remarkable time when extraordinary things are both needed and possible," she said.
Friday's event also featured performances by students from the USC Thornton School of Music as well as the Trojan Marching Band. In addition to Folt and Hauptman, deans from each college sent personal congratulations and words of wisdom to the graduates, before Provost Charles F. Zukoski made the formal recommendation of candidates for degrees.
"You've shown limitless potential, and you are prepared and eager to make a difference in the world," he said.
Folt then went to speak but was interrupted by a familiar USC alumnus. Comedian Will Ferrell, a 1990 graduate himself, surprised viewers with his well-wishes to the new graduates.
"I know it's been a challenging semester, but you'll have stories for the rest of your lives," he said.
Class of 2020 accepts challenges, embraces future
Perhaps unavoidably, each speaker mentioned the challenges of this last semester and pointed out the resilience of the Class of 2020. Hauptman addressed the unprecedented nature of her and her classmates' experience and graduation — but also reminded everyone that these uncertain times appear a little less so because of what they've accomplished.
"I know you might be scared of what lies ahead," she said. "This indeed is a difficult time to graduate and offer ourselves to the world, but I firmly believe that our class will be at the forefront of change and innovation in the years to come."
The ceremony ended on a familiar note: the Spirit of Troy playing "Conquest." It's usually a battle cry but — at least on Friday — it was a sign that some things are as they've always been.
USC's virtual conferring of degrees, along with individual schools' online celebrations and messages from family, friends and faculty, can be viewed on demand on the Class of 2020 celebration website. The conferring of degrees will also be rebroadcast at 6 p.m. PDT Friday.