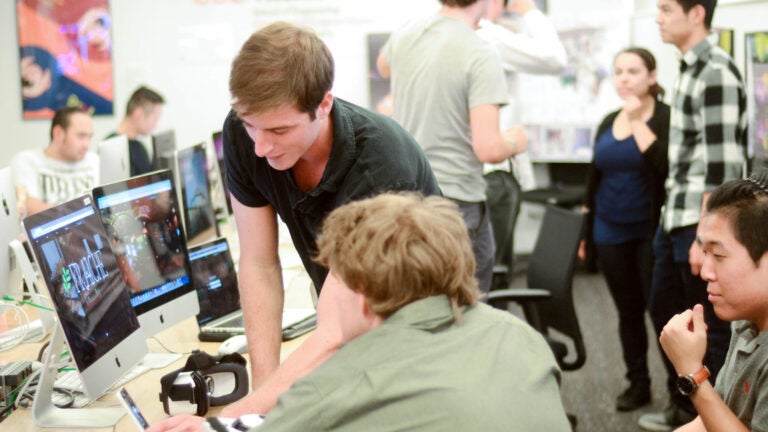 USC Viterbi celebrates 10th anniversary of computer science games program
Game designers mark a decade of innovation, creativity and stellar storytelling
The USC Viterbi School of Engineering's GamePipe Laboratory celebrated a decade of innovation and success in game design this month. The last 10 years have seen more than 1,500 students graduate from what has become one of the top programs in the country.
"We understand the importance of strong storytelling in games," USC Viterbi Dean Yannis C. Yortsos said at a June 15 celebration where he reflected on the spirit of collaboration that has emerged over the last 10 years among different schools and departments, notably between the GamePipe Lab — part of USC Viterbi's Department of Computer Science — and the Interactive Media & Games Division within the USC School of Cinematic Arts.
"This department hopes to continue and grow its relationship with cinema going forward," Yortsos added.
Top teams
Founding director Mike Zyda, who 10 years ago gave up a tenured position at the Naval Postgraduate School to start a new gaming program at USC, had plenty to celebrate. Launching a game design program with sparse resources in the entertainment capital of the world could have seemed daunting for a professor who should have rested on his academic laurels.
Zyda, however, was ready for the challenge, fully embracing what was then described to him as a "temp position." He had previously worked as a development director on major titles such as America's Army Game, the first large-scale use of game technology by the U.S. government as a platform for strategic communication and the first use of gaming in support of U.S. Army recruiting.
According to game historian Carrie McLeroy, America's Army has "grown in ways its originators couldn't have imagined." Dozens of government training and simulation applications have spun out of America's Army platform to train U.S. Army soldiers.
Zyda's leap of faith in founding the GamePipe Lab, the first game design program within USC engineering, provides students with a gaming education that blurs the lines between creativity and coding. Capitalizing on the success of America's Army, Zyda pioneered the "serious games field" — a game design approach that doesn't just view games for just their entertainment value, but also for their wider social applications and impact — something that he constantly engenders in his students.
Professor Zyda always tells us to push the limits of what we can do with coding.

Jyotsna Kadimi
"Professor Zyda always tells us to push the limits of what we can do with coding," said Jyotsna "Jyo" Kadimi, a graduate student in electrical engineering and a producer on Recall, a virtual reality mind-hack that promises to improve a player's memory by placing them in "mind-palaces" constructed from their own digital documents. Recall is a perfect example of Zyda's idea for "serious games."
Alums attracted to top innovators
Animation students from the USC School of Cinematic Arts, musicians from the USC Thornton School of Music and USC Viterbi engineers frequently collaborate to produce stellar games and teams that are greater than just the sum of their parts.
GamePipe Lab alumni routinely accept offers from industry giants like Microsoft, Disney, Blizzard, Sony and Activision.
Students have traveled around the world to collect top awards while simultaneously pursuing their studies. In April, Mild Beast Games — a team of USC Viterbi computer science students Steven Li, Aaron Hong, Mac Goldwhite, Cynthia Cantrell, Grace May and Theodore Park, along with USC Thornton student composer Kenny Regan and sound designer Jade Kim from the Berklee College of Music in Boston — took home the coveted British Academy of Film and Television Award for Sundown.
Every once in a while, a team creates something that enriches lives beyond just entertainment. Fraiche, for example, is an app that its creators — all computer science majors — describe as an "immersive restaurant discovery."
The app allows users to explore popular eateries in Los Angeles in an interactive, visually engaging way, taking them on a virtual tour of restaurant interiors via 360-degree, high-definition footage that brings a restaurant's atmosphere to life. Prospective customers may not be able to taste the food, but they can see and feel the restaurant's vibe before making a reservation.
"We urge and inspire users to make content and submit [it]," Fraiche web developer and VR producer John Francis said. "We want [the app] to be Snapchat-like where everyone can enhance the total experience by contributing their own."
GamePipe Lab alumni have created some of the industry's most amazing gaming experiences such as Call of Duty, God of War, World of Warcraft and Destiny, among others.
"I stopped counting over a year ago, but at that time our alumni had shipped games played by over 2.5 billion players," Zyda said. "That is about $100 billion in revenue over 10 years."
Still, the most gratifying experience for Zyda is seeing a new game come to life.
"I get emotional with every new game my students create," he said.