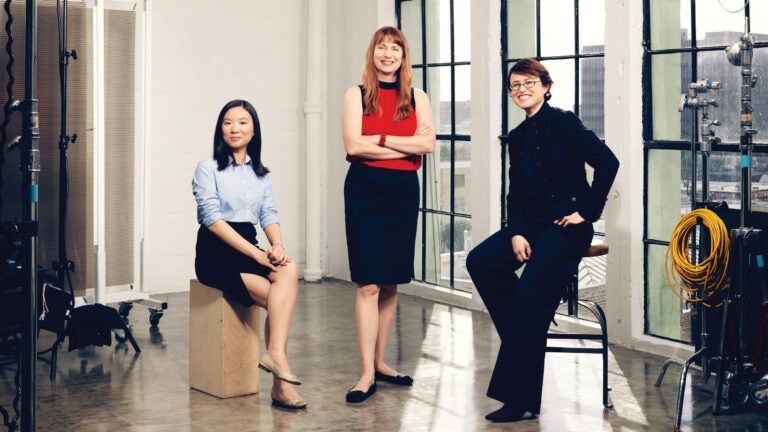 Women Engineers Thrive at USC Viterbi
Top-ranked USC Viterbi is one of the most female-friendly engineering schools in the country—and that's no accident.
Two.
That's how many female professors populated the tenure track at the USC Viterbi School of Engineering when Maja Matarić joined the faculty in 1997.
How things have changed nearly two decades later. Today, the number of women on the USC Viterbi faculty has jumped nine-fold.
It's impossible to fill the ranks of professors with women without first bringing women into the educational ranks, though. USC Viterbi has done that too. Women accounted for 38 percent of incoming USC freshmen majoring in engineering in 2015—twice the national average—and they made up 29 percent of the school's graduate students. It's no wonder US News & World Report ranked USC Viterbi No. 1 among graduate engineering schools for the number of women enrolled.
"That does not just happen," points out robotics expert Matarić, the Chan Soon-Shiong Professor of Computer Science, Neuroscience and Pediatrics and USC Viterbi's vice dean for research. "That takes an incredible amount of incredibly proactive work."
The quest to democratize engineering has become a hallmark of USC Viterbi. It stretches from the school's dean through its faculty and staff and, in turn, out to its students. They've tackled this quest not as a challenge they'd like to meet, but as a mission they're bound to achieve.
Why Diversity Matters
Diversity is fundamental when considering matters of equity, fairness and access. It's also critical to bring more women (and minorities) into the field to ensure that the nation has enough engineers to build its future. But diversity is important for other reasons as well.
"We strongly believe that excellence and diversity go hand in hand," says Timothy Pinkston, USC Viterbi's vice dean for faculty affairs. Of the 10 USC professors to make the MIT Technology Review's prestigious "Innovators Under 35" list in the past six years, six were women. Two of the last three USC Viterbi professors to receive the competitive Presidential Early Career Award for Scientists and Engineers were women, too.
---
DIVERSITY IS CRUCIAL TO THE FUTURE OF ENGINEERING BECAUSE OF ITS LINK TO CREATIVE IDEAS.
Then there's the problem-solving process, which is essential to engineering. Walter Wulf, former longtime president of the National Academy of Engineering, once explained that diversity is crucial to the future of engineering because of its link to creative ideas. Creativity, according to Wulf, "is the result of making unexpected connections between things we already know. Hence, creativity depends on our life experiences. Without diversity, the life experiences we bring to an engineering problem are limited. As a consequence, we may not find the best engineering solution."
The presence of female engineers also improves group projects, according to Wanda Austin PhD '88, a USC trustee and president and CEO of The Aerospace Corporation in El Segundo, California. Women tend to support novel approaches, Austin says. "When there are more women in the room…there's more open debate, there's more questioning of the status quo, and people are open to considering different ideas."
Despite women's strides, Austin points out that gender parity is still a ways off, and the field still needs sustained efforts to support women.
The Trojan Women
Such efforts have long been underway at USC Viterbi, where women started making inroads decades ago. The university's undergraduate chapter of the global Society of Women Engineers celebrates its 50th anniversary this year. But progress toward greater gender diversity accelerated in 2000, when an anonymous donor gave the university $20 million to support women in science and engineering. This spawned the Women in Science and Engineering (WiSE) program, an effort to increase the number of women in faculty positions and build a supportive research environment at USC. WiSE provides supplemental funding—a way to offset subtle barriers and career interruptions such as parental leave support and caring for young children that have been shown to hinder the advancement of female faculty—as well as a sense of community with other women in science and engineering.
At the same time, the school's leadership began to reshape the makeup of its faculty. When current USC President C. L. Max Nikias became dean of the engineering school in 2001, he quickly invited Matarić to lunch to discuss how USC Viterbi could recruit more women. "It really made me feel valued," she says.
The quest to recruit engineers from a broad array of backgrounds continues under Nikias' successor as dean, Yannis C. Yortsos. If a department has a position to fill, Yortsos expects that outstanding engineers who are women or underrepresented minorities will make up at least a third of the list of candidates.
When female faculty candidates visit the campus, they meet with Leana Golubchik, WiSE's director and a professor of computer science and electrical engineering, or another WiSE representative to hear about what USC offers and to ask questions. One particular concern is that because women in academia often have partners who are also academics, recruits must find two professor positions in the same town. WiSE can help reach out to other USC departments to see if there are opportunities for a candidate's spouse or partner. And if USC Viterbi wants to hire a woman, WiSE helps make the offer very competitive, making sure the candidate's requirements for resources like lab equipment and staff are met. Since 2005, 28 percent of USC Viterbi's new hires have been women.
WiSE supports faculty with programs including networking events, travel funding and subsidies for child care. WiSE has been so successful, say both Golubchik and Matarić, because it's run by the female faculty. "We know what we need," Matarić says.
Those female faculty, leading research teams and teaching courses, in turn inspire the next generation of engineers. Having female mentors makes a difference, says Justine Cocchi '16, who served as president of USC's Society of Women Engineers chapter. "Seeing that there were women professors here, too, was definitely inspiring," says Cocchi, who begins work at Microsoft's Marina Del Rey office this summer.
Priming the Student Pipeline
One of the greatest barriers to increasing diversity in engineering is getting kids excited about the field at a young age. Yortsos says part of the way to recruit diverse students is to highlight the societal impact of the issues engineers can address. In 2008, the National Academy of Engineering announced 14 "grand challenges" for the field of engineering—such as making solar energy affordable and helping people access clean water. "When you tell people that these are the challenges engineers solve, and show the important societal impact they have, they look at engineering in a different way," Yortsos says. "This is a message that resonates very well with traditionally underrepresented groups in engineering, particularly women."
Women and engineering, we just go together.
Adds Yortsos: "You also have to make sure that kids from the elementary school level on can see themselves contributing to our world as engineers or scientists."
To do so, USC Viterbi and student organizations sponsor events that invite girls (and boys) to the University Park Campus to build racecars, eat ice cream made with dry ice, experiment with 3-D printing, or compete in robot contests. The school also runs a coding camp, free for students in need, that enrolls two girls for every boy. Student engineering groups reach out too, bringing middle-school girls to labs and lunch at USC. "Introduce A Girl to Engineering Day," held annually during National Engineers Week in February, is also designed for girls in middle school.
Then comes high school and the college application race. To encourage talented young women to apply to the engineering school, USC Viterbi's admissions office highlights successful female professors, alumnae and students through blogs, online chats and podcasts. And their recruiting materials use a tagline that underscores their message: "Women and engineering, we just go together."
Diversity is crucial to the future of engineering because of its link to creative ideas.
At the graduate level, USC Viterbi invites underrepresented students, including women and minorities, for guided previews of what the school has to offer. Recruits tour the labs and meet graduate students and staff in the engineering school, including some of the female faculty who could be their future mentors.
"That definitely makes them feel like they could see themselves here at USC, because women here are accomplishing great things," says Kelly Goulis, senior associate dean for graduate and professional programs. WiSE also steps in to support top admitted students with extra stipends.
The outreach efforts extend nationwide to try to counter perceptions of engineering as a male-dominated discipline. In 2015, USC partnered with the National Academy of Engineering and the MacGyver Foundation (remember the 1980's TV hero who could escape any sticky situation with engineering know-how?) to promote female engineers through entertainment. The Next MacGyver Competition invited pitches for television shows that would star tech-minded women as heroines. Winning pitches—including a high school dramedy and a World War II drama—drew prizes and mentoring from successful producers to develop the ideas.
Retention
By 2005, women comprised a quarter of the engineering majors at USC Viterbi, and numbers were growing. But "to keep them in engineering, you have to provide resources," says Louise Yates, the school's senior associate dean for admissions and student affairs. So the school launched the Women In Engineering (WIE) program, an umbrella for activities to recruit and support female engineers. WIE partners with academic advisors and student organizations to support engagement and retention of female students.
A decade later, the efforts are paying off. Of the undergraduate women who enroll at USC Viterbi, 73 percent graduate with an engineering degree, much higher than the national figure of 61 percent, according to a pilot study by the American Society for Engineering Education. And today, 70 percent of the leaders within USC Viterbi student organizations are women. "Our female students are quite frankly a force within the student body," Yates says.
---
One of the most important things USC women derive from these organizations is a sense of belonging.
To help retain female students, WIE staff advise student organizations, and also act as a support structure for women. One of the most important things USC women derive from these organizations is a sense of belonging. It can be tough to be the only woman on an engineering project or in a group, points out Ruyan Chen '16, who served on the board of USC's Association for Computing Machinery and will start a position at Google in September. When she was the first woman to arrive in an electrical engineering lab class, "I felt really alone for a moment," she remembers.
In addition to mentoring and professional development events such as meet-and-greets with industry professionals, WIE programs promote networking through events like coffee socials for grad students. And student organizations sponsor alumnae events, ice cream socials, hikes and other get-togethers to help engineering students connect and make the sustaining friendships they need. Sometimes you just need a friend to lend a sympathetic ear when you're struggling through a problem, says Farzana Ansari '09.
"I learned what a good mentor was at USC; I learned what having a good community means at USC," says Ansari, who held various positions in USC's Society of Women Engineers chapter. Armed with that experience, she sought out similar support in her graduate program at UC Berkeley. Now she's a technical consultant at Exponent in Menlo Park, California.
Of course, women aren't the only underrepresented group in engineering. The Society of Women Engineers chapter, part of WIE, works with USC Viterbi's Center for Engineering Diversity, which includes organizations devoted to African Americans, Latinos, minority graduate students and LGBTQ engineers. The center offers students a place to work or relax, build a community, and find career advice for life after graduation. Working alongside students of different backgrounds helped her understand people better, Ansari says.
Over time, not only have the faces of engineering students become more diverse, but the environment has also changed, Yates says. A decade ago, she would hear complaints from female students who felt like their comments were ignored in classroom discussions, but that doesn't come up much anymore, she says.
Chen, who graduated in May, says classmates always listened to her when they were working on class projects. "They respect you for the work you do, not how loud you talk," she says.
Women in engineering at USC now go out into the world not only in greater numbers, but also with great experience. Students in organizations like Women in Computing and Girls in Tech give Trojans the opportunity to flex their leadership muscles, and that exercise comes in handy, says Amy Lin '08, MS '09, a former president of USC's Society of Women Engineers chapter. "It's almost like being a little entrepreneur, without realizing you're doing it, as a student," says Lin, who started and sold her own education technology company, Blendspace, since graduating. "Having that practice as a college student set a tremendous strong foundation for me in my professional life."
That self-confidence and experience matters. Nationally, one in five of every engineering school graduates is a woman, yet only about one in 10 ever go on to work in engineering. Many of these women report that they avoided working within the discipline because they believe it's inflexible or its culture is unsupportive of women, according to a National Science Foundation-University of Wisconsin Milwaukee report. But the more women enter the ranks of professional engineering, the more they can support each other, contribute, see their place in the culture and transform it.
With all this support for women engineers at USC, are men left out? "The most common question I get from guys is, 'Can I join?'" says senior Sydney Forsyth, president of the USC Society of Women Engineers. "My answer is always, 'Yes, of course you can join, we're not exclusive. As long as you believe in the ideas of the Society of Women Engineers that you're empowering women and you're encouraging women to go into this field, then you're absolutely welcome to join.' We love the spirit."