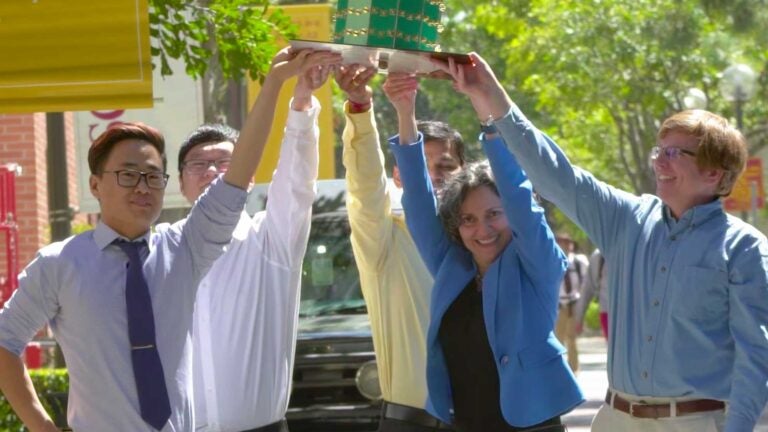 USC Viterbi entrepreneurs aim to help surgeons see cancer better
Engineering school competitions teach young entrepreneurs about intellectual property and how to deliver an effective pitch
https://www.youtube.com/watch?v=e9WLT3zz4N4
When you're a cancer surgeon, you want to remove or destroy cancerous tissue in a patient, and leave as much healthy tissue intact as you can. A creation from USC Viterbi School of Engineering students and faculty may help doctors do just that.
Thermal View Monitoring is an image guidance system that gives surgeons a real-time, 3-D temperature map they can use to identify cancerous cells during thermal ablation therapy. Designed by a team of engineering students and faculty, including USC Viterbi Professor Mahta Moghaddam, the technology uses radio frequency waves to replace MRI, CT and ultrasound scans, saving time and money.
The project has such promise that it won this year's top award in USC Viterbi Maseeh Entrepreneurship Prize Competition (MEPC). The honor was announced April 19 at the 39th annual Viterbi Awards in Beverly Hills, where winners of the Min Family Engineering Social Entrepreneurship Challenge also were made public.
Maseeh prize
With more than $100,000 in prizes on the line, 17 teams competed for the top MEPC honor. The grand prize winner earned a $50,000 grant as well as $20,000 in free legal services; three runners-up won a collective $30,000 in legal fees. All competing teams received $2,500 "I-Corps" mini-grants from the National Science Foundation to conduct customer discovery.
Now in its seventh year, the MEPC was launched by a $1 million endowment from its namesake, Fairborz Maseeh, with the goal of instilling entrepreneurial skills in engineers.
We want engineers to be leaders in taking their technology to the market rather than relying on others to do so.

Peter Beerel
"We want engineers to be leaders in taking their technology to the market rather than relying on others to do so," said Peter Beerel, USC Viterbi professor and MEPC director.
The young entrepreneurs spent the spring semester learning about customer discovery, intellectual property and how to deliver an effective business pitch.
"Through the process of customer discovery in this competition, now we know there is actual demand for our technology. It feels great," said Sang Cho, a USC PhD student in health and economics and an executive at Thermal View Monitoring.
Min Family Challenge
Like the MEPC, the Min Family Challenge highlights engineering business concepts, but the award also requires startups to generate technologies that bestow a clear social benefit. The award, which honors the top two teams with a collective $35,000 plus free legal services, was launched in 2016 with a gift from Bryan Min '86; his wife, Julie; and their family.
This year's grand prize winner, HonestFi, partners with non-governmental organizations, small businesses and community members to reduce the cost of banking transactions for those under financial strain. Using a secure mobile app, the company assists low-income customers by offering services such as check-cashing, prepaid cards and automated bill pay without imposing crippling fees and interest rates.
Curious about these and other startup competitions and support at USC Viterbi? Visit the school's technology and innovation site.