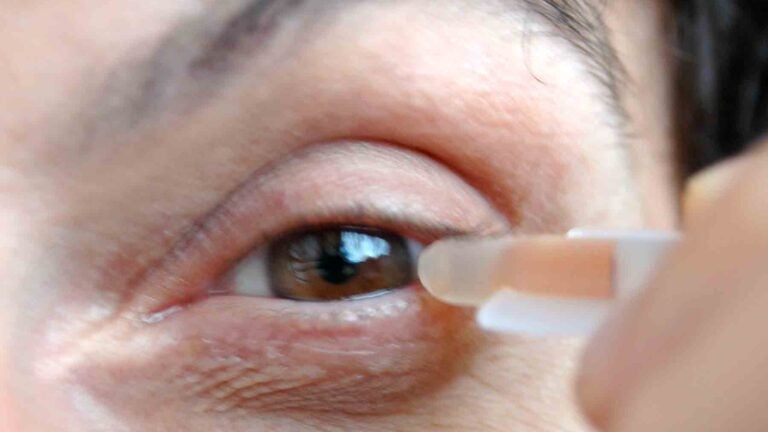 Life may get easier for glaucoma patients taking eye drops
A company named after the Greek god of healing develops an application for timed release of medication
A few years back, ophthalmologists diagnosed Niki Bayat's father with glaucoma, a degenerative eye disease and leading cause of preventable blindness worldwide.
Bayat, a PhD student in chemical engineering at the USC Viterbi School of Engineering, watched helplessly as her father failed to take his drops three times daily as prescribed. Sometimes he forgot. Sometimes he had difficulty getting them into his eyes. Sometimes he only administered them once or twice a day because of the discomfort they caused.
Bayat, whose research includes developing biomaterials to treat eye trauma, thought there had to be another way. So she decided to develop one.
Bayat co-founded AesculaTech, a biomedical device company spun out of the research labs of Mark Thompson — her doctoral adviser, an expert in new materials for optoelectronics and co-inventer of the phosphorescent OLEDs now found in displays in mobile devices and televisions worldwide — and Mark Humayun — the developer of the Argus II, an artificial retina that restores sight to some blind people, with joint appointments at USC Viterbi and the Keck School of Medicine of USC.
AesculaTech, named after the Greek god of healing or medicine, Asclepius, has developed an application for timed release of glaucoma medication over a 90-day period, reducing medical complications due to noncompliance or incorrect application.
It's very important to have this sustained delivery system.

Niki Bayat
"If people cannot get the medication they need for glaucoma, they will start going blind," said Bayat, adding that an estimated 120,000 Americans lose their sight annually to the disease. "So it's very important to have this sustained delivery system."
How it works
Ophthalmologists would inject AesculaGel, a thermally responsive hydrogel, into the tear ducts. There, the gel would harden and deliver glaucoma medicine at regular daily intervals. At the end of three months, doctors would give patients another injection, beginning the process anew.
Although AesculaTech must successfully conduct lengthy FDA approval before it can come to market, the company has already generated interest.
The Collegiate Inventors Competition, a national contest sponsored by the U.S. Patent and Trademark Office that honors innovative research and discovery, selected AesculaTech as one of this year's graduate team finalists. In 2015, the company won second place among 148 participants in USC's Lloyd Greif Center for Entrepreneurial Studies' business plan competition. It also took home the silver last year in the Maseeh Entrepreneurship Prize Competition (MEPC), a business model contest.
Forward thinking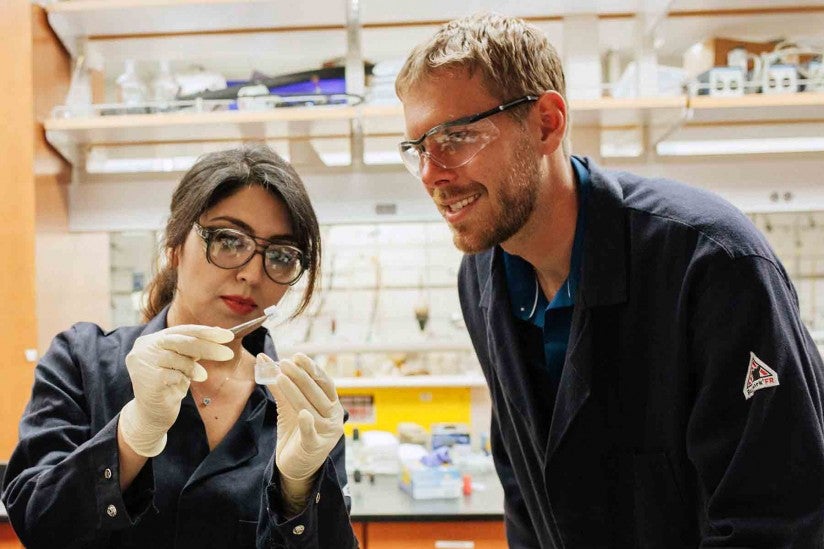 The MEPC helped AesculaTech evolve from an idea into a viable startup, Bayat said. Through the competition, she and co-founder Andrew Bartynski PhD '16 developed a business plan and learned about customer acquisition and validation.
"MEPC made it real," said Bartynski, the company's chief executive officer. "We got more out of that competition than we could have ever asked for. We're still in touch with the business mentors we were paired with."
Looking ahead, Bayat said she envisions modified AesculaGel being used to deliver drugs to patients with a variety of medical conditions beyond glaucoma. She declined to elaborate, Bayat said, for competitive reasons.
For now, she and Bartynski are happy just to make a contribution to improving medical care.
"The purpose of engineering is to make the world a better place," Bartynski said. "So if you're an engineer and using your skills to help people, I don't think there's a higher calling than that."