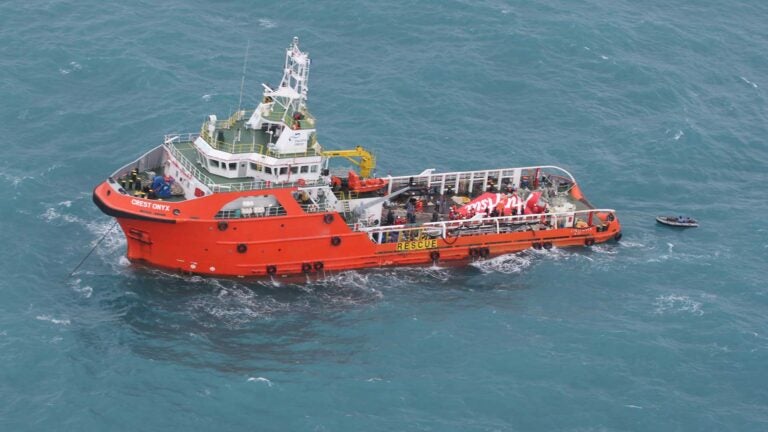 USC Viterbi students find a common thread between two tragic flights
The undergrads receive an award for a paper on aviation safety
Two flights. Two tragedies. What may have linked the accidents that took place five years apart?
In 2014, Air Asia 8501 crashed into the Java Sea off the coast of Indonesia, killing 155 passengers and seven crew members. In 2009, Air France 447 crashed into the Atlantic Ocean off the coast of Brazil, killing 228 passengers and crew.
USC Viterbi School of Engineering students Yasmeen Syed and Andre Woenardi chose these flights as the basis for a term paper on aviation safety written in their "Human Factors in Work Design" class this fall.
Titled "Air Asia 8501: Echoes of Air France 447," the paper earned the 2016 Kasputin Scholarship Award from the International Society of Air Safety Investigators. Syed and Woenardi recently accepted the accolade in Iceland.
Why write it?
Their research on Air Asia 8501 came about organically. Woenardi, a senior and native Indonesian, wanted to write something related to his home country. Syed, a junior who studies accident investigation, was introduced to the subject by the course's instructor, Professor Najmedin Meshkati.
"One of the things we focused on in the paper is that pilots rely so heavily on automation these days," Syed said. "So because of that, in the case of emergency or in the face of adversity, they're not able to manually operate the aircraft. And that's what happened in both accidents."
In both cases, the aircrafts encountered an "aerodynamic stall" in which the plane's angle of attack is too high, with not enough air going over the wings. This causes the plane to drop significantly in altitude, almost like it's dropping out of the sky. If aware of a stall, a pilot could manually recover by dipping the plane's nose into a dive and eventually level out.
Unfortunately, neither pilot realized they were stalling in the first place. Both had lost "situational awareness," Syed explained. And for both crashes, technical error wasn't the only cause. It was pilot error that followed a technical failure.
"When you don't know what the problem is, how can you fix it?" Syed said. "They didn't know where they were relative in the sky. For whatever reason, they thought to continue going upwards, which eventually led to the accident."
Key feedback
Guided by Meshkati, Syed and Woenardi worked with USC Aviation Safety and Security and received feedback from Douglas Moss, a United Airlines pilot who consults for an accident investigation company.
Moss had explained to them that, due to advancement in cockpit automation, pilot training has actually been reduced in time and scope. He made the case that training should actually be lengthened because of this advanced technology and human error in operating with or without it, as in the case of deactivation mid-flight.
"In both of these accidents, the pilot flying was the first officer instead of the captain, who would have had more hours flying, more experience," Woenardi said.
Syed added that in both cases most of the pilot's experience consisted of flying automated planes. Even with dual input from the captain in Air Asia 8501, the captain and first officer were pulling in opposite directions on manual equipment which neutralized instead of corrected the technical failure.
For their award, Syed and Woenardi received $2,000 each, which covered flight, hotel and conference expenses. While in Iceland, they visited glaciers, hiked to waterfalls, swam in hot springs and presented their research to an audience of aviation experts from all over the world.
"In terms of research, I think the biggest thing I learned, that I was very unaware of, is what you have to say about certain subject matters will always have critiques," Woenardi said. "Not everyone will agree with the things you say and I'm not sure the best way to handle it."
Added Syed: "Alternatively, we did have an investigator who was directly involved with Air Asia 8501 thank us tremendously for our research. The experience was so transformative and incredible. I feel like I learned so much and formed such great connections, so that scholarship is probably one of the best things that's happened to me in my life."