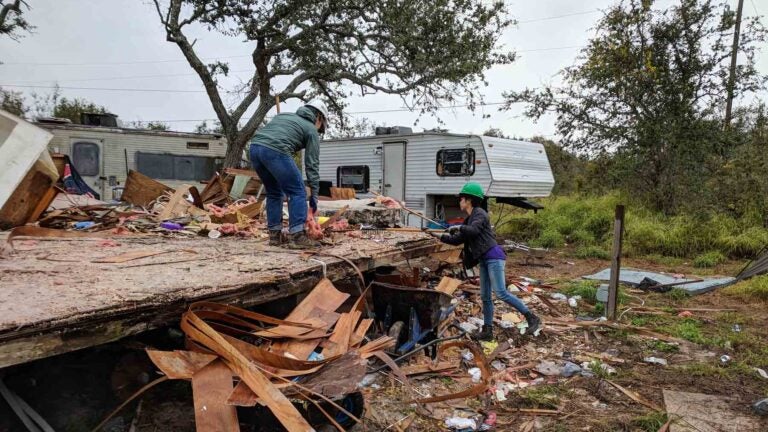 USC volunteers help rebuild Hurricane Harvey-torn Texas coast
Women train in "mucking and gutting," work with nonprofit to remove debris, tear out drywall and clear fallen trees for families
[new_royalslider id="197″]
Thirteen USC students traveled to Aransas Pass, Texas, during the winter break to help rebuild homes devastated by Hurricane Harvey in August.
The all-female student volunteers were trained in basic demolition and construction skills — "mucking and gutting" — and worked alongside the nonprofit All Hands and Hearts Volunteers to remove debris, tear out drywall and insulation, and clear fallen trees for local families during the weeklong trip.
Madeleine Dile, a USC junior who coordinated the trip, said she and her peers were moved by the connections they made with the families they assisted and with one another.
"I was infinitely impressed by our students' work ethic, willingness to go out of their comfort zones, whether lifting roofs off trailers or seeking more information about the issues the community faced and how to become involved," she said.
The service project near Corpus Christi was the latest in more than 25 years of Alternative Breaks coordinated through the USC Volunteer Center. Every winter and spring break, USC students can give back while deepening their knowledge of various global issues through the program — from educating lower-caste children in rural India to restoring ecosystems in the Orcas Island.
These trips are not just for show.

Adriana Piazza
In addition to being profound and often transforming experiences for USC students, the Alternative Breaks are unique in their real, sustainable impact on communities, USC senior Adriana Piazza said.
"The Volunteer Center works hard to make sure our impact is long-lasting, working with the local communities on real needs. Many volunteer trips are what some call 'volun-tourism' — you show up, help where you aren't really needed, take pictures and leave. These trips are not just for show," said Piazza, who has participated in three Alternative Breaks to date.
"I wish every USC student had the opportunity to go on one of these. It changes your perspective on the world."