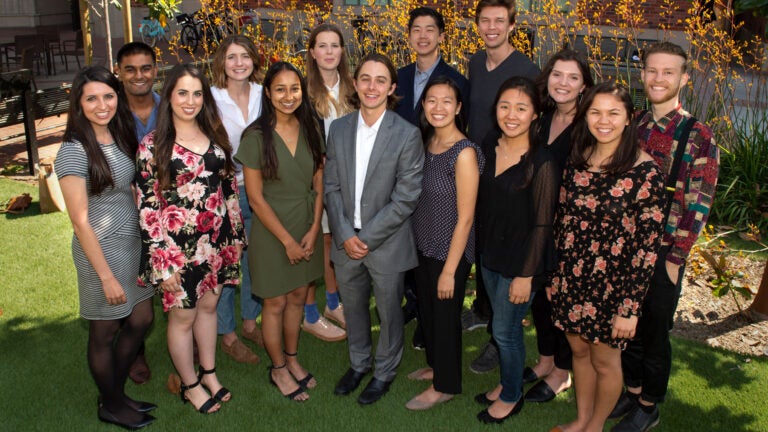 USC Warren Bennis Scholars face high expectations
The first graduates of USC's new ethical leadership honors program hold promise for tackling society's most pressing challenges
Fifteen undergraduates will soon become the first to complete USC's newest honors initiative — the USC Warren Bennis Scholars Program — and they're expected to change the world.
It's an ambitious mission to fulfill. It should come as no surprise, however, to the graduates of the program, which honors the late USC leadership guru Warren Bennis. After all, they're putting that pressure to succeed on themselves.
"This is not a leadership development program for students who believe they have leadership potential," said Adlai Wertman, academic director of the program and the David C. Bohnett Professor of Social Entrepreneurship at the USC Marshall School of Business. "This is a skill-honing program for proven leaders. Only certain people step into that void of leadership. It takes a level of self-confidence and responsibility."
Students from across the university's varied disciplines are carefully chosen for the program after a rigorous application process and interviews at the end of their sophomore year at USC. They receive intensive leadership training in and out of the classroom as they interact with top USC professors and guest speakers. Outside the classroom, they build interpersonal skills in workshops and debate ethics cases. And they engage in roundtable discussions about challenges they've faced in their leadership roles.
Although academic achievement is a prerequisite, Bennis Scholars must exhibit intellectual curiosity, morality, a natural instinct to lead others and a willingness to tackle serious societal issues.
They might see themselves running a renewable energy program at NASA to heal the environment. Perhaps they'll step onto the floor of the United Nations as ambassadors to advocate for human rights. Or maybe they'll produce poignant films that draw the world's attention to mistreatment of women.
"It elevates people who have shown significant leadership in the past and helps train them to address the wicked problems of the world," said Peter Bergmann, an economics and mathematics major and one of the first Bennis Scholars.
A legacy of leadership at USC
The teachings of longtime USC Professor Warren Bennis underpin every part of the program. The world-renowned expert on leadership wrote dozens of books and advised five U.S. presidents. His best-selling work, On Becoming a Leader, is a classic in the leadership field that emphasizes integrity, empathy and perseverance.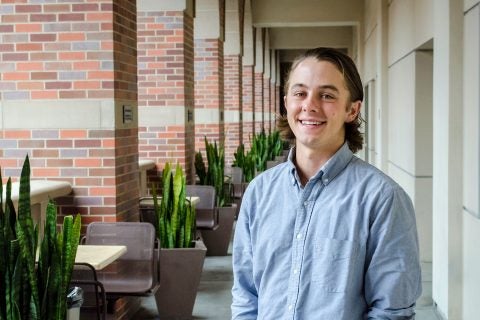 For Bergmann, that guidance has proven invaluable. He often revisits On Becoming a Leader when struggling with how to approach a problem. He also pulls helpful knowledge from other books, conversations with leading faculty members at USC and discussions with his fellow honors scholars.
Those experiences have paid off in his role as president of the student-run group Peaks and Professors. It cultivates connections between USC professors and students outside of the classroom by bringing them together for meaningful outdoors adventures, from day hikes to backpacking trips. Bergmann joined the organization's executive board at a time when the group was growing quickly, which posed some leadership challenges.
"It has been an interesting balance of keeping our original mission while expanding to meet the demand," he said. "If you grow too fast, you can have some growing pains and maybe affect the participants' experience. If you grow too slow, people might get frustrated that there aren't enough trips."
A natural-born leader
Bergmann has always embraced leadership roles. The Trustee Scholar served as president of his freshman dorm, Birnkrant Residential College. Then he became a resident adviser as a sophomore. When he noticed that many of his fellow economics students at the USC Dornsife College of Letters, Arts and Sciences didn't have a formal setting to interact and socialize outside of the classroom, he co-founded the Undergraduate Economics Association.
"If I see something that is broken or I think could be improved, I like to just go out and do it," he said. "I get frustrated when there is a need that isn't being filled or an issue that isn't being addressed, and everyone is kind of looking around at each other."
After graduating this month, Bergmann will head to Taiwan to teach English on a Fulbright scholarship. He envisions a career that weaves his interests in social enterprise and impact investing, possibly in environmental sustainability or food systems, with his interests in Southeast Asia.
He also plans to remain in touch with his fellow Bennis Scholars, noting that in addition to providing formal leadership training, the initiative also creates a tight-knit social network through dinners, trips to the beach and other informal get-togethers.
"I've met some of my best friends in this program," Bermann said. "The people I've met and the conversations I've had have been a big part of my last two years here at USC."
Honors program is an investment in the future
The Bennis Scholar designation will be only the fourth honors program to be listed on official transcripts and diplomas at USC, along with Discovery, Global and Renaissance scholars.
Offered by the Office of the Provost through the Brittingham Social Enterprise Lab at USC Marshall, the initiative was inspired by a popular leadership class taught by Bennis and former USC President Steven Sample. University officials said the program feels like a natural way to honor that legacy and fulfill USC's broad mission.
"As a leading academic and research institution, it is our responsibility to equip our scholars with the tools they need to achieve their goals of bettering the world," said Michael Quick, provost and senior vice president for academic affairs. "The Warren Bennis Scholars Program is an investment not only in the future of these brilliant young individuals, but also in the collective future of our society."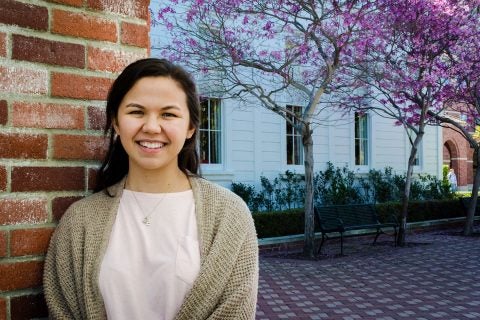 One student who hopes to influence the course of history on the global stage is Jamie Kwong, who graduates this month with a bachelor's degree in international relations and a master's degree in public diplomacy. This fall, she begins a doctoral program in war studies at King's College London on a Marshall Scholarship.
"The grand vision, which I recognize is lofty, is to help bring the world toward nuclear disarmament," she said. "How can I be an agent of change and help mobilize and influence Generation Z to bring this to fruition? At the heart of that is leadership and these traits and tools I've been able to identify and learn about in the Bennis program."
Initiative helps students grow as leaders
The honors program has helped Kwong consider her values, vision and goals more thoughtfully and introspectively, she said. Before becoming a Bennis Scholar, she viewed leadership simply: Leaders take actions to address challenges.
As vice president of the USC Panhellenic Council, she focused on achieving tasks. When she became president of the organization and joined the leadership program, however, things changed.
"I approached my work much differently," she said. "It was more forward-thinking planning: How can we set up the future leaders of this organization for success?"
Kwong got to know her leadership strengths as part of the Bennis Scholars initiative. They include discipline, achievement and execution. But she also learned that she needed to get better at building relationships. So when she was selecting fellow members of the council's executive board, she brought in a vice president with strong interpersonal skills.
That type of growth as a leader, however minor it might seem, is a promising sign to Wertman. He acknowledged that it can be challenging to measure success in the program, but he is confident the investment will pay off.
"These are long-term bets," he said. "If we are creating future leaders, what they do as their first job out of college is almost meaningless. They will be hitting their stride at 50."
---
To learn more about the USC Warren Bennis Scholars Program, other honors programs and fellowship opportunities at USC, visit the USC Academic Honors & Fellowships website.