Addressing student well-being, one laugh at a time
A clowning workshop from a USC School of Dramatic Arts professor is just one of the many ways the university is focusing on wellness, self-care and stress management this semester.
It's mid-March on a Friday morning. Dozens of USC students open their laptops and log in to Zoom, but it's not for a lecture or class.
"I have no idea what to expect," said sophomore Phong Doozy Do.
Freshman Valerie Dao is equally perplexed: "I mean, are we going to dress up like clowns and do clown stuff?"
The students have signed up for the Make Me Laugh workshop led by Zach Steel, USC School of Dramatic Arts assistant professor of theatre practice, head of comedy and supervisor of the medical clowning program.
"We're here today because joy is possible," he said. "Laughter is possible, even during these times of isolation."
Steel plans to use laughter, play and clowning around to improve emotional and physical wellness during this historic moment of separation and stress brought on, in part, by the pandemic.
"Before the pandemic, we were facing a crisis of mental health on university campuses everywhere," he said. "Now it's just compounded by the pandemic, so we must act."
For Steel, that means improv-based exercises, mindful activities and spontaneous game play.
"My mission is to destigmatize play as something that is a waste of time or unproductive," he said. "I'm hoping to bring back that agendaless time that we used to get on campus right before classes or in between classes and provide a platform to smile and laugh — the antidote to loneliness and isolation."
Student wellness and safety is top of mind at USC
Steel collaborated with USC Arts in Action Lead Producer William Warrener to create the comedy-based workshop as part of USC Wellness Days — five separate days spread throughout the months of March and April — in lieu of the traditional mid-March spring recess.
"Laughter, joy, well-being, connection; all of those things are needed now more than ever," Warrener said. "Everything the university can do to alleviate loneliness and isolation and provide some informal moments of connection and relationship building is absolutely critical."
According to Provost Charles Zukoski, the university spring break was reimagined and reconfigured with wellness and safety in mind.
"To minimize the risk of the virus spreading, we decided to forego the traditional spring recess and replace it with Wellness Days," Zukoski said. "A Wellness Day is a day on which there will be no classes and no classwork expected of students. Students are encouraged to use this time to rest, exercise and connect with friends and family."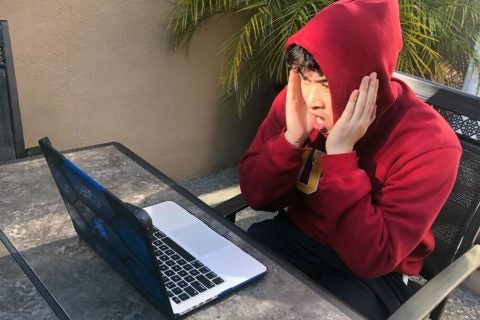 Or join a wellness workshop created by schools across the university looking for ways to integrate student well-being, self-care and stress management into USC's spring semester.
"It's a supportive and fun environment," Warrener said. "It's an hour of your time that won't be like any other hour of your week."
That's exactly what Dao was hoping for when she signed up for the Make Me Laugh workshop.
"Coming in as a freshman, I feel it's very hard to make close friends," Dao said. "I actually prefer the Wellness Days over a spring break to be able to have something like this where I can be vulnerable and create close connections in environments with other USC students. It makes me feel a lot more bonded with the Trojan community."
Do said that Steel's empathic approach to students has been a lifesaver.
"I am very grateful there are teachers like Zach Steel who care about a student's mental health," he said. "I've always dealt with depression and anxiety, and comedy is a universal language that speaks to everyone."
In addition, the second-year health and human science major said that Steel's comedy classes have inspired him to minor in comedy and performance with hopes of integrating medical clowning into his future health care career.
"Professor Steel taught me that comedy is medicine," Do said. "And that it reveals as it heals."
USC's clowning program wants to bring joy to all, including fellow Trojans
Medical clowning at the School of Dramatic Arts blends the art of performance with the sciences of medicine and psychology to improve the physical and mental well-being of hospitalized patients as well as communities in need, something that's emphasized in its recent partnership pilot program with the Los Angeles Children's Bureau to combine medical clowning and foster care with the goal of increasing the bond between the foster parent and child.
"There's a lot of healing aspects to laughter, and play is such an important part of being alive," Steel said. "I'm trying to adapt the work that I do for various populations."
I knew I could use a laugh, and I was so happy I did it.

Marie-Reine Velez
From hospitals to foster care and mental well-being, Steel is on a mission — to clown around.
"Clowning and playing feeds our hearts, it makes us able to love and connect," he said. "It's the ultimate bonding tool."
The Wellness Days workshops are open to USC faculty and staff too.
USC employee Marie-Reine Velez said she signed up after feeling like she could use a mental break.
"I was feeling burnt out," she said. "I knew I could use a laugh, and I was so happy I did it. I felt so much better afterward."