USC's black cultural center marks 40 years as a valued venue for candid conversation
A national movement for ethnicity-based student services led to its creation four decades ago
Students pass around a small stuffed animal with an uncanny resemblance to Beau, USC's wellness dog, and take turns talking about an array of topics, from the music industry to capitalism.
As a few head to class, others appear and join the discussion without skipping a beat. The intense yet orderly nature of the discourse could be taking place in a debate club or at a political discussion. But it's just a typical Tuesday afternoon in the office of USC's Center for Black Cultural and Student Affairs (CBCSA).
"Real Talk Tuesdays," weekly discussions in which black students share their perspectives, are officially held from noon to 2 p.m. But as the clock nears 4 p.m., the center is still packed with young scholars in the midst of impassioned dialogue.
It's a scene one might've observed in this exact location 40 years ago when the space was first dedicated to black USC students.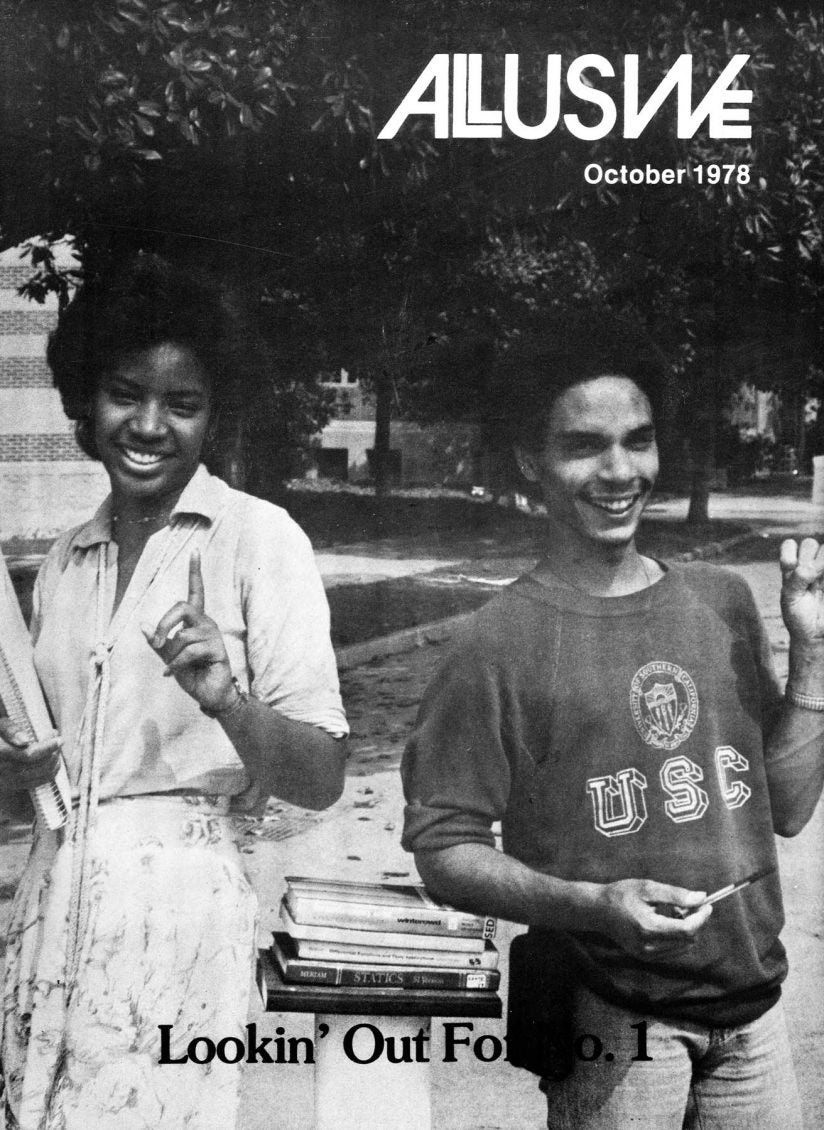 The center and USC's American Studies and Ethnicity department were direct results of the activism and demands of black students amid a national movement to create ethnicity-based academic departments, student services and spaces on college campuses in the 1970s.
AllUsWe, USC's black student magazine during that era, documented these historic events in its pages. As a tribute, the center is celebrating its 40th anniversary with the #AllUsWe tagline and hashtag.
Dealing with the process
Willis Edwards and Bobbi Rogers, the center's first administrators, were stalwart advocates for black student success. Michèle Turner, executive director of the USC Black Alumni Association and freshman in 1977, said systems for class registration and tuition payment were confusing and subject to errors before the arrival of computers.
"They were crucial resources for black students," Turner said. "Willis and Bobbi would take great care of us and make sure we had their personal advocacy to navigate successfully through the process and meet all of our deadlines. It was always heartwarming to see them; they always had a smile and hug for you."
Rosalind Conerly, who took the helm as director in 2016 after Corliss Bennett-McBride's 18-year tenure, said that the center currently hosts many enriching programs for USC black students through the entire arc of their Trojan experience.
An introduction to the community
Senior Shernae Hughes was in high school when she met Bennett-McBride, who introduced her to the USC black student community through the Somerville Place Overnight Experience, one of the center's signature programs. The program pairs high school seniors with USC students living on the residential floor devoted to black students for a two-day immersive experience.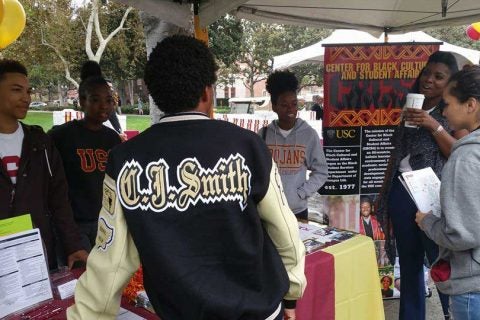 "USC was always a top school for me, but it was everything I was exposed to that made me choose USC," Hughes said. "I had the opportunity to shadow a student with a similar major to classes that I would eventually enroll in and get a taste of what it would be like here."
Hughes, a double major in political economy and African-American studies, said the center has given her the community she didn't have at her predominantly white high school.
"I felt very alone in my high school years. In my AP classes, I was almost always the only black student, and I was treated like I wasn't capable of doing certain things and experienced microaggressions," she said. "Every day, CBCSA exposes me to black scholars who will have conversations until 2 a.m. about diverse, scholarly topics, from mass incarceration to pop culture, and I didn't know that existed before.
CBCSA exposes me to black scholars who will have conversations until 2 a.m. about diverse, scholarly topics, and I didn't know that existed before.

Shernae Hughes
"It's felt like a home away from home and a support system I don't think I would've had found anywhere else on campus."
Conerly said there is no short supply of USC students who have found in CBCSA the affirmation they needed to blossom as students and individuals.
"We see them thrive here and connect to each other, and to see their growth every day is amazing," she said. "To see them grow up over four years is what keeps me going. They're kids, too. They love to give hugs, they'll check in with us between classes, and this is their home."