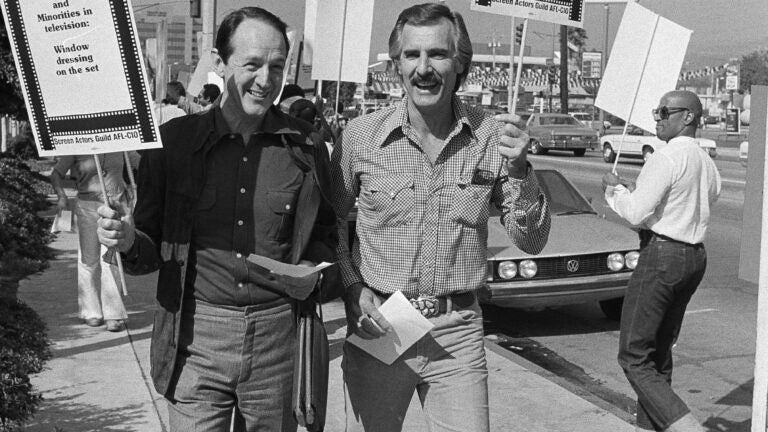 USC's digital archive provides insight into Hollywood's past
Hollywood's labor strikes underscore the USC Digital Repository's role in preserving television's past for future generations.
Billy Crystal, Edie Falco, Jon Hamm and Allison Janney are among the Hollywood A-listers who have shown up on picket lines this summer during Hollywood's first dual actor and writer strike since 1960.
But the Emmy winners have something else in common besides supporting efforts to negotiate a new deal with major studios and streaming platforms on residuals and a host of other issues. They are among the more than 900 people who have shared their show-business stories for the Television Academy Foundation's The Interviews: An Oral History of Television.
While the strikes by the Screen Actors Guild-American Federation of Television and Radio Artists (SAG-AFTRA) and Writers Guild of America (WGA) might seem like a rough time for the entertainment industry, a dive into the Television Academy Foundation's archives provides proof that Hollywood has overcome such deep divides in the past. The archives, digitized and preserved by the USC Digital Repository since 2022, feature first-person interviews with key figures in television from both in front of and behind the camera — including many Trojan alums.
"There are actually quite a few interviews within the archive that address various union and guild strikes throughout history and how they impacted television production," says Megan Chao, an adjunct professor at the USC Annenberg School for Communication and Journalism and a member of the Television Academy's Board of Governors. "Having perspectives from people with similar lived experiences does good to remind both the public and the industry that solutions exist, and entertainment will prevail."
William Schallart, president of SAG (pre-AFTRA merger) from 1979-81, reveals in his oral history how painful the 1980 actors' strike was. The battle — over residuals from the still-new pay television and home media videocassettes — was a precursor to the fight today over streaming residuals.
"They didn't want to give anything," said the late Schallart — best known for playing the father on The Patty Duke Show — about the 10-week strike. "It was terrible; we ended up in a strike and a strike is a defeat already. … If a strike goes on for more than five days, everybody loses."
Other Hollywood union member interviews in the archive include Dorothy Fontana, a scriptwriter for the original Star Trek series, who discussed working at the studios during the dual actor and writer strikes of 1960. Tucker Wiard, an editor on classic shows such as The Carol Burnett Show, also spoke about how the 1988 writers' strike affected his work on Murphy Brown.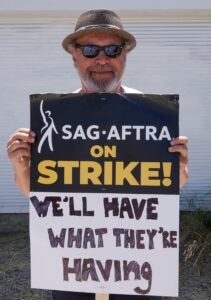 Stories from pioneers and living legends
Television Academy Foundation Executive Director Jodi Delaney says the mission of the archive is to record the story of television as told by the people who created it, to record and preserve firsthand eyewitness accounts, insights and anecdotes for future generations.
The collection includes the oral histories of such early television pioneers as Steve Allen, Carl Reiner, Betty White and I Love Lucy writers Madelyn Pugh Davis and Bob Carroll Jr., as well as those of living TV legends Norman Lear, Carol Burnett and Bob Newhart, among others. The more than 3,000 hours of interviews also include the oral histories of directors, producers, art directors, news anchors, sportscasters, hairstylists, composers, music directors, talk show hosts and many other professions within the television industry.
"I hope that journalists and historians, members of the television industry, educators, students and fans will continue to engage in, learn from and be delighted by this unique archive," Delaney says.
The Shoah Foundation template
The Television Academy Foundation was inspired to create the archives by the life-history model created for USC Shoah Foundation — The Institute for Visual History and Education. Established in 1994 by Steven Spielberg, the Shoah Foundation collects and preserves the testimonies of survivors and other witnesses of the Holocaust. It moved to USC in 2006.
"When they brought the Shoah Foundation to USC, the university had a vision to expand [the work and] enable USC to save all kinds of collections of importance," says Sam Gustman, associate dean and chief technology officer at the USC Libraries.
Gustman, who has also served as chief technology officer of the Shoah Foundation since its inception, started the USC Digital Repository. He saw an opportunity to provide digitization, preservation and accessibility for research for various historical and culturally significant collections. He's now responsible for supervising the operations, preservation and cataloging of the repository's massive digital library.
"We have the best systems for doing this, and it's very rewarding to know that the Television Academy Foundation turned to USC to preserve the materials of one of the most famous sets of Hollywood interviews in the world," he says.
Ensuring preservation and long-term protection
The repository, a partnership between the USC Libraries, USC Shoah Foundation and USC Information Technology Services, aims to preserve important material before it becomes inaccessible. It offers digitization services for such analog media as film, which has an estimated shelf life of 50 years, and videotape, which has an average shelf life of 20 years. Hard drives can begin showing signs of age-related damage after just five years.
The repository's preservation systems have approximately 80 petabytes of data, making it one of the largest public video databases in the world. Each digital file is monitored to ensure its preservation and long-term protection, which includes the team creating file duplicates that are stored in several off-campus backup locations.
The repository team also enhances the searchability of digital collections through indexing, cataloging and the addition of metadata. Another major clients is the U.S. Department of Defense.
A team effort
Television Academy Foundation Interviews Director Jenni Matz describes the repository team as "an invaluable partner" in troubleshooting issues with aging analog media in dire need of such techniques as color-correction and stabilization.
"The team ha​s been instrumental in ensuring the quality of these oral histories for future generations," Matz says.
The Television Academy Foundation is now shooting new interviews digitally and the repository is preserving those as well. These interviews arrive on hard drive and don't require the transfer room. But even without the sometimes-painstaking steps involved in restoration and preservation, a tremendous amount of digital data must still be managed and protected.
The repository has about 15 student workers who do a majority of the quality assurance. After files are digitized and transferred, they spot check for such things as bumps and skips, fuzzy signals, and static white noise, known in the preservation world as snow. They flag problems and log them with a time code, which allows staff to go back and investigate.
Although many are communications or media majors, most are not familiar with the people being interviewed. Still, one student recently chose to work on Andy Griffith's oral history because she had heard her father talk animatedly about the actor's classic sitcom, The Andy Griffith Show, which ran for eight seasons in the 1960s.
"You can spend hours and hours going down rabbit holes," says Nicholas Camardo, digital imaging and content manager of the repository. "They really have some pioneers, people who were setting precedents in the industry. To go back and revisit their careers 30, 40, 50 years afterwards — it's amazing."
Trojan alums well-represented
The archives include the oral history given by the late John Singleton '90, the Oscar-nominated director and screenwriter who graduated from the USC School of Cinematic Arts just two years before his debut film, Boyz n the Hood, made him the youngest person and first African American to receive an Academy Award nomination for Best Director.
After his 2011 feature film Abduction, Singleton turned mostly to television, co-creating the crime drama Snowfall and earning an Emmy nomination for directing an episode of The People v. O.J. Simpson: American Crime Story. The oral history given by Singleton, who died in 2019 at the age of 51, was conducted in 2016.
Other famous Trojans whose interviews are part of the collection include LeVar Burton, Ron Howard, Cybill Shepherd, Marlo Thomas and the late Richard Crenna.
"The archives are easily accessible and inspiring, and an essential watch for anyone interested in the history of television," says Chao, who emphasized that these snapshots in time appeal to everyone, not just industry professionals.
"By collecting and preserving these oral histories, they [USC Digital Repository] are ensuring our ability to educate current and future generations about where we've been and, hopefully, uplift them in their own journeys forward."
---
Inside the USC Digital Repository's transfer lab
From color-correcting skin tones to cleaning mold, the repository's technical expertise is a boon for historians.
In the age of content streaming and TikTok, younger generations probably don't know very much about stars like Emmy Award-winning actor Tony Randall, best known for the ABC sitcom The Odd Couple in the 1970s. Still, they could safely assume that the late actor didn't go through life with a bad spray tan.
But that's how Randall, who also appeared in numerous feature films and Broadway shows, was beginning to look in the two-hour oral history he taped in 1998 for the television archive. Bringing Randall back to his original skin tone was a daunting task that the team at the repository — which has a 20-year contract with the Academy Foundation — was completely equipped for.
"A lot of the tapes are in great condition, so we're preserving most of them as-is," says Nicholas Camardo, digital imaging and content manager of the repository, as he reviews the Randall tape. "But there are tapes that need extra attention, and this one needed work."
Once the recordings arrive at the repository, they are taken to a transfer room equipped to handle an array of video and audio formats including various kinds of videotapes such as VHS, Betamax and 8mm. An original copy is preserved and stored, flaws and all, then the team creates a copy on which they can apply editing techniques such as digital color correction or use AI technology to reduce or eliminate background noise from something like an air conditioner. It's the improved copy that eventually makes its way onto the main site or on YouTube, replacing the flawed original. — GH
---