USC's first-year roommates use social media to play the match game
Texting, Snapchats and Facetime help bring freshmen together like never before, USC Housing manager says
On Move-in Day in 1995, Diana Paige Gonzales '01 knew almost nothing about the girl who would be sleeping a few feet away in their Trojan Hall double all through freshman year.
Watching the new arrivals this week, Gonzales, now a manager with USC Housing, said today's first-year roommates act like old friends. And in a way, they are. Though most are meeting for the first time, "these kids have been communicating with each other from the moment they were admitted," she said. "They've been talking on the phone, texting, Snapchatting, using Facetime."
College housing has come a long way in the last 20 years.
In 1995, Gonzales had filled out her all-paper housing forms shortly after being admitted, then waited months for her roommate assignment. A postcard had arrived in late July divulging the girl's name and phone number. Gonzales' calls went unanswered, and texting or using social media wasn't an option. "This was before Facebook," she said. "I didn't know what to expect."
The non-responsive roommate turned out to be a biology major, like Gonzales, with a "very flexible" personality. Too bad they were a complete mismatch on the neat-to-messy living habits scale. All that year, Gonzales recalls, "there was a clear line of demarcation" down the middle of the room.
Today, Gonzales has a pretty good track record as she manages the matching of roommates for USC Housing: Requests for reassignments based on incompatibility are rare — fewer than 100 each semester out of the 6,500 Trojans in university housing. Drawing on her own experiences as a freshman, Gonzales is fine with pairing a heavy metal aficionado with a country western fan ("That's what ear buds are for," she said). But a mismatch on the cleanliness barometer is a deal-breaker.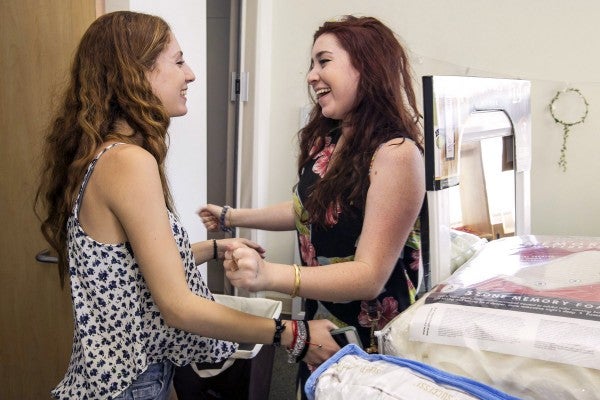 Generation DIY
Only about half of freshmen avail themselves of Gonzales' matchmaking services — down from 90 percent less than a decade ago.
Gonzales is happy to step aside.
"We're getting more and more buy-in from students because they want to have control. It's worked very well," she said.
Accustomed to curating every aspect of their lives with apps like Spotify, Twitter, Uber and Airbnb, today's college students aren't shy about crafting their dorm experience.
Previously, freshmen requesting a specific roommate came almost invariably from the same high school. Although that still happens, the vast majority are now self-matching strangers who rely on digital tools provided by USC, including several closed-group Class of 2019 Facebook pages hosted by USC's Office of Admissions and the USC Housing portal, powered by StarRez, the commercial housing software.
Incoming freshman Alexandra Brouke used both resources in her roommate search.
"I found a lot of girls who were similar to me," said the biomedical engineering major, a Russian immigrant who grew up in Pasadena. She reached out to five girls before zeroing in on her perfect match. In the end, Brouke will live alone this year: to her delight, her top housing choice — a Harris Hall single – materialized over the summer. Pulling out of her roommate deal caused no ill-will.
"I still continue to talk to all the young women I connected with," she said. "Hopefully I'll meet them when school starts."
Getting to know you
All matches start with a one-page USC Housing profile. Students locate themselves on a sliding scale in terms of sleeping habits, attitudes toward sharing, neatness, noise tolerance, smoking status, social gregariousness, taste in music, sporting interests and a laundry list of preferred downtime proclivities, from reading to video gaming.
Once they've designated their top five residence-hall picks, StarRez generates the three best roommate matches. Students can leave the decision to Gonzales to do a profile match or take control. After reviewing each candidate's profile, they can decide to cast a wider net. They can reshuffle their top five housing choices. They can write a blurb about themselves, send email through the closed system or initiate personal contact using the social media of their choice.
Move-in Day issues are few and far between. There's less surprise and far fewer uncomfortable situations.

Diana Paige Gonzales
As a result, Gonzales said, "Move-in Day issues are few and far between. There's less surprise and far fewer uncomfortable situations. They're informed well in advance."
Should a student need a roommate change, USC Housing accommodates them, no-questions-asked, starting in mid-September.
As the tools improve, colleges are giving more and more power to students to make their own housing decisions. At USC, upperclassmen can select not only their roommates but their specific building and room type as well.
"Having complete ownership of the process is really helpful," Gonzales said. "Many times they'll fill an entire apartment of four."
Rachel Scott '15 hit the jackpot with her freshman roommate, Allison Tate '15. The two met through the USC Admissions-sponsored Facebook page and ended up living together all four years. Both film production majors, they studied abroad together in London. Scott, who temporarily moved back to her family's West Covina home while she maps out her next career move, said she misses her longtime roomie.
"It's weird not coming home to her," she said. "I need her in my life."
The two girls, along with friend Michael Roma '15, who shared their apartment west of campus for the past two years, hope to all live together again someday.