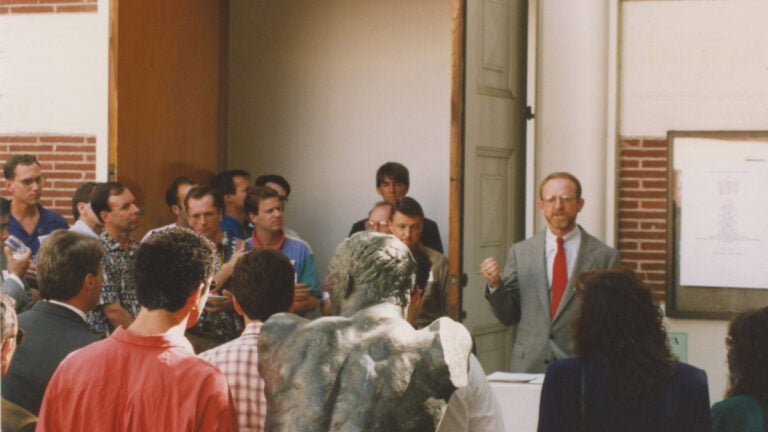 LGBT Alumni Celebrate 25 Years of Pride
For a quarter century, USC Lambda has championed diversity and inclusion.
Last June, Amy Ross PhD '86 was enjoying a stroll down Trousdale Parkway when she noticed bright rainbow banners draped along the avenue celebrating LGBT Pride Month. Ross was struck by how different the scene was just a few decades ago. "There was still a lot of discrimination and anti-LGBT attitudes in society," says Ross, who graduated from the Keck School of Medicine of USC with a doctoral degree in experimental pathology. "Today, the university—and society at large—is not only accepting but also celebrating LGBT people and our contributions."
In the '80s and '90s, LGBT Americans were banned from marrying each other and from serving in the military, but it was also an era of rising LGBT visibility and activism. In 1992, Ross, Donald L. Gabard MS '78, MPA '88, PhD '90 and a group of like-minded USC graduates and faculty decided the time had come to create an alumni group for a community that had always kept a low profile. They wanted the students to see how successful members of their community could be.
USC was one of the first universities in the U.S. to have an LGBT alumni group that also included staff and faculty. However, the milestone wasn't welcomed by everyone. "When we got our charter in 1992, somebody wrote a letter to USC Trojan Family Magazine expressing disgust that the university would do this," Ross remembers.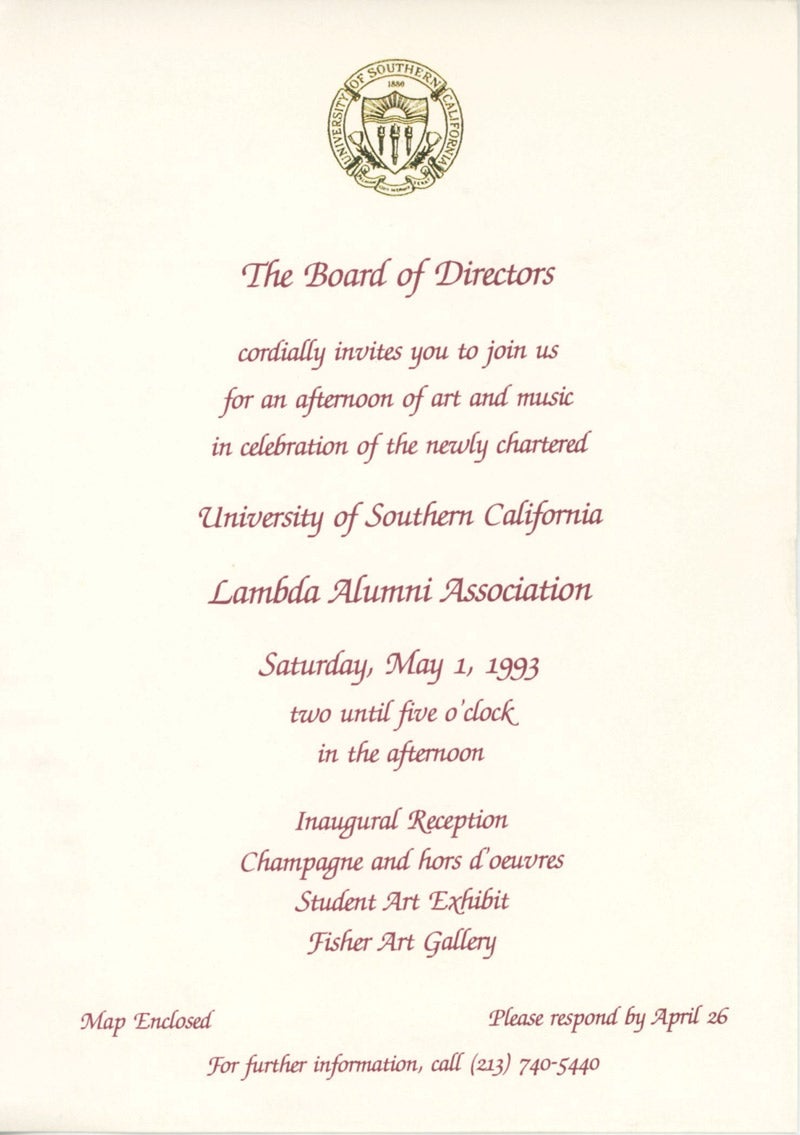 Despite the pockets of opposition, the university put its support behind the association and USC Lambda grew from a grassroots organization with no office space to a national model for other universities seeking to create LGBT alumni programs.
The membership grew from 65 to nearly 5,000 members and includes Trojans like Melissa Ward '86, the first black woman to serve as a U.S. Air Force flight instructor, television personality Alpha Mulugeta '06 and Jason Clodfelter '00, senior vice president at Sony Pictures Television. Co-founder Ross, a noted cancer researcher, went on to serve as 2014-2015 president of the USC Alumni Association Board of Governors and was elected to the USC Board of Trustees in 2015.
"I appreciated the role Lambda played for the university," says Vince Wong '03, who served as president of the group's board of directors from 2008 to 2011. "It's a community for LGBT alumni and a safe space to learn and grow as a member of the professional and broader communities that just happen to identify as LGBT."
USC Lambda officially joined the USC Alumni Association in 2003, and it will celebrate its 25th anniversary in November. "It is a great accomplishment to have been founded nearly 25 years ago when the social climate regarding LGBT individuals and issues was not as accepting as it is today — although challenges still remain, of course," says Miguel A. Vasquez '11, current director of USC Lambda.
Lambda offered me a scholarship at a time when I was weighing whether or not I would be able to finish my degree. Their support allowed me to stay in school.

John Palmer
USC Lambda hosts award dinners and networking events and supports the next generation of Trojans through scholarships. It has awarded more than $400,000 to students who support LGBT issues across disciplines such as dramatic arts, business administration, health and law. "Lambda offered me a scholarship at a time when I was weighing whether or not I would be able to finish my degree," says John Palmer, a first-generation student in the film and television production MFA program at the USC School of Cinematic Arts. "Their support allowed me to stay in school."
Last year, Palmer was able to showcase his film Pitbull at the Don Thompson LGBT Film Festival, which launched in 2008 as a fundraiser for the Don Thompson Scholarship in Cinematic Arts. Palmer's movie, centered on a young Latino who is harassed by his homophobic neighbor, won the festival's Jury Award for LGBT Awareness.
USC Lambda also offers students valuable support through its alumni mentor program. As a student, Steven Strozza '15 was an alumni liaison through the Queer and Allied Student Assembly and was paired with Kevin Notrica '86, who was then president of USC Lambda. "He helped me to discover my career path and connected me to industry leaders so that I could gain great experience and a more informed perspective," Strozza says. "It meant a lot that alumni were so dedicated to our success."
By growing alumni participation and increasing its scholarship endowment, the group hopes to continue that legacy for the next 25 years and beyond.