USC's life-changing college prep program for local youth receives transformative gift
William and Leslie McMorrow's donation endows the Neighborhood Academic Initiative, ensuring ongoing support for future generations of promising students in South and East Los Angeles
USC's signature outreach program that for decades has prepared students in its neighboring communities for college has received a generous naming gift from USC Trustee William McMorrow and his wife, Leslie. It is the largest donation ever to the university's community outreach programs.
This endowment gift will enable a significant expansion of what will now be known as the USC Leslie and William McMorrow Neighborhood Academic Initiative. It ensures that an increased number of promising students from East and South Los Angeles will gain the skills and knowledge needed to successfully earn a college degree.
The high school graduation rate of students enrolled in the program is 100 percent, and 99 percent of program graduates attend college.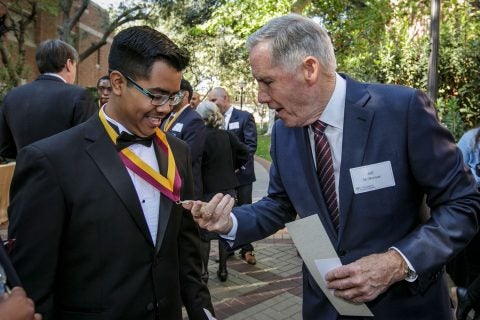 "Education is a critical component of achieving personal and professional success in life, as well as the great equalizer in our society," USC President C. L. Max Nikias said. "This remarkably generous donation from Bill and Leslie McMorrow will give the gift of knowledge to talented young persons in our local communities, and partner with them and their families as they prepare for college. These students' future successes will always have their roots in the McMorrows' extraordinary generosity."
More than 1,000 students have completed the seven-year program since its creation in 1991. Nearly all of them have enrolled in a four-year university, more than 90 percent as first-generation college students.
"Leslie and I are incredibly inspired by these young students who have the opportunity to follow through on their passions and dreams thanks to the educational foundation this vital initiative creates," William McMorrow said. "We are honored to be affiliated with such an important program and to expand its reach so that more promising students in South and East Los Angeles can pursue a degree with hands-on support from the USC community."
USC college prep program to expand
University leaders plan to expand the program from nearly 900 current students to serve more than 1,100 participants in the next two years, with the goal of sending more than 100 students to four-year universities each year. The long-term vision also includes extending the initiative to begin preparing students as early as third grade.
This wonderful support from the McMorrows will enable us to continue building those crucial skills early in the educational process.

Thomas Sayles
"We start working with these families when higher education is a distant goal," said Thomas Sayles, senior vice president for university relations. "This wonderful support from the McMorrows will enable us to continue building those crucial skills early in the educational process, helping our talented youth acquire valuable knowledge that will serve them for many years to come."
Participants come from middle and high schools in the neighborhoods around USC's University Park and Health Sciences campuses. Starting in sixth grade, they commit to after-school tutoring, daylong classes on Saturdays and summer sessions. Students take honors and Advanced Placement classes on USC's campuses starting in high school. As they learn valuable study habits and become familiar with the university environment, their parents also commit to participating in classes on topics such as college applications and financial aid.
Students who complete the program in good standing through their high school graduation are eligible for a full scholarship to USC, if admitted. Many take advantage of that offer; 41 percent of graduates have enrolled at USC.
The USC McMorrow Neighborhood Academic Initiative has become such a strong pipeline to USC that one of its participating schools now sends more of its graduates to USC than any other high school. Foshay Learning Center, less than a mile from University Park Campus, sent 21 students to USC this year, up from 19 enrollees the year prior. Other graduates attend institutions such as Harvard University, New York University or the various campuses of the University of California.
"The USC McMorrow Neighborhood Academic Initiative is more than just a program," said Kim Thomas-Barrios, associate senior vice president of educational partnerships at USC. "It is a neighborhood-focused movement that provides a straightforward pathway to college, aiming to eliminate or reduce the barriers to academic success that can often derail first-generation students."
McMorrow history and highlights
William McMorrow grew up as one of nine children in a family whose members "were all expected to work hard." He is a two-time USC alumnus who built his real estate investment and management company, Kennedy Wilson, into a global powerhouse. In three decades, he grew it from one office with 11 employees to 25 offices with roughly 500 employees around the world.
McMorrow credits much of his success to the lessons he learned — and the friendships and connections he made — while earning his undergraduate degree in business and MBA from the USC Marshall School of Business. His passion for USC grew out of childhood trips to the Los Angeles Memorial Coliseum to cheer alongside his father, a U.S. Navy fighter pilot and ardent Trojans fan.
He has been a strong supporter of real estate research and education at the university for decades, serving on the executive board of the USC Lusk Center for Real Estate, endowing the McMorrow Global Real Estate Initiative and helping launch the Performance Science Institute.
McMorrow also established the Military Veterans Initiative, helping student-veterans earn their degree at USC and find employment. He has served on the USC Board of Trustees since 2015. This year, he was recognized with the university's highest alumni honor, the Asa V. Call Alumni Achievement Award, for his dedication and support of the Trojan Family. He also supports his alma mater, Loyola High School, and is involved with the Navy SEAL Foundation and City of Hope.
Leslie McMorrow is a graduate of the University of California, Santa Barbara, where she earned a bachelor's degree in business economics and Asian studies. She honed her knowledge of Asian aesthetics, culture, art and design at Sophia University in Tokyo. She studies and invests in emerging artists, specializing in the Los Angeles art market. Her community involvement includes serving on the board of overseers of the Hammer Museum and the board of the Rape Foundation.