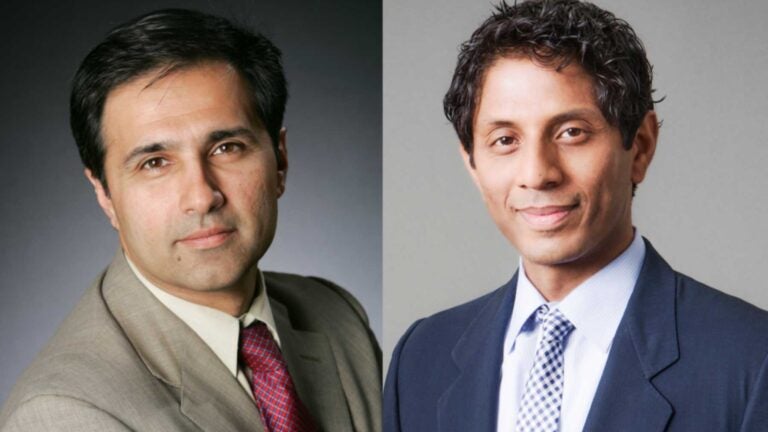 USC's Mark Humayun, Shri Narayanan elected fellows of the National Academy of Inventors
The two researchers are among eight NAI fellows from the university, including President C. L. Max Nikias
USC faculty members Mark Humayun and Shrikanth "Shri" Narayanan have been elected to the National Academy of Inventors' 2016 Fellows Program, the highest professional distinction accorded solely to academic inventors. The honors were announced Tuesday.
Humayun is a USC professor with joint appointments in ophthalmology, cell and neurobiology at the Keck School of Medicine of USC and in biomedical engineering at the USC Viterbi School of Engineering. He holds the inaugural Cornelius J. Pings Chair in Biomedical Sciences.
Narayanan is a professor of electrical engineering in the Ming Hsieh Department of Electrical Engineering and computer science at the USC Viterbi School of Engineering who holds secondary appointments as a professor of linguistics and psychology at the USC Dornsife College of Letters, Arts and Sciences and professor of pediatrics at the Keck School of Medicine. He holds the inaugural Niki and C. L. Max Nikias Chair in Engineering.
"The National Academy of Inventors recognizes outstanding technology innovation, which Mark Humayun and Shri Narayanan epitomize at its highest," said Yannis C. Yortsos, dean of USC Viterbi. "By creating entirely new areas, in restoring eyesight for certain forms of blindness and in behavioral informatics, respectively, Mark and Shri demonstrate that translational technological impact and scholarly research are not only compatible, they are closely linked."
Humayun and Narayanan join USC President C. L. Max Nikias and five other USC colleagues as NAI fellows.
"With seven NAI inductees in the last three years, the USC Viterbi School of Engineering is proud that the spirit of technology innovation permeates deeply our research and scholarly enterprise," Yortsos said.
NAI fellows are nominated by their peers and chosen based on their prolific contribution in creating or facilitating outstanding inventions that have made a tangible impact on quality of life, economic development and the welfare of society. The honor was founded in 2010.
About Mark Humayun
Mark Humayun merges medicine and engineering to focus on developing treatments for the most debilitating and challenging eye diseases and holds more than 100 issued patents and patent applications, most in the area of bioimplants for ophthalmology.
Humayun's most recognized innovation is his co-creation of the Argus II, the only FDA approved retinal prosthesis system that allows those with certain blinding diseases to regain some useful vision. Earlier this year, Humayun received the prestigious National Medal of Technology and Innovation, the nation's highest award for technology achievement, from President Barack Obama.
Professor Humayun does not see boundaries, but rather possibilities.

C. L. Max Nikias
"Mark Humayun is such a deserving recipient of this fellowship from the National Academy of Inventors," Nikias said. "In advancing technology to change medicine, Professor Humayun does not see boundaries, but rather possibilities. He exemplifies American ingenuity and has dedicated his career to preventing and reversing blindness through technological innovation."
"I am honored to be selected a fellow with the National Academy of Inventors," Humayun said. "My passion has been to merge the power of technology and engineering to create medical breakthroughs. Often these innovations, such as the Argus II which took more than 20 years from concept to FDA approval, come after long periods of research and development and through collaborating with many talented students and colleagues, but the results in changing patient lives is worth the wait and hard work. The environment at USC allows me to surround myself with very talented individuals who help make these ideas a reality."
Rohit Varma, dean of the Keck School and director of the eye institute, said: "Mark embodies the spirit of innovation and dedication at the USC Roski Eye Institute by pushing the envelope to create biomedical solutions that will make a transformative difference in people's lives, and we congratulate him on this latest honor.
"Restoring vision and preventing blindness is Mark's personal 'moonshot' and a mission all the physicians and scientists at USC Roski Eye Institute share. We're proud to have him conducting his research, creating his technological breakthroughs and treating patients at USC and also benefiting patients worldwide."
About Shri Narayanan
Shrikanth "Shri" Narayanan is a fellow of the Acoustical Society of America, the Institute of Electrical and Electronics Engineers, the American Association for the Advancement of Science and the International Speech Communication Association.
Shri Narayanan is a true pioneer in using engineering innovations to provide insights into human behavior.

C. L. Max Nikias
"Shri Narayanan is a true pioneer in using engineering innovations to provide insights into human behavior, and his groundbreaking work touches an array of areas, including autism, addiction and couples therapy," Nikias said. "He stands as an outstanding example of USC's extraordinary faculty whose prolific research has a far-reaching, enduring impact. This NAI fellowship is certainly a well-deserved recognition of his distinguished career."
Narayanan has made groundbreaking contributions to human-centered signal and information processing. His contributions have laid the foundation for the proliferation of voice recognition technologies, voice recognition technologies on the cloud and on mobile devices, and in enabling novel emotion-aware human-machine interaction technologies. He is also the creator of the fields of behavioral signal processing and behavioral informatics that enable technology-based solutions with applications most notably in mental health.
Narayanan is internationally recognized as a pioneer in several distinct research areas: speech and language processing, machine speech recognition and translation, multimedia analytics, mobile device interfaces, emotions research and affective computing, and biometrics. His work is enabling novel diagnostics and treatments across a variety of domains of profound societal need and importance such as autism, addiction, depression and suicidality.
Narayanan teamed up with the Geena Davis Institute on Gender in Media to identify unconscious gender bias in Hollywood films. Their tool analyzed more than 200 films and found that, among other things, men spend significantly more time speaking on screen than women, despite the fact that movies with a female-lead outgrossed their male-led counterparts.
"I am absolutely thrilled about this honor … a celebratory acknowledgment of the increasingly tight connection between research innovations in academia and their translation to the real world," Narayanan said.
Narayanan has published more than 700 papers and holds 17 awarded patents.