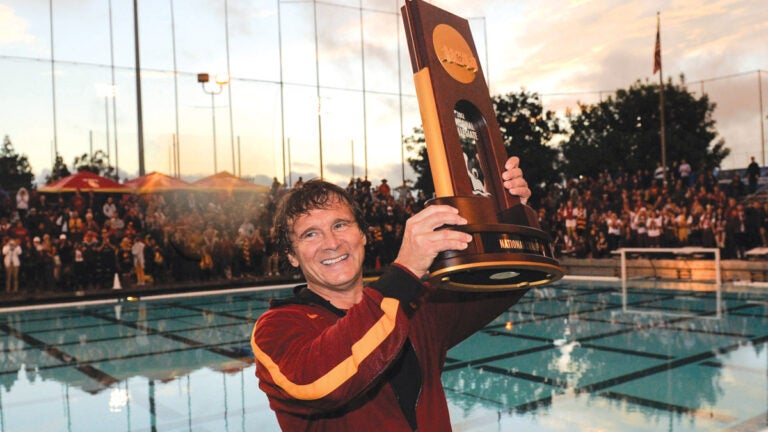 USC's Winningest Coach Always Keeps Learning
Water polo's Jovan Vavic has led the team to more titles than any coach in USC history.
Water polo matches pack in a lot of action, no small thanks to the stamina required from its athletes. But powerful goals are only the half of it: So much happens below the surface, out of sight.
"What no one sees is the battle taking place underwater with grabbing, pushing and intense legwork," USC water polo Coach Jovan Vavic explains. "If they can show that on television, water polo's future will be great."
As one of the most celebrated college coaches in the sport, Vavic knows the nuances of the game better than just about anyone. During his 25 years at USC, Vavic has earned the most team titles of any coach in the history of the university.
As coach of the men's and women's water polo teams, Vavic has guided Trojans to 14 national championships (nine men's and five women's). He's a Pac-12 Coach of the Century and has been recognized 13 times as National Coach of the Year and 13 times as Mountain Pacific Sports Federation Coach of the Year. "There's no secret, such as a great talent, brains or intelligence," Vavic says of his track record. "Anybody can be successful in anything if they just put in the time and work."
As for the comparison between coaching men and coaching women, he says, "There's no difference."
Vavic's passion for water polo began in Herceg Novi, a town in Montenegro (part of the former Yugoslavia). He started at age 8 and later played professionally. "My teammates would just do what the coaches told them, but I was intrigued by the little things of the sport and learning what it took to play more than one position," Vavic says. "I was a student of the game."
He moved to Southern California in 1984 and found his way poolside as a volunteer coach for high school teams. In 1990, he became an assistant coach at UCLA while he earned a degree in history. When that university dropped the sport, USC's head coach, John Williams, brought him on as assistant coach. Vavic stepped into the head coach role when Williams retired in 1999.
Describing coaching as a constant learning process, Vavic notes that unlocking player personalities keeps coaches on their toes. "You have to learn how to work with them in different ways," he says.
In recent years, this has taken on a whole different perspective — three of Vavic's four children have become Trojan water polo players. Fortunately, talent and a tireless work ethic run in the family. Nikola '14 smashed a school record with 254 career goals. Monica '15, an all-time top scorer, is the only Trojan in program history named to All-American First Team four times. Soon to premiere at the Uytengsu Aquatics Center is incoming freshman Marko. His father anticipates great things from his 210-pound, 6-foot-5-inch son.
Even after decades of coaching and playing, Vavic knows there's always something new to discover. "Most young coaches think they know it all," he says. "But the learning process is really what keeps you going."