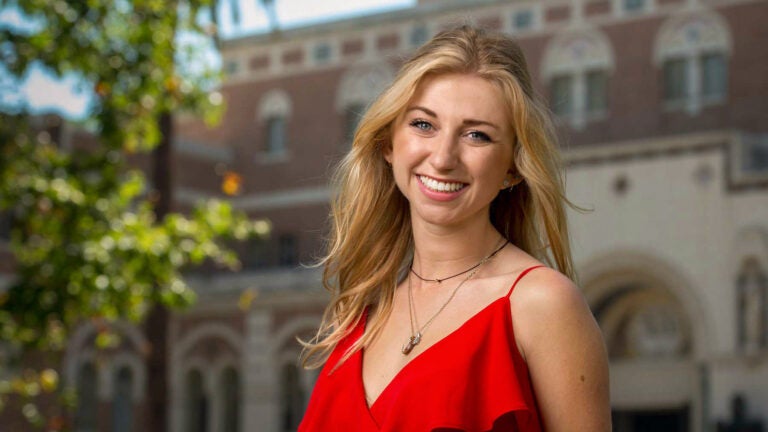 Valedictorian Cooper Nelson plans to go Hollywood — but can always fall back on law
Her USC adventure has stretched from cinema to history, with a little Voltron and Bigfoot thrown in for good measure
This week, USC News profiles the Class of 2017's salutatorians and valedictorian: Monday, salutatorian Jordan Kondo; Tuesday, salutatorian Amanda Semler; and today, valedictorian Cooper Nelson.
Growing up in Novato in Marin County, when Cooper Nelson wasn't in school or horseback riding, she was stationed in front of the family television, bingeing on cartoons.
"I did my homework to cartoons," Nelson, a Trustee scholar, said. "My Friday nights consisted of watching Adult Swim until 4 in the morning."
Little did Nelson know that it would prepare her for what's become her passion.
This year's valedictorian is majoring in cinema and media studies, and minoring in screenwriting. On top of that, she has another major in law, history and culture.
She has a fallback plan of being "an entertainment attorney, preferably the big-baller kind that represents celebrities, especially when they screw up legally." But her big hope is to become a writer for animated films. She already has a couple of show ideas.
'The most fun industry'
"I think it's the most fun industry in the world," she said of entertainment. "I wouldn't be doing that if I hadn't gone to USC — not a chance."
She credits the USC School of Cinematic Arts with helping her get her very first film job during her freshman year at Indigo Films, which produces content for Nat Geo Wild, Travel Channel and Investigation Discovery to name a few. She spent her time "researching Bigfoot and aliens all day," she said with a smile.
Learning the world of TV development paved the way for internships at DreamWorks and Lionsgate, she said.
There's something to be said for USC Cinema as a brand. It has meaning to people.

Cooper Nelson
"There's something to be said for USC Cinema as a brand," Nelson, 22, said. "It has meaning to people."
While still in college, she got to work alongside producers, writers and editors — seeing animation made from start to finish. Analyzing scripts at Lionsgate gave her a behind-the-scenes look at what film houses look for. At DreamWorks, she got to make notes on episodes for the animated series Voltron: Legendary Defender, discussing it with a show executive.
"Watching animation be made is watching the creation of magic," she said.
Full plate
But Nelson didn't silo herself at USC. Even though there was plenty to get lost in at the School of Cinematic Arts, she developed a passion for history, researching Spanish influenza during World War I at the USC Dornsife College of Letters, Arts and Sciences. She also went to Australia, took students and professors of all disciplines on hikes with Peaks and Professors, was on the USC ski team and formed a bond with her sorority sisters at Pi Beta Phi.
All this and she still managed to get a 4.0 GPA.
Hanging out on campus on a recent weekday in a surf tee, her skateboard propped up next to her, Nelson gave off anything but a stressful vibe. She credits USC for making it all manageable.
"I get to take classes on Star Wars and I get to take classes on the French Revolution. I got to take a class on the 'Birth of Cool' with Professor Todd Boyd, who goes by 'Notorious PhD,'" she said with a laugh. "It's the kind of stuff I love talking about it. I couldn't not do well because I just loved what I was doing."