Villaraigosa convenes experts to debate California Environmental Quality Act
Former mayor seeks 'intelligent conversation' about the oft-discussed topic
The California Environmental Quality Act (CEQA), the focus of much discussion about development since its enactment in 1970, was front and center at a recent debate at the Galen Center.
The California Central-USC Villaraigosa Initiative at the USC Price School of Public Policy hosted the event, which convened leading practitioners in environmental law and urban development on Dec. 10.
The CEQA was adopted in the spirit of environmental protection and is a big part of why California is known for its environmental leadership. However, critics argue that the CEQA may be abused to hinder much-needed infill and transit development.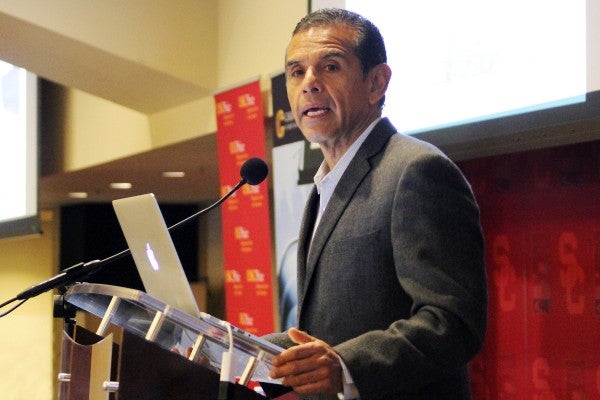 "The governor continues to look at this issue, and so does the legislature," former Los Angeles Mayor Antonio Villaraigosa said in his introduction. "We wanted to bring together a group of experts from across the spectrum who can help us have an intelligent conversation about it."
CEQA's purpose
Paula Daniels, executive director of California Central, provided the context that the CEQA requires that state and local agencies assess and publicly disclose environmental impacts of proposed projects, then minimize or mitigate those impacts to the greatest extent possible. It creates public accountability and a transparent process.
Among the criticisms of the CEQA is that between 60 and 80 percent of these lawsuits target needed infill development; and some of the lawsuits in controversial cases are as perceived politically motivated, brought to gain other benefits. A rebuttal to that point is that the CEQA lawsuits comprise less than 1 percent of all CEQA matters and that three of the top four areas in the country for infill development were in California, including Los Angeles.
Moderating the discussion was Professor Raphael Bostic, director of the USC Bedrosian Center on Governance and the Public Enterprise, which was an event partner. The conversation included three environmental lawyers, Douglas Carstens of Chatten-Brown & Carstens, Gladys Limon of Communities for a Better Environment and David Pettit of the Natural Resources Defense Council, as well as Santa Monica City Manager Rick Cole, Los Angeles Business Council President Mary Leslie and Civic Enterprise co-founder and principal Mott Smith '99.
Mutual understanding
Through the discussion, there was recognition of common ground.
Those who say the CEQA is wrong or bad, I think we're muddying the waters.

Rick Cole
"Those who say the CEQA is wrong or bad, I think we're muddying the waters, and it's no wonder the environmental groups bristle," Cole said. "So I think we have to be very clear we're not talking about dismantling CEQA, we're talking about its proper application."
Leslie examined the affordable housing crisis building up in Los Angeles and how public infrastructure and residential housing make up most CEQA lawsuits. Having to go through an Environmental Impact Review process can delay a project more than two years, with litigation tying it up even longer.
Smith, a real estate developer who graduated from USC Price's Dollinger Master of Real Estate Development program, explained how even the threat of CEQA lawsuits affects his business. He provided examples of large settlements that organizations have received from developers.
The panel agreed that better planning, which incorporates CEQA standards from the beginning, would address most of the issues that arise from the CEQA being enforced by lawsuits — making development more predictable and allowing good projects to proceed smoothly while not letting bad projects slip through the cracks unabated.
"CEQA has come to be the catch-all because planning has not fulfilled its job," Carstens, an attorney, said. "An emphasis on good planning is needed so CEQA does not have to make up for the deficit, and we don't have to go with the project-by-project challenges."
With the many jurisdictions in the state doing their own planning, and some better than others, this may be difficult to accomplish. Cole suggested the state needs landmark planning legislation that embeds the CEQA into city and county plans, making sure developers abide by those plans.
"We need to work on making it systematically built into the DNA of our state that we want to reduce greenhouse gases, we want to promote transit usage, we want to eliminate sprawl, we want to promote transit-oriented development and infill," Cole said. "Those ought to be what we do routinely in all 488 cities and all 58 counties, and if it takes a new department in Sacramento to do that — I'm signed up for that."
Added Limon: "I think taking preventative measures to ensure at the front end of development that every step is being done with CEQA criteria in mind, to ensure once you get down the line you get to a place where now there is CEQA, is a very good direction to go. I'm glad we have consensus on that point."
Forward progress
Villaraigosa was encouraged that the discussion led to the exploration of possibilities for the CEQA to be better implemented without hurting good development.
"There's not one person here on record or conversation who believes we ought to eliminate CEQA," Villaraigosa said. "I believe in CEQA. I understand how important it's been to the fact that California has led the way with respect to protecting our community, our environment, our public health, our air, our water and the like. I thought it was instructive that what we're looking at when we talk about [reforming] CEQA is the abuse," including when bad projects get through unchecked or when affordable and transit-oriented projects get "killed" by the process.