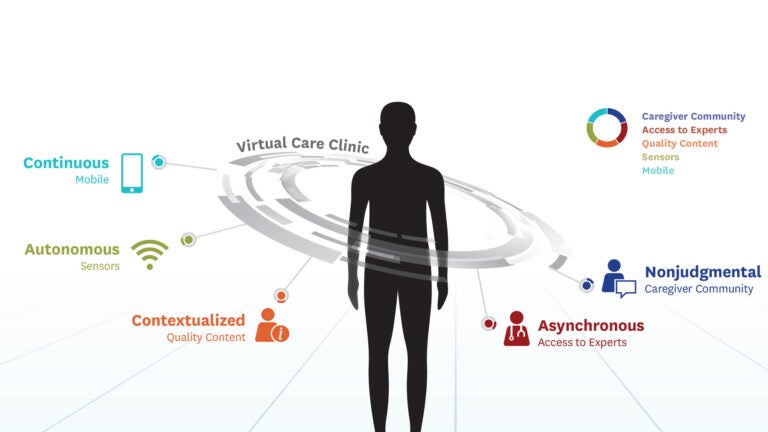 Virtual Care Clinic lets patients control their health care experience
USC Center for Body Computing announces partners for its technology-driven program
The USC Center for Body Computing has announced its foundation partners for the Virtual Care Clinic (VCC), a program that can connect anyone who owns a smartphone with Keck Medicine of USC experts by using new technologies developed at the USC Institute of Creative Technologies.
"Our Virtual Care Clinic is not only the democratization of health care allowing anyone access to our medical experts without leaving their home, but it also capitalizes on the promise that digital health is supposed to offer," said Leslie Saxon, executive director of the CBC. "Because we have worked in collaboration with our VCC partners and our medical experts, this health care model will empower patients, improve quality outcomes with more precision medicine analytics and diagnosis, and enhance the physician-patient relationship by creating seamless communication that puts the patient in the driver seat of their own health care experience and outcomes."
The CBC also is partnering with Doctor Evidence, IMS Health, Karten Design, Medable, Planet Grande, Proteus Digital Health and VSP Global to deliver wireless, on-demand medical care to patients by using mobile apps, "virtual doctors," data collection and analysis systems and wearable sensors.
Innovative patient care models such as our VCC will create operational efficiencies and cost-savings.

Thomas Jackiewicz
"University-based medical centers like ours are natural sources of health care innovation, given the focus on basic science, clinical and translational research," said Thomas Jackiewicz, senior vice president and chief executive officer of Keck Medicine of USC. "But to achieve truly transformational medicine, we have to collaborate with the private sector, particularly the digital health and technology companies like our VCC partners. Innovative patient care models such as our VCC will create operational efficiencies and cost-savings, allowing us to refocus resources back into more innovation and constantly improve the patient experience. This is redefining medical care."
Initially, the VCC will offer access to its experts at the USC Eye Institute, ranked No. 9 among ophthalmologic programs in the nation, according to U.S. News & World Report, and the USC Institute of Urology, recognized as a leader in robotic cancer surgery for bladder, prostate and kidney cancer. Ultimately, all 1,500 faculty/physician experts, surgeons and researchers at Keck Medicine of USC will become involved in the VCC.