Aspiring product designers' and creators' Zoom pitch sessions go virtual
USC Iovine and Young Academy seniors usually exhibit their final projects in a showcase to classmates and faculty. But thanks to the pandemic — and Zoom — they ended up pitching the fruits of their hard labor to alumni and industry pros.
At first, MacKenzie Baker's and Zach Sullens' senior project at the USC Jimmy Iovine and Andre Young Academy was going as planned.
The two students and the rest of their group had spent the year creating Nomi, software designed to let restaurants provide quick options to patrons with food allergies. Their next step: taking the project to the academy's "science fair," the annual showcase where students receive critical feedback from faculty and classmates before turning in the final product.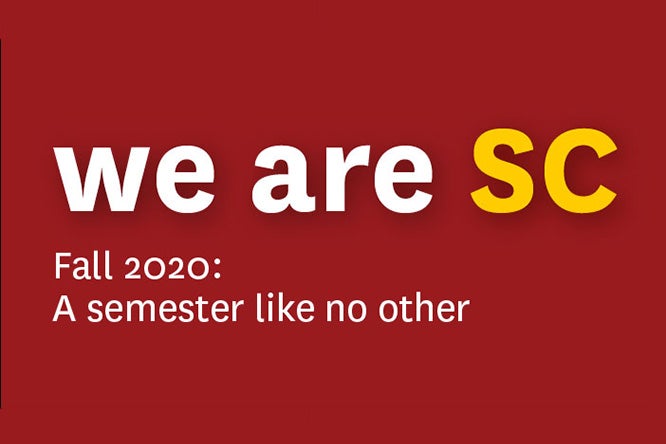 Then the COVID-19 pandemic hit and all bets were off. The presentations — always done as a face-to-face, interactive event — would be online.
"The whole point of the science fair is to make it fun and engaging," Baker said. "We thought that it was going to be really fun, but then we had to pivot and try and capture some of that playfulness and interactivity through [an online] presentation, which was pretty difficult."
Difficult, sure, but successful — so much so that the event will likely stay online, even after in-person classes resume.
Going online opens up new opportunities for USC Iovine and Young Academy students
Facing the challenge of moving the fair online, Assistant Professor of Design Matthew Manos saw an opportunity to use this new format to the students' advantage.
"Historically, [the event] has worked really well because it forces or challenges the students to have to pitch their idea over and over and over again," he said. "Instead of canceling it, because it's been such a tradition and students look forward to it, we quickly thought, 'OK, how do we just make the science fair work on Zoom?'"
Manos, the assistant dean of academic strategy at the academy, said the event — part of the seniors' capstone called the "Garage Experience" — serves as a public display of students' projects to get additional feedback. While not an actual science fair, the event has always borrowed that format, with students having their own booths and visitors moving from project to project.
The fact that it was online really opened up the doors for the kind of perspectives they could get.

Matthew Manos
Since physically moving between projects was no longer an option, Manos had each of the 19 project teams participate in the 90-minute event through their own Zoom breakout rooms. The groups created a slide explaining the project — a sort of virtual poster that would've been displayed at the booth — to greet visitors as they entered each "room." Once in the breakout room, visitors could interact with the presenting students and ask questions via chat.
Traditionally, Manos said, the visitors have mostly been faculty members or other students. But due to the online format, this year's groups were able to receive feedback from alumni and industry professionals from across the country.
"The fact that it was online really opened up the doors for the kind of perspectives they could get, as opposed to maybe just businesses or alumni in L.A.," he said. "It's also a bigger challenge to speak clearly and concisely to people that don't know where you're coming from or aren't a part of the Trojan Family. That added incredible value."
Baker and Sullens also saw the value in the online format, as they were forced to rethink how users would interact with their project. Since the pandemic put a hold on in-person dining, the group was able to focus on making Nomi available for online ordering.
"With Nomi, we're focusing on trying to take the personability of in-person dining, and make that accessible even during this time where everything's kind of starting to be digital," Sullens said. "Everybody's now disadvantaged in this new world; nobody knows how this all works, so if we can flip over and figure this out ASAP, we can turn that into a benefit."
The benefits and detriments of pivoting to a virtual presentation
That's not to say that the online format didn't come with its own set of issues. The breakout rooms allowed for new people to join at any time, Baker said, making it difficult to fully comprehend how many people she was addressing.
"In a regular in-person science fair, people are able to float around and you have some notice as you see someone from another table starting to walk to yours. In a Zoom breakout room, someone will just randomly join midway through the presentation," she said.
Manos also said the format did not really lend itself well to certain traditional aspects of public speaking. There was no real measure of proper posture, no direct eye contact and no ability to really read body language, not to mention the possibility of technical difficulties.
Ultimately, Manos wants the virtual event to continue next year, albeit with some corrections. For starters, he'd like to better keep track of what breakout room each guest had been in and provide students a more complete list of guests. He'd also extend the length of the event by another 30 minutes so the students could actually see each other's work. But Manos stressed that this is not a filler until students are fully allowed on campus. The ultimate goal is to offer the event twice a year, during fall and spring, and move to a completely online format.
Another benefit of the online event is students' ability to easily record themselves for feedback. Building online presentation skills has become increasingly crucial as working remotely has become a norm, one that Manos believes will most likely continue long past the pandemic.
"COVID or not, when you start a job, there's a great chance that you'll be getting on Zoom with a vendor that's in a different state or a colleague that works in a different building or location," he said. "As people are going into the semester online, I would encourage them to start building their online work environment out a bit more and embrace that everything we're doing is taking place on a screen."