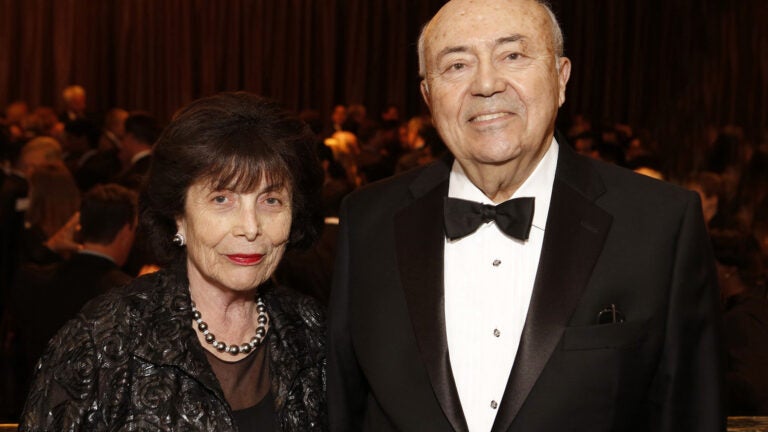 Viterbis' $15 million gift establishes endowed chairs and fellowships
The couple's gift will support scholarship at USC Viterbi and the USC Shoah Foundation
USC Trustee Andrew J. Viterbi PhD '62 and his wife, Erna, have added to their rich legacy of philanthropy at USC with a generous $15 million gift to boost scholarship in engineering and genocide studies.
The namesakes of the USC Viterbi School of Engineering, the Viterbis will support two areas of the university especially important to them, designating $10 million for USC Viterbi and $5 million to the USC Shoah Foundation – The Institute for Visual History and Education.
This generous gift reflects their long-standing commitment to investing in people.

USC President C. L. Max Nikias
The couple's gift comes as USC Viterbi approaches the 10th anniversary of the Viterbis' original $52 million naming gift in 2004. The USC Shoah Foundation marks its own 20th anniversary this year.
Directed from the Andrew and Erna Viterbi Fund of the Jewish Community Foundation of San Diego, the gift will create five endowed faculty chairs and five graduate student fellowships at USC Viterbi.
The gift will also endow the Andrew J. and Erna Finci Viterbi Executive Director Chair at the USC Shoah Foundation, which will amplify efforts to share testimonies of Holocaust and genocide survivors around the world. USC Shoah Foundation Executive Director Stephen Smith will be installed as the first holder of the chair.
His technology touches millions of lives
"Andrew and Erna Viterbi stand among USC's most ardent champions, and this generous gift reflects their long-standing commitment to investing in people," said USC President C. L. Max Nikias. "Through these endowments, the Viterbi School and Shoah Foundation can support transformative faculty and talented students, helping them to advance research that will benefit our world for generations to come. We remain deeply grateful for the Viterbis' continued confidence."
Andrew Viterbi co-founded Qualcomm, one of the foremost developers of wireless telecommunications products and services. He created the now-legendary Viterbi algorithm, which has applications in a large number of fields, including wireless and satellite communications, data recording, speech recognition and search engines.
"Over the years, my wife and I have seen the university taking enormous strides, and we want to help increase that momentum by supporting research and other academic initiatives at USC," Viterbi said about the couple's most recent gift.
USC Viterbi Dean Yannis C. Yortsos called Andrew Viterbi an "engineering legend," noting that his technology touches millions of lives. "With their latest gift, the Viterbis are reaffirming their staunch commitment to engineering education and research by helping ensure that the school is able to recruit and retain world-class faculty and students," Yortsos said.
At the same time, Steve A. Kay, dean of the USC Dornsife College of Letters, Arts and Sciences, noted that the gift will spur growth at the USC Shoah Foundation, which is housed at the college.
"This outstanding gift from the Viterbis will enable Dr. Smith to expand the institute's educational reach and develop further strategies for optimizing the use of the vast information contained in the Visual History Archive," Kay said.
'Through hardship to the stars'
"USC Shoah Foundation plays a crucial role in educating our society about the past, while working tirelessly to prevent these atrocities from occurring in the future," said Erna Viterbi, a longtime member of the institute's Board of Councilors. "Dr. Smith has done extraordinary work at the institute, supporting innovative technologies and fostering interdisciplinary research partnerships. My husband and I are very proud to provide him with resources that will help him further the institute's vital mission."
The Viterbis' story embodies the spirit of Andrew's favorite quote, Per aspera ad astra — a Latin phrase that translates to "Through hardship to the stars."
As children, Andrew and Erna fled Europe to the United States with their families before World War II due to growing anti-Semitism. Seeing his parents struggle to support their family, Andrew dedicated himself to his education and won a scholarship to the Massachusetts Institute of Technology, which sparked his interest in communications and coding theory. He received his bachelor's and master's degrees in electrical engineering from MIT in 1957, and he and Erna soon married. In 1962, he earned his PhD in digital communications from USC.
Prior to co-founding Qualcomm, Viterbi co-founded Linkabit, a digital communications company. He also served as a professor at UCLA and then at the University of California, San Diego, where he is now professor emeritus. At USC, he holds the Presidential Chair in Engineering and serves on USC Viterbi's Board of Councilors. He has been a member of the Board of Trustees since 2000.
Erna Viterbi has held leadership roles at philanthropies around the world, in addition to avidly supporting the USC Shoah Foundation. Together with Andrew, she has given generously to educational institutions, health sciences research, veterans' causes and arts organizations. The couple resides in San Diego.
Their gift provides significant support for USC Viterbi's $500-million initiative, which aims to bolster endowment funds for faculty research, student scholarships, academic programming and capital projects. The Viterbi initiative has raised more than $241 million.
The Viterbis' gift also puts the USC Shoah Foundation's fundraising initiative over $72 million — nearly half of its $150 million goal. This contribution represents a landmark in the institute's history, as it is the largest gift the institute has received since becoming part of USC in 2006.
These two initiatives support the larger Campaign for the University of Southern California, a multiyear effort that seeks to raise $6 billion or more in private philanthropy to advance USC's academic priorities and expand its positive impact on the community and world. Three years after its launch, the campaign has raised more than $3.4 billion.