Service activity gives Trojans an idea of health administration
Students get a fresh outlook on health care by visiting the Downtown Women's Center as part of a weeklong USC initiative
The Downtown Women's Center dedicates itself to helping women overcome poverty and homelessness. That's where some USC students spent a summer day cooking lunch and sorting clothes as volunteers.
The service activity helped them gain "a sense of the social determinants of health," according to USC Price School of Public Policy Professor LaVonna Lewis, who led the visit.
"It's hard for someone to be healthy if they don't have housing, don't have a job, don't have access to health care services or quality food," Lewis said. "They were able to see all that from one site."
The site visit was part of the weeklong USC Diversity in Healthcare Leadership Initiative Summer Enrichment Program (SEP), in which Lewis showcases the breadth and depth of the field of health administration — and raises students' awareness about careers in health care that extend beyond the roles of doctors and nurses.
Every summer since 2002, Lewis has been encouraging students who think they might want to spend more time working with people in medicine to pursue a career in health administration, possibly through a Master of Health Administration (MHA) degree at USC Price. Since patients come from every possible background, diversity is vital in those advocating for each group's needs and well-being.
"The driving force to me is that when health gets a spotlight, it's usually clinical," Lewis said. "No one ever talks about the back side of the house and how we keep the doors open for people to get services, how we come up with programs or interventions to keep people healthier in the first place. I wanted people to understand that there are jobs to do that."
Seeing leadership in action
Over the course of the program from July 25-29, more than 30 participants (mostly undergraduates or recent college graduates) received advice from leaders in various areas of health administration and took part in site visits to see these jobs in action.
While attending USC as an undergraduate, Angela Baca got a tour of the Los Angeles County+USC Medical Center during the second SEP in 2003. She decided then and there that she someday wanted to work for LAC+USC, and she got the job after receiving her MHA from USC Price. Now an administrator for women's services at LAC+USC, she helped lead the site visit for a new generation of SEP participants.
"I was very excited to host the group of students because, 13 years ago, I was in their shoes pursuing SEP and really appreciate everything Dr. Lewis did for me with her guidance," Baca said. "I absolutely love my career in health administration and getting to work with an underserved community."
Baca not only explained to students the operations and organizational structure of the hospital, but she also brought in senior executives to share their roles and how they got there.
Expanding career options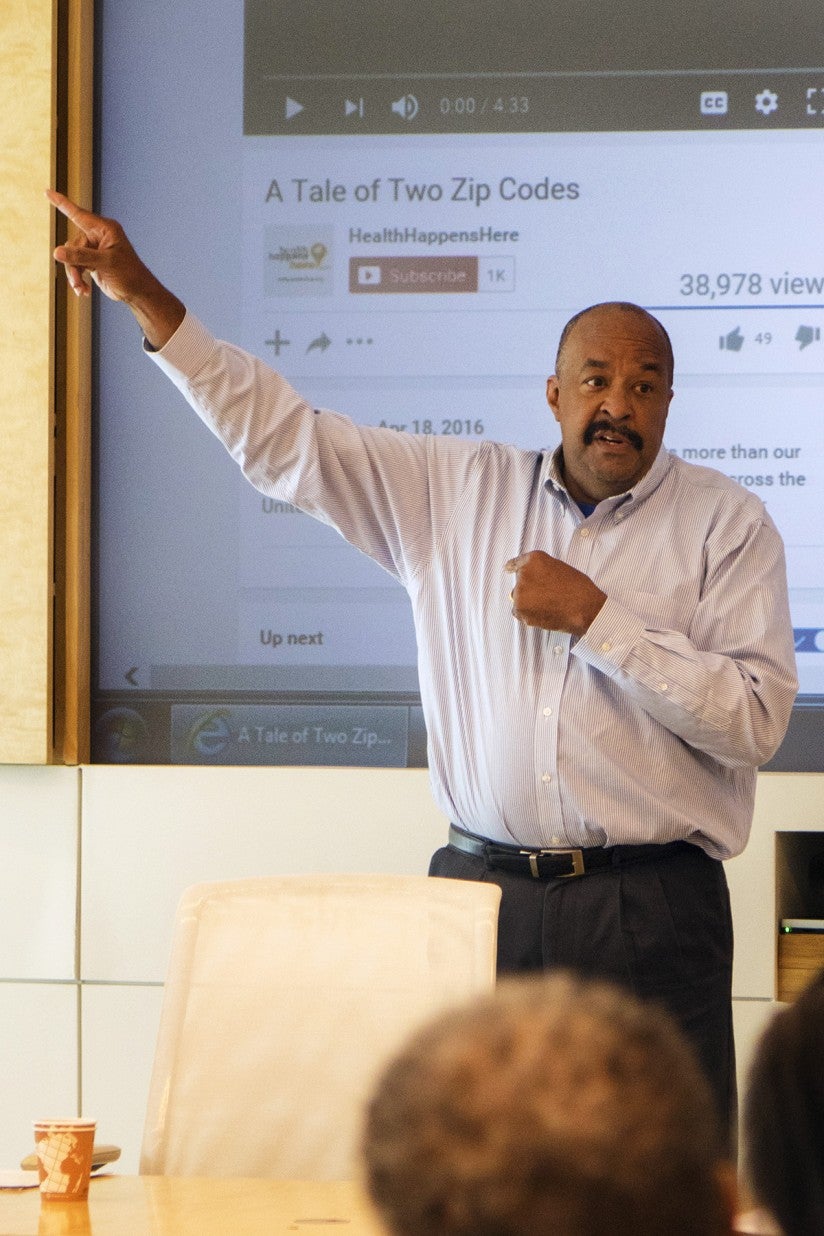 At the California Endowment, President and CEO Robert Ross introduced students to how a philanthropic organization can contribute to healthy outcomes with place-based strategies. The program also included site visits to the America Heart Association, led by Vice President of Government Relations Eric Batch MPP '00; the Martin Luther King, Jr. Center for Public Health, led by Health Program Analyst Nicole Vick '00; and the Downtown Women's Center, led by Community and Corporate Engagement coordinator Jay McDonald.
Participants also heard how they can apply to an MHA program with a talk from Sarah Esquivel, associate director of recruitment and admission at USC Price, and how they can promote themselves once they've completed their degree from Julie Labich, associate director of the USC Price Office of Career Services.
"Most students have no idea what a career in health administration looks like," Lewis said. "Even though they found the degree doesn't mean they found a career. All the pieces are designed to give them a sense of what are the points of entry, but also what it takes to navigate that space."
Two SEP participants — Luis Chavez and Minh Nguyen — are beginning their pursuit of MHA degrees at USC Price this fall. Another member, Samrawet Samuel, is a junior at USC Price in the undergraduate health management track.
"This program really opened my eyes to how many different aspects of health there are," Chavez said. "Before the program, I wondered why health administration was in a public policy school. Going through the days I learned that all policy is health policy. Whenever you make a change in housing or the economy, it is going to affect the health of a community."