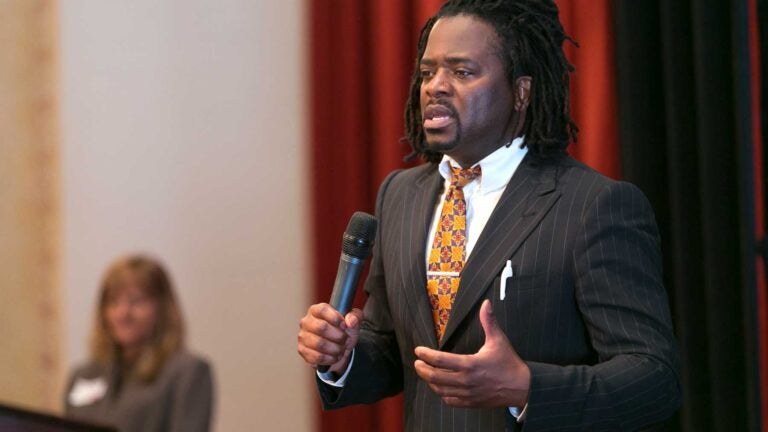 'Wild' ideas about how to end homelessness unveiled at USC event
Social workers, tech experts and community leaders note new policy and service initiatives from city, county and state governments
Tech, hackathons, housing and empathy were among the approaches to homelessness discussed Wednesday at an event that included service providers, law enforcement officers, community leaders and people who have been homeless.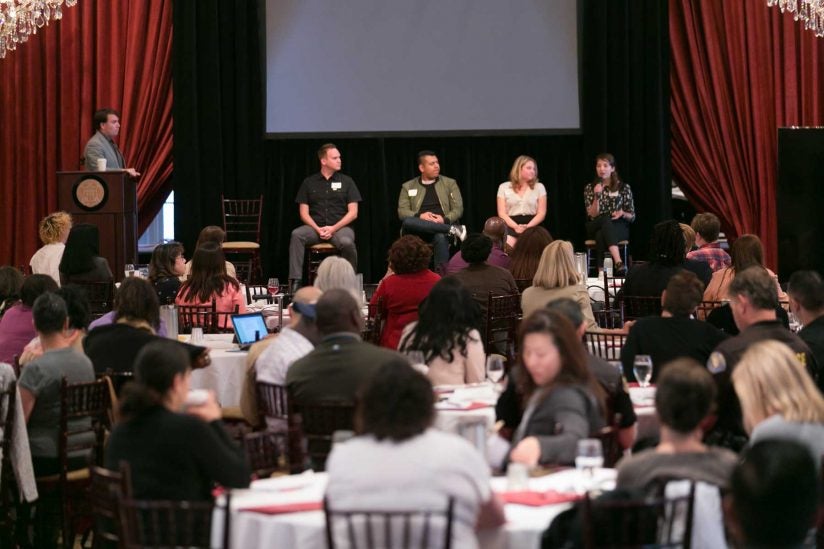 "We have the best playing field we've ever had to make things better for every human being in L.A. County," said Marilyn L. Flynn, dean of the USC Suzanne Dworak-Peck School of Social Work, noting a number of new policy and service initiatives from city, county and state governments designed to help end homelessness.
USC Trustee Dworak-Peck was on hand for the forum titled "Wild Ideas and Innovations: A Radical Conversation About Homelessness" at Town and Gown. Faculty from the USC Price School of Public Policy and the USC Marshall School of Business also took part.
"There's a tremendous amount of energy and creativity in this room," said Brenda Wiewel, director of USC Initiatives to Eliminate Homelessness. "This is a topic that's finally getting the attention it deserves. I don't see how we can have prosperity and social justice with so many people suffering from housing insecurity."
Not the only one
"I'm probably not the only person in this room who's been homeless," said Gabriel Crenshaw, a psychologist and lecturer at the USC Suzanne Dworak-Peck School of Social Work.
Crenshaw, who is also a TV personality, talked about the mental siege he suffered while living in his car in Manhattan Beach.
I started to lose my grip on reality.

Gabriel Crenshaw
"I started to lose my grip on reality," he said. "I was exposed to environmental concerns you don't think about when there's a roof over your head. Homeless people appear to be crazy. Impulsive, disruptive behavior is their way of communicating fear. Once we understand that, the urgency to do something about it kicks in."
Crenshaw, who cited research showing more than a quarter of people living on the streets suffer from mental illness, said the best solution is housing. He also emphasized empathy.
"People aren't interested in what you know until they know you care," Crenshaw said. "I don't have to say a word. They walk into the room and feel support and empathy. The neural pathway has already changed."
The tech approach
Technological solutions to homelessness were brought up by a several speakers. Flynn spoke of houses that could be built by 3-D printers, while SoCapTech CEO Ellen Sloan proposed a hackathon centering on homelessness.
"Everybody in this room has a smart phone," Sloan said. "But people in nonprofits are stuck with email, phones, paper forms and legacy software that's a rat's nest."
Sloan believes nonprofits serving homeless populations could adopt free or inexpensive digital platforms to collect and share information, smoothing the process for homeless people seeking services.
Denise McCain-Tharnstrom, who also attended the forum, developed the WIN (What I Need) app to help homeless people find services. She pointed to research by USC Associate Professor Eric Rice that shows a majority of homeless people in Los Angeles have access to cellphones.
We're working with USC to explore what it would look like … to connect homeless and hungry students with services.

Denise McCain-Tharnstrom
"We're working with USC to explore what it would look like to incorporate university facilities into our app, to connect homeless and hungry students with services," McCain-Tharnstrom said. "Each college has unique services that are available for their students. We want the students to know everything that's available to them."
A partnership to end homelessness
The "Wild Ideas" event is part of a university-wide effort at USC to end homelessness that includes research and partnerships with community-based organizations.
An interdisciplinary team of USC experts is analyzing data from the 2017 Greater Los Angeles Homeless Count. The team is working with the Los Angeles Homeless Services authority to recommend solutions.
Wiewel, who has dedicated herself to programs for chronically homeless persons, believes team research, partnerships and forums like "Wild Ideas" are critical to ending homelessness.
"We really want this to be a collaborative process; we don't want to talk at people," Wiewel said. "We're hoping this will stimulate knowledge and ideas to give us a new perspective and help us frame what we're doing in new ways."
The event was sponsored by the Suzanne Dworak-Peck School of Social Work's Department of Adults and Healthy Aging chaired by Suzanne Wenzel.