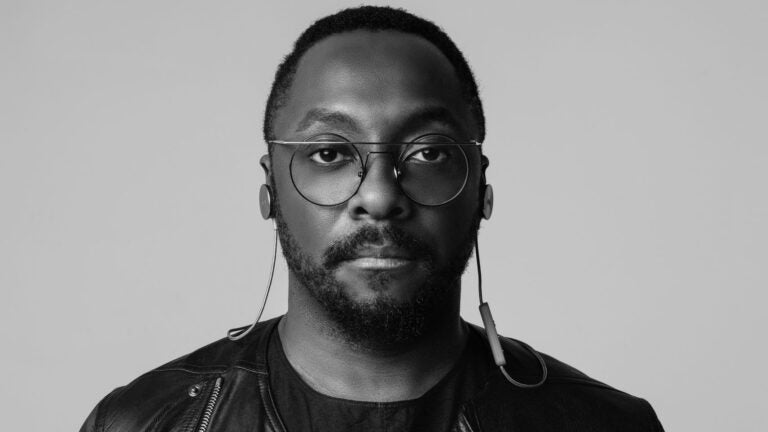 will.i.am named speaker for USC Jimmy Iovine and Andre Young Academy's first commencement
The creative innovation adviser works with technology and consumer products companies from around the world
Musician, entrepreneur and philanthropist will.i.am will be the keynote speaker for the USC Jimmy Iovine and Andre Young Academy's first commencement ceremony on May 11.
"will.i.am personifies the spirit of cross-disciplinary innovation and creativity, which is the essence of the academy," said Erica Muhl, dean and founding executive director of the USC Iovine and Young Academy for Arts, Technology, and the Business of Innovation. "His drive to transform our world through his art, his support of groundbreaking technologies and his philanthropic pursuits make him qualified to guide our first graduating class as they begin their own, individual, creative journeys."
The singer gained prominence as the frontman of Black-Eyed Peas. He is also an entrepreneur who has founded and operates several companies across technology, consumer electronics and fashion accessories sectors. His technology company I.AM+ focuses on Artificial Intelligence for enterprise, as well as smarter consumer products. He is also co-founder and partner in ill.i Optics, an eyewear company.
As a creative innovation adviser, he works with global technology and consumer products companies, including Amuse, the world's first mobile record company, Atom Bank, the UK's first mobile-based bank, The Coca-Cola Co., Intel and BEATS Electronics, where he was a founding equity shareholder. As a philanthropist, he started the i.am angel Foundation in 2009 to TRANS4M lives through education, inspiration and opportunity.
The private foundation provides assistance to needy college-bound students and now supports programs that provide college scholarships (i.am scholarship), college preparation (i.am College Track and the Boyle Heights STEM Academy), and educational enrichment opportunities in STEAM education (Science, Technology, Engineering, Arts and Math). The i.am angel Foundation funds STEM education programs in underserved communities of Boyle Heights/East Los Angeles, Watts/South Central Los Angeles and Ferguson, Mo.
Commencement firsts
This commencement celebrates many firsts for the graduating students and the academy. It is the culmination of a four-year journey that began with the bold vision to disrupt education. The USC Iovine and Young Academy is the first to offer an integrated Bachelor of Science in arts, technology and the business of innovation.
Our inaugural graduates are trailblazers who, through courage and audacity, breathed life into this revolutionary new program.

Erica Muhl
"Our inaugural graduates are trailblazers who, through courage and audacity, breathed life into this revolutionary new program," said Muhl, who also is dean of the USC Roski School of Art and Design. "It took a special type of entrepreneur to step into an unknown, even one that was backed by the intellectual and disciplinary strength of four schools at USC. It is with this same entrepreneurial spirit that these graduates will challenge traditional thinking wherever they go, and inspire change and transformation toward a better future for us all."
The much-heralded academy was founded in 2013 with a $70 million visionary gift from entrepreneurs Jimmy Iovine and Andre "Dr. Dre" Young to teach critical thinking and nurture unbridled creativity at the intersection of three essential areas: art and design; engineering and computer science; and business and venture management.