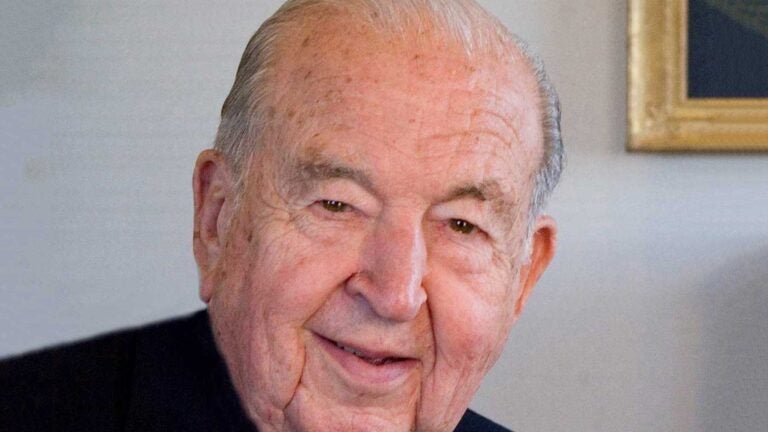 USC remembers Gen. William Lyon, developer and university trustee
The decorated military veteran left his mark on Southern California through both his career as a homebuilder and his support for the university he loved.
Retired Maj. Gen. William Lyon, USC trustee, prominent residential developer and decorated military veteran, died Friday at his home in Orange County's Coto de Caza community. He was 97.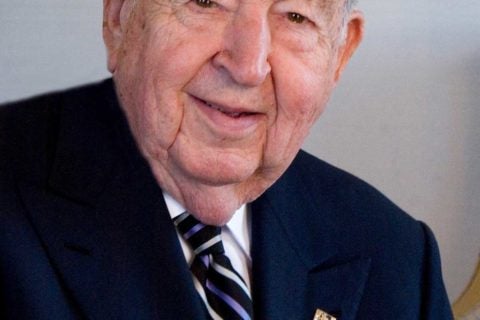 Lyon influenced the landscape of Southern California through his career as a homebuilder and his support for the university where he got his start.
He began building houses in the post-World War II boom and launched Newport Beach-based William Lyon Homes Inc., which grew into one of the nation's largest homebuilders. He was also founding chairman of the board of Commercial Bank of California.
William Lyon's long affiliation with USC
A Los Angeles native, Lyon began his relationship with USC when he studied business as an undergraduate in the 1940s. Four decades later, in 1986, he was elected to the USC Board of Trustees. He became one of USC's most stalwart supporters, giving generously in support of research and programs across the university.
He was the 1990 recipient of the Asa V. Call Achievement Award, USC's highest alumni honor. In 2002, USC awarded him an honorary doctorate. The General William Lyon University Center, the University Park Campus' main student recreation facility, is named in his honor.
"Gen. Lyon's contributions had an incredible impact on the lives of Southern Californians and on USC," President Carol L. Folt said. "He first arrived on our campus in the 1940s and served bravely during World War II as part of the Greatest Generation. In the years that followed, his passion for the university only grew, and his generous support touched so many programs and reached so many people throughout our community. His influence will be felt for decades."
Lyon served for 34 years as a member of the USC Board of Trustees, having been elected to the board in June 1986. In June 1998, his fellow trustees elected him as a Life Trustee.
"For decades, USC has benefitted from Gen. Lyon's leadership and insight," said Rick Caruso, chairman of the USC Board of Trustees. "He always cared about the important research USC was doing and how it could improve lives worldwide. The Trojan Family will forever be grateful for his dedication to our university."
Lyon attended the Dallas Aviation School and Air College and trained military pilots as a civilian instructor before entering the U.S. Army Air Corps in 1943, during World War II. He served as a pilot in Europe, the Pacific and North Africa through 1946 and then joined the Air Force Reserve. He volunteered to return to active duty in the early 1950s and flew 75 combat missions during the Korean War. He was promoted to major general in 1974 and the following year was appointed chief of the Air Force Reserve, a position he held until his retirement from the military in 1979.
In 1982, Lyon and fellow real estate developer George Argyros — whose daughter, Stephanie, joined the USC Board of Trustees in 2018 — acquired regional carrier AirCal. The airline was sold to American Airlines in 1987.
Lyon received numerous military awards and decorations, including the Distinguished Service Medal, Legion of Merit, Distinguished Flying Cross, Air Medal with three oak leaf clusters and the Presidential Unit Citation.
William Lyon known as philanthropist and community leader
Lyon also distinguished himself as a devoted philanthropist and community leader. He was the founding chairman of the Orangewood Children's Foundation and led efforts to build what is now called the Orangewood Children and Family Center, Orange County's only emergency shelter for abused and neglected children. He was also a founding board member and second chairman of the Orange County Performing Arts Center (now the Segerstrom Center for the Arts) and provided a leadership gift toward the center's completion.
Lyon's passion for aviation history led him to open the Lyon Air Museum at the John Wayne Airport in Santa Ana. The museum houses a collection of rare airplanes and other military vehicles, with an emphasis on artifacts and memorabilia from World War II.
In addition to his love of aviation, Lyon was a lifelong auto enthusiast, amassing a significant collection of classic cars. He fondly recalled buying his first car — a dilapidated Ford Model T — in 1939 for $8. He painted it red and drove it for the next two years, eventually selling it to a junkyard for $5. "I'd say I made out pretty good in that deal," Lyon told the magazine Robb Report in 2013.
Lyon is survived by his wife, Willa Dean; children Susan Isola, Bill H. Lyon, Christine Rhoades and Marcia Stone; seven grandchildren and four great-grandchildren. He was predeceased by a son, Byron Russell.