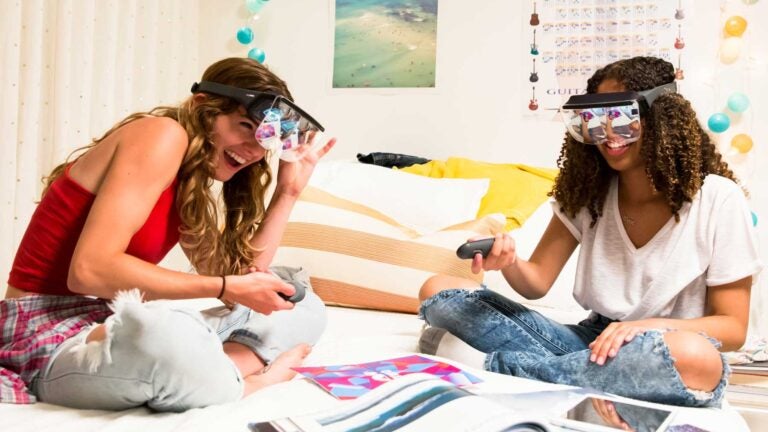 With Prism headset, classmates-turned-entrepreneurs have augmented reality in sight
Their firm, Mira, is the first startup to come out of USC's revolutionary Jimmy Iovine and Andre Young Academy
Mira is housed a couple stories up in a building in downtown L.A.'s Broadway Theater District.
It has all the trappings of a startup — cramped quarters, 16-hour days, late-night conference calls with Chinese manufacturers and Post-It notes covering the white walls.
The year-old augmented reality company launched its first product this summer: an AR headset dubbed Prism that retails for $99. Your iPhone snaps on the front and once the app is engaged, content will stream onto the lens, bringing hologram-like images into your surroundings.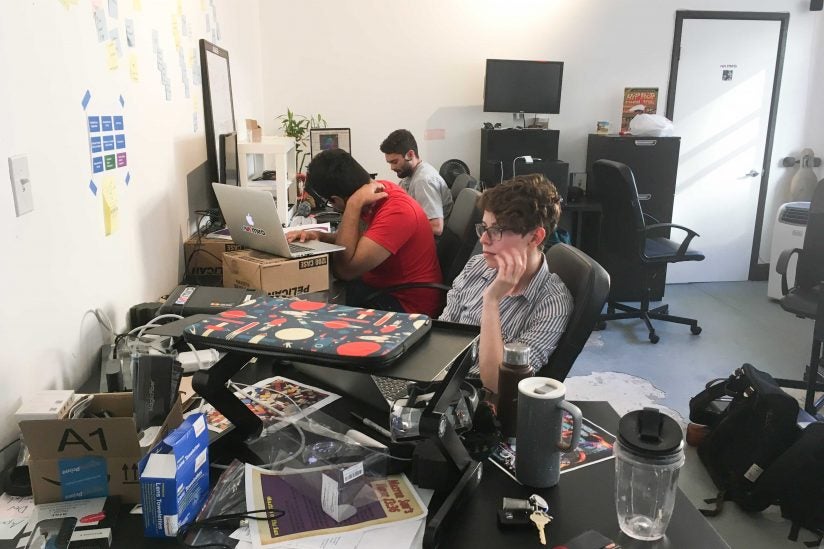 Prism had its public debut in July at Comic-Con, where the company took its first pre-orders. It will get in the hands of developers first — who will create content for it — and will hit the consumer market by the holidays. (When asked how many signed up, Mira co-founder Matt Stern quipped: "We haven't released numbers yet.")
Stern might sound like he's been in the startup game for a while, but Mira is essentially a college project — one that's gone way beyond the classroom.
Mira is the first startup to come out of the USC Jimmy Iovine and Andre Young Academy, an undergraduate program that launched in 2014 aiming to combine interests in business, technology and arts with a unique cross-disciplinary curriculum. A MS program starts this year.
It's named for its co-founders Dr. Dre (Young) and his Beats partner Jimmy Iovine, co-founder of Interscope Records. The idea came from the struggles they faced finding employees with multidisciplinary backgrounds for Beats.
Mira co-founders Stern, Ben Taft and Montana Reed are in the academy's inaugural class of 28 students, who graduate in 2018. The academy expects to have 113 total students when classes get underway this week.
Academy students follow two emphases, allowing them to delve deeper into their interests. Stern and Taft's are venture management, and mixed reality design and development. The senior year is focused on a capstone project, bringing a product or business idea to fruition.
A prize and then prototypes
In the spring of 2016, the trio won the $10,000 Iovine and Young prize, an academy pitch competition, which allowed them to build their first prototypes.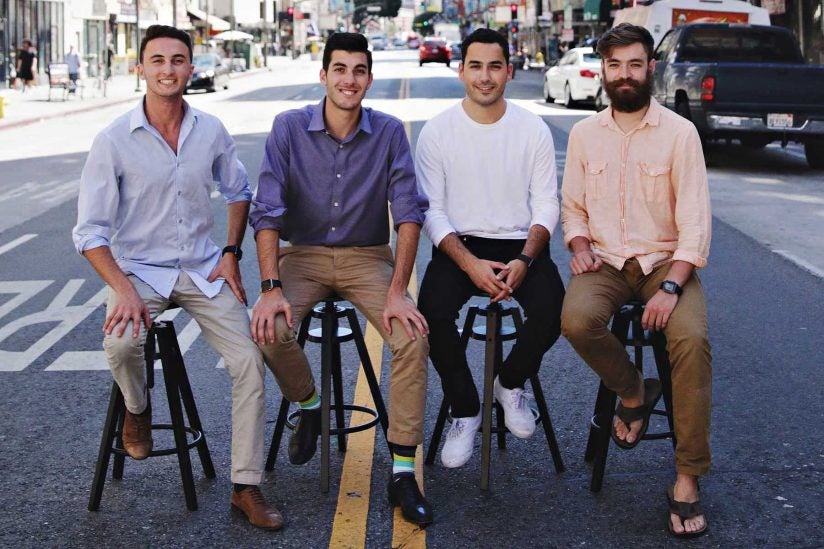 The idea for Prism came about when looking into the popularity of VR and wanting an experience that didn't disconnect you completely from your current reality. They found there weren't a ton of augmented reality options — especially affordable ones.
"In VR, there's a whole spectrum of devices but in AR, headsets were self-contained computers that were multiple thousand dollars. Then on the other side of the spectrum, you had these Pokemon Go-style games on your phone," Taft said. "No one had figured out a middle market solution."
With Prism, there's also a "spectator mode" so friends could be involved in the action via their smartphone, even if they don't have a headset.
The product will come with a "software suite," but there will be other developer-created content that can be featured on the app.
DIY approach
A bootstrap operation at its beginning, the guys took a DIY approach to the first prototype. They bought old smartphone parts on Alibaba.com and used the academy's 3-D printer to make dozens of headsets.
But then came the hard part: the lenses. The plastic needed to be curved and clear. Custom optics are tens of thousands of dollars, Reed said, so at first they tried making the lenses themselves.
"We were trying to take acrylic and, like, melt it over a curved object. We almost lit my apartment on fire," Reed said.
Then they started searching online for plastic with similar optical calculations.
"We found this one plastic fishbowl on Amazon that worked for our needs, so we cleared out this fishbowl supply – $10, $15 fishbowls – and just cut out square lens and hot glued them to our 3-D printed prototypes," Taft said.
Prism was born.
"I will forever have fish food recommended to me on Amazon," Stern said.
That first "fishbowl prototype" sits in their office, alongside many others, and it speaks to what the academy teaches: Be scrappy.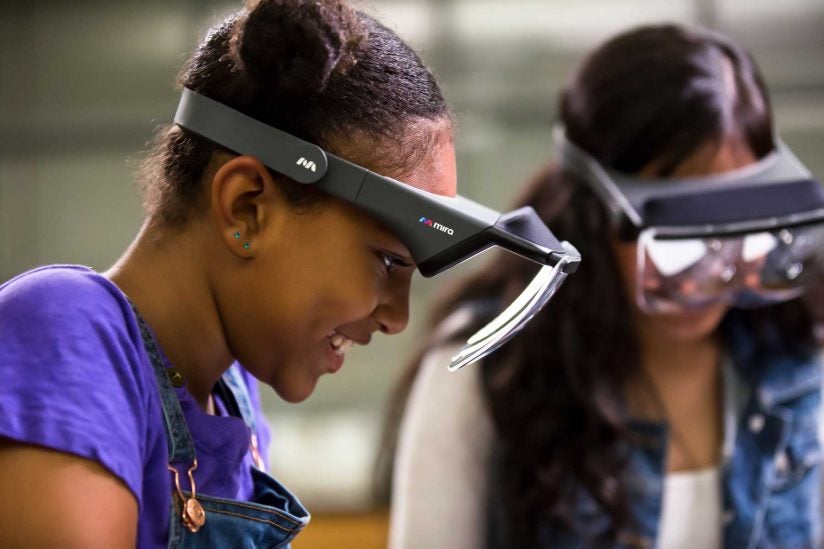 Stern recalls an early academy assignment. He had two days to create a vessel that would hold two adults in a body of water.
"They then handed over a few pieces of cardboard and a roll of duct tape and wished us good luck," Stern said.
It taught him that there's no stopping you from diving into an idea head-on with the tools you have at hand, be it a 3-D printer or an X-Acto knife.
Onto something
After the first prototype, the co-founders felt they were onto something.
Last fall, they were invited to the tech conference Slush in Finland, their first crack at the convention experience. They'd have a booth and be able to show off their product for the first time.
To get there, they took a special chartered Slush flight to Helsinki — dubbed the "nerdbird" — where they sat inches from venture capitalists.
"We thought, 'We have 15 hours to kill. Why don't we start doing demos?' " Stern said. "Pretty quickly we had a flock of people standing by our aisles. Flight attendants had to tell people to go back to their seats. That was really the first time we showed anyone the headset."
Mira has since raised $1.5 million, including investment from venture capital firm Sequoia Capital, musician Will.i.am. and Salesforce Chief Executive Marc Benioff.
The classmates have a production line overseas, with the first headsets coming off the line this month, Taft said. They have a dozen employees, more than half of them Trojans.
"We've literally been working in a closet on this for so long and we're just like, 'Here it is,' " said Reed, 22. "It's good to be able to be out in the community."
The initial use for Prism is entertainment, but content could venture into education and health care.
Right now, they're talking to all the major film studios about possible content — but Stern can't say much more than that.