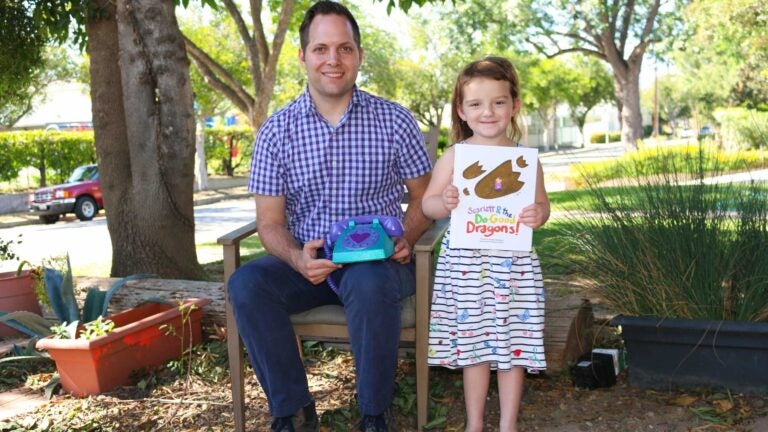 With support from loved ones and imaginary dragons, a little girl copes with cancer
When a family friend took on the battle of her young life, a PhD student made her the hero of a children's book
It was just after eating ice cream one night that Scarlett, a 4-year-old Pasadena girl, began having seizures.
She and her family went to the hospital and the news couldn't have been much worse: She had been diagnosed with a rare form of brain cancer. Aggressive. Large. Close to the brain stem. Inoperable.
Her parents told their family and friends, leaving many of them bereft. That included Bradley Marianno, a fourth-year PhD student at the USC Rossier School of Education, whose daughter, Maddie, had become friends with Scarlett through the church both families attend in South Pasadena.
"I was unable to sleep, and I laid on the floor of my daughters' room, trying to process Scarlett's hospitalization," Marianno said. "I was trying to imagine what Scarlett's family was experiencing, while my own daughter slept peacefully in her bed."
Marianno had the urge to be helpful, but in that kind of situation, what is there to do?
They're on the same page
Drawing on the years he spent writing short stories in high school, Marianno decided to write and publish a children's book with Scarlett as the hero. If nothing else, maybe it would bring a smile to her face.
The book, Scarlett and the Do-Good Dragons, tells the story of a child who, after realizing that her large, fierce, but kind and courageous dragon friends have a knack for helping others, decides to start Do-Good Dragons, the first full-service dragon helpline. When Scarlett gets sick, the dragons must discover for themselves all the opportunities to help the people that surround them. In the process of this discovery, the dragons learn how to assist the person that needs them the most —Scarlett.
For the illustrations, Marianno texted his friend Phillip Goodwin, a filmmaker, with a simple question: "How long would it take you to illustrate a children's book?" Goodwin was on board.
I wanted to acknowledge the idea that when surrounded by a community of family and friends, Scarlett need not feel alone in her fight.

Bradley Marianno
"I wanted to acknowledge the idea that when surrounded by a community of family and friends that are concerned about her, providing for and praying for her well-being, Scarlett need not feel alone in her fight," Marianno said.
The prognosis improves
As Marianno and Goodwin were in the process of publishing their book, Scarlett's family received extraordinary news: Her tumor had a mutation that could respond to certain forms of targeted medication. While the treatment wasn't common for someone of Scarlett's age, she began receiving the medication anyway, and after three months of treatment, her tumor is nearly gone.
With a long way to go, Scarlett's family and friends remain hopeful. Her parents are in the process of starting a new nonprofit focused on children with brain cancer, using proceeds from book sales.
Reflecting on what Scarlett has been going through, Marianno recognized the capacity of a community to come together to support a loved one, whether it be through meals, prayers, cards, donations or even just kind words.
"Sometimes a thought comes, and we feel slightly uncomfortable with the idea of putting ourselves out there. Or we feel like others have done enough, or the constraints on our time are too significant," Marianno said. "But small actions can have extraordinary consequences. A little compassion can provide a glimmer of hope for those facing heartbreak."