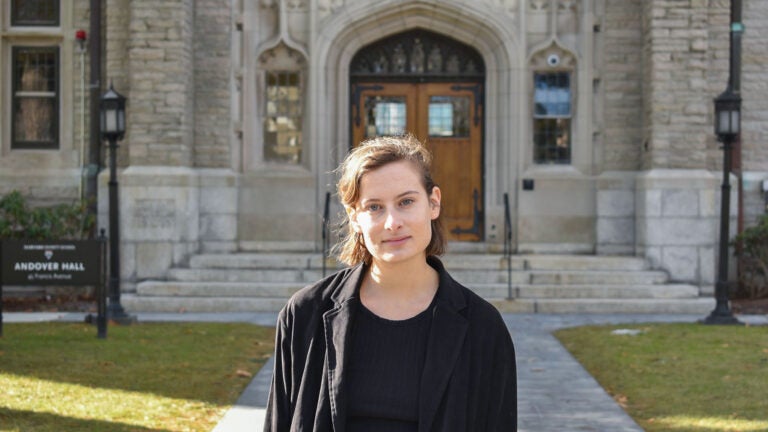 With encouragement from USC religious leaders, atheist alumna heeds her spiritual calling
At USC — with nearly 100 student religious groups — the Office of Religious Life is as diverse as the student body
Allison Rosen is in Boston, studying ministry and Buddhist animal ethics and also working at a homeless shelter.
The first-year Harvard Divinity School student is in heaven. "I have no doubt in my mind this is where I should be," the USC alumna said.
Well, heaven might be a funny word to use.
Although Rosen is there to pursue chaplaincy, she might not be the cookie-cutter divinity student of generations past. She's an atheist, a lesbian and an industrial engineer looking to apply the teachings of religious traditions to secular communities.
And she's not alone.
I am the norm. There are people from all different backgrounds, all different careers.

Allison Rosen
"I am the norm," Rosen, 24, said of her classmates at Harvard. "There are people from all different backgrounds, all different careers."
"Nones" — folks who don't affiliate themselves with a religious tradition — are becoming more and more prevalent. The Pew Research Center reports that 35 percent of millennials identify as nones, more than double their baby boomer counterparts.
"It's truly the most diverse group of people I've ever been around," Rosen said, "but I am shocked to see how many people fall under the none category."
When Rosen started as a USC undergraduate in 2012, she was a none. She saw a listing for a club called the Alliance for Inquiry and Reason and gave it a shot, going to its first meeting by the sculpture garden near Taper Hall.
It was a little bit of an atheist cliché. They talked about science and how to debate the religious. The people attending were mostly straight, mostly men and mostly white.
Finding a community
But Rosen found a community.
"I had hope that I could be somewhat of a change," she said.
By the end of the meeting, she was the group's vice president. While she thought the club could be more than a place to debate, she wasn't exactly sure — until she met Bart Campolo.
The ex-evangelical humanist chaplain was coming to USC, the first atheist to join the Office of Religious Life. The office was hoping to reach those nones and asked Rosen if she'd want to talk to Campolo on the phone.
"I had a phone interview with Bart and I loved him," she said. "He came out to L.A. and he changed my life."
When he got to USC, Campolo said, he asked if Rosen — by then a junior and president of the Alliance for Inquiry and Reason — would be interested in making the club more about "a community of people that want to love each other, build community and encourage each other to do great things in the world."
"I knew how to do it," said Campolo, who left USC last year. "I learned it in the church.
"Allison looked at me and was like, 'That sounds like way more fun. Let's do that.'"
When the message changed, so did the name: The alliance became the Secular Student Fellowship. It had about 30 regular members who would meet up for regular dinners and volunteer outings, such as helping the homeless on Skid Row. At weekly meetings, Campolo would deliver a sermon followed by visits from professors or campus leaders, there to share information on everything from the latest in neuroscience to LGBTQ and feminist issues.
"We were basically trying to figure out how to be the best people we can be," she said.
Natural leader
USC religious leaders, such as Campolo and Dean of Religious Life Varun Soni, saw a natural leader in Rosen. "She's a born minister of goodness," Campolo said.
But it took Rosen a while to see it herself.
As a major in industrial engineering with a minor in music recording, she spent a summer interning at Stanford University's Center for Computer Research in Music and Acoustics, designing hardware for 3-D speakers, and figured that would be her career path.
But as she was nearing graduation senior year, she went to lunch with Soni and he had an idea for her: Go to Harvard Divinity School.
"I never considered doing anything like that," she said. "It never crossed my mind."
Soni wrote Rosen a letter of recommendation and supported her through the application process. She learned the school was progressive and diverse and that she had a good shot of getting in.
Even so, she hedged her bets. She got a job in the Bay Area, working on 3-D sound systems.
I felt I wasn't helping others in the way I wanted to be helping others. I was just making rich peoples' auditoriums sound nicer.

Allison Rosen
"It was amazing … but I felt unsatisfied," she said of acoustic engineering. "I felt I wasn't helping others in the way I wanted to be helping others. I was just making rich peoples' auditoriums sound nicer."
A few months later, in March 2017, she found out: She got in.
Encouraging an atheist to chaplaincy might seem offbeat, but it's in line with the heart of USC's religious outreach — which, at its core, is diverse.
There are roughly 90 religious groups on campus, from Quaker and Sikh to Zoroastrian. The University Religious Center offers plenty of secular spiritual offerings, such as mindfulness courses, drum circles and a yoga and meditation club.
When Soni joined USC in 2008, he became the first Hindu head chaplain of a major U.S. university. He was preceded by Rabbi Susan Laemmle, who broke ground in 1996 when she became the first non-Christian university chaplain.
And Los Angeles is one of the most religiously diverse cities in the world, said USC's senior associate dean of religious life, the Rev. Jim Burklo.
"When it comes to religion, L.A. is just off the hook," he said.
Considering the seminary
A steady stream of students come to the center every year seeking support as they consider the seminary, Burklo said. For the last several years, he's been hosting Urge to Clerge, where representatives from the top seminaries and divinity schools talk to students.
"We have a pretty good pipeline here for the best academic divinity schools in the country," he said, noting that about five students pursue the seminary each year.
Rosen said that, without a doubt, she wouldn't be at Harvard if it weren't for the support she got from Soni, Campolo and Burklo.
"They were 100 percent everything," she said.
She keeps in touch. Campolo has visited her. As for when she completes her master's degree in divinity, which is a couple of years away, she has some ideas.
She was thinking she could create the first permanent humanist chaplaincy at USC.