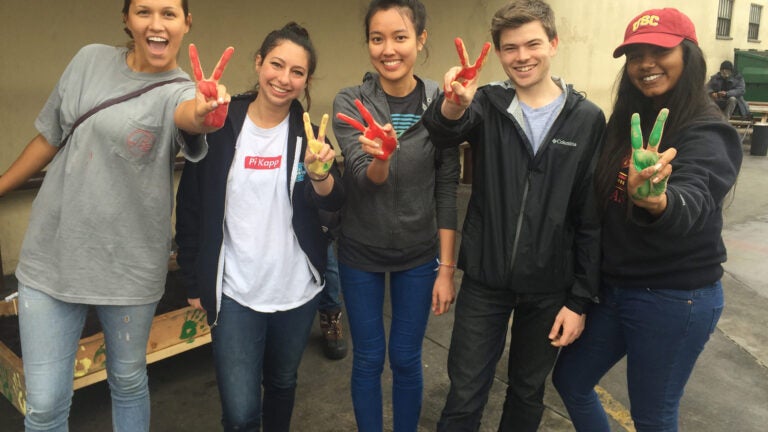 Writing students break away from classroom to help the homeless
Trojans teach computer skills, build urban gardens and establish job-training programs
For Mark Marino, writing is about more than just staring at a computer screen.
His students in "Advanced Writing" are expected to transform life experiences into thinking.
Marino, an associate professor (teaching) of writing at the USC Dornsife College of Letters, Arts and Sciences, does this by incorporating service-learning projects into his classes. This teaches students to practically apply research, problem solving and critical-analysis skills.
"We needed to break out of the walls of the classroom and the university to see what was outside," Marino said. "I wanted to see if we could get involved beyond just the critical discussions we were having based on readings. We needed to find ways we could engage with problems more fully in the hope we could understand it better."
Each semester, the students either come up with a project to work on individually or Marino works with Arc-Experience or the USC Dornsife-based Joint Educational Project to collaborate on one of their projects.
Service learning
This semester, for the first time in the seven years since Marino started to teach "Advanced Writing" with a service-learning component, all three of his classes wanted to work on projects to combat homelessness in Los Angeles.
I could see from the way they threw themselves into the projects that they had a genuine interest in this concern.

Mark Marino
"I don't know if it's in the current interests of this particular group of students or if it's just something in our culture and people are looking around their neighborhood at all the people who are struck by poverty," Marino said. "I could see from the way they threw themselves into the projects that they had a genuine interest in this concern."
The students had three ways to help address homelessness in Los Angeles. At downtown's Midnight Mission shelter, they set up weekly workshops to teach basic computer skills, like setting up email accounts and learning to format a resume. Students also built urban gardens for Pathways to Home, another downtown shelter. These gardens provided a new source of fresh produce as well as an activity for residents to focus on because "there can be a lot of waiting around at a place like this," Marino said.
The third way students helped was by trying to spread awareness about Chrysalis, an organization that helps the homeless find jobs through training and staffing programs. The students started a social media campaign encouraging others at USC to share a selfie in their social networks that included information about Chrysalis.
These projects were implemented with little to no budget (Marino pitches in $10), teaching students to be resourceful and creative. They use a combination of in-class and out-of-class time to work on the projects, which also builds community as the students become attached to their projects.
"I think it's a sign of the direction that USC is heading in that more classes are incorporating service learning in their work," Marino said. "This is becoming a general trend in USC's educational philosophy."