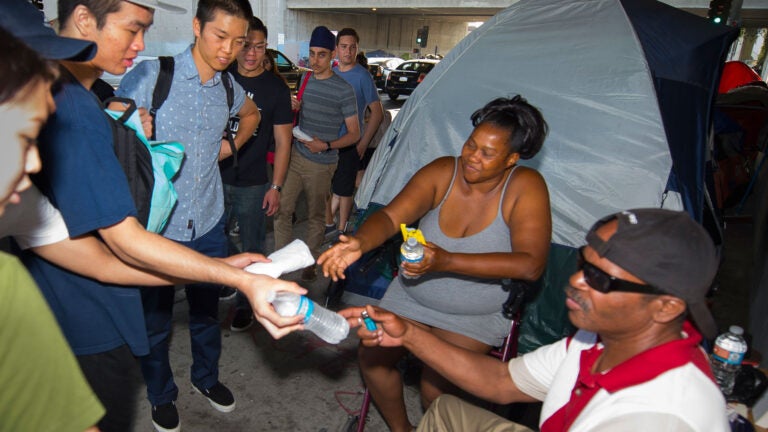 Year in review: Times that Trojans made you feel good about the world
USC 2016 | Eighth in a nine-part series running through Dec. 31
The Trojan spirit reaches far beyond the university's two campuses and lives within stories of hope, aspiration, courage and generosity. Some of this year's highlights include the silver anniversary of USC's unique college access program, the Neighborhood Academic Initiative, and its recent expansion to East Los Angeles; a special, triumphant graduation for a mother and daughter; determination and dedication during the construction phase at USC Village; and a young man's journey of perseverance and vigor.
---
NAI celebrates 25 years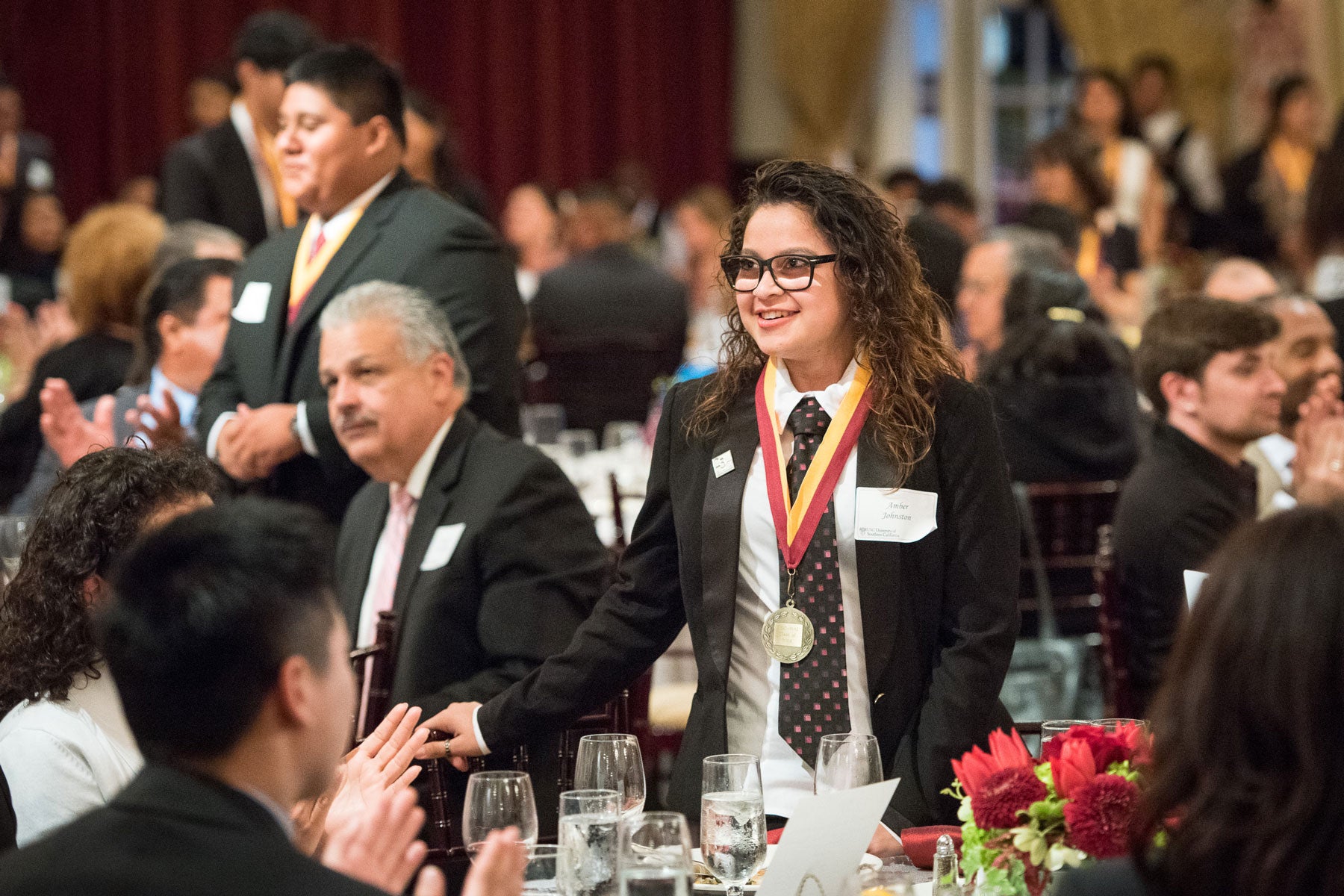 This year marked 25 years for one of USC's signature college access programs, the Neighborhood Academic Initiative (NAI). Graduating students have spent six years attending early-morning tutoring during the week, and daylong Saturday classes, at USC. Students hail from local public schools from the university's neighborhoods, and first-generation college students — the first in their families to attend college — represent the majority of the NAI program participants. USC alumna and Trustee Jeanie Buss — co-owner, president and governor of the Los Angeles Lakers – was awarded the NAI Champion Award at the NAI anniversary gala. "For personal and professional success, education remains an invaluable steppingstone," said USC President C. L. Max Nikias. "And for 25 years, USC has been opening doors of opportunity to the most talented students in our communities."
---
Rise of Troy, and jobs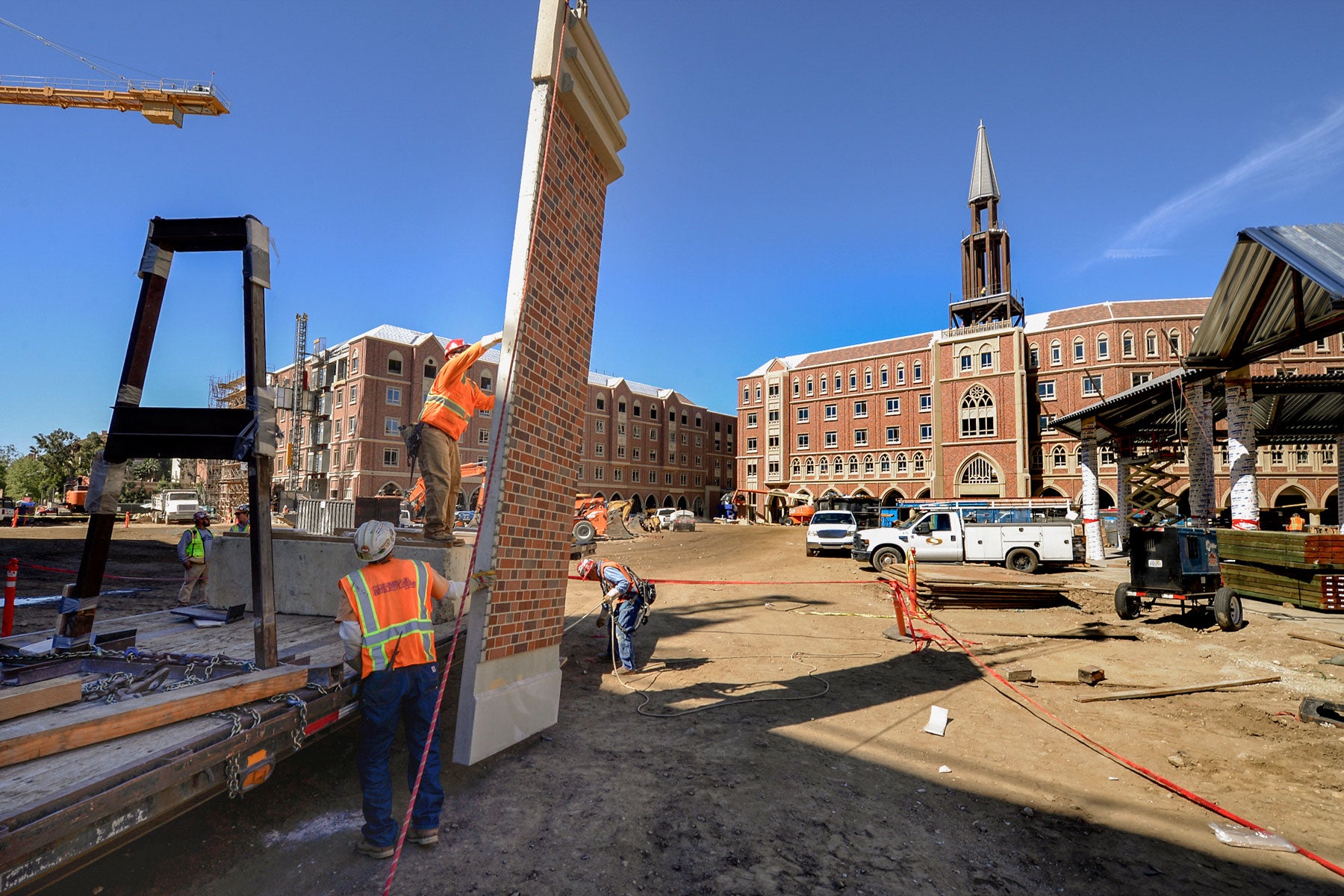 The massive USC Village project — the largest development in the history of South L.A. — remains on schedule for a grand opening in August, thanks to the thousands of men and women working on site to make it happen. More than 3,200 people have worked more than 1 million combined hours on the $700 million project; 33 percent have been local hires. "USC Village is putting many people on the path to lifelong careers," said Thomas S. Sayles, senior vice president of University Relations. "This is a path to the middle class. And this is an impact on multiple generations." Trader Joe's and Target are among the retail stores that will occupy the 1.2 million-square-foot, mixed-use development that sits on 15 acres just north of campus on Jefferson Boulevard.
---
Like daughter, like mother
Meet an inspiring mother and daughter who defied the odds to graduate together as first-generation college students. Mom Delmy Lemus transferred from Los Angeles Trade-Technical College almost a decade ago, but left USC after two semesters. Daughter Leslie, a graduate student at USC, persuaded her to return and both graduated in May. "I needed to help my mom realize her dreams," Leslie said.
---
Helping hands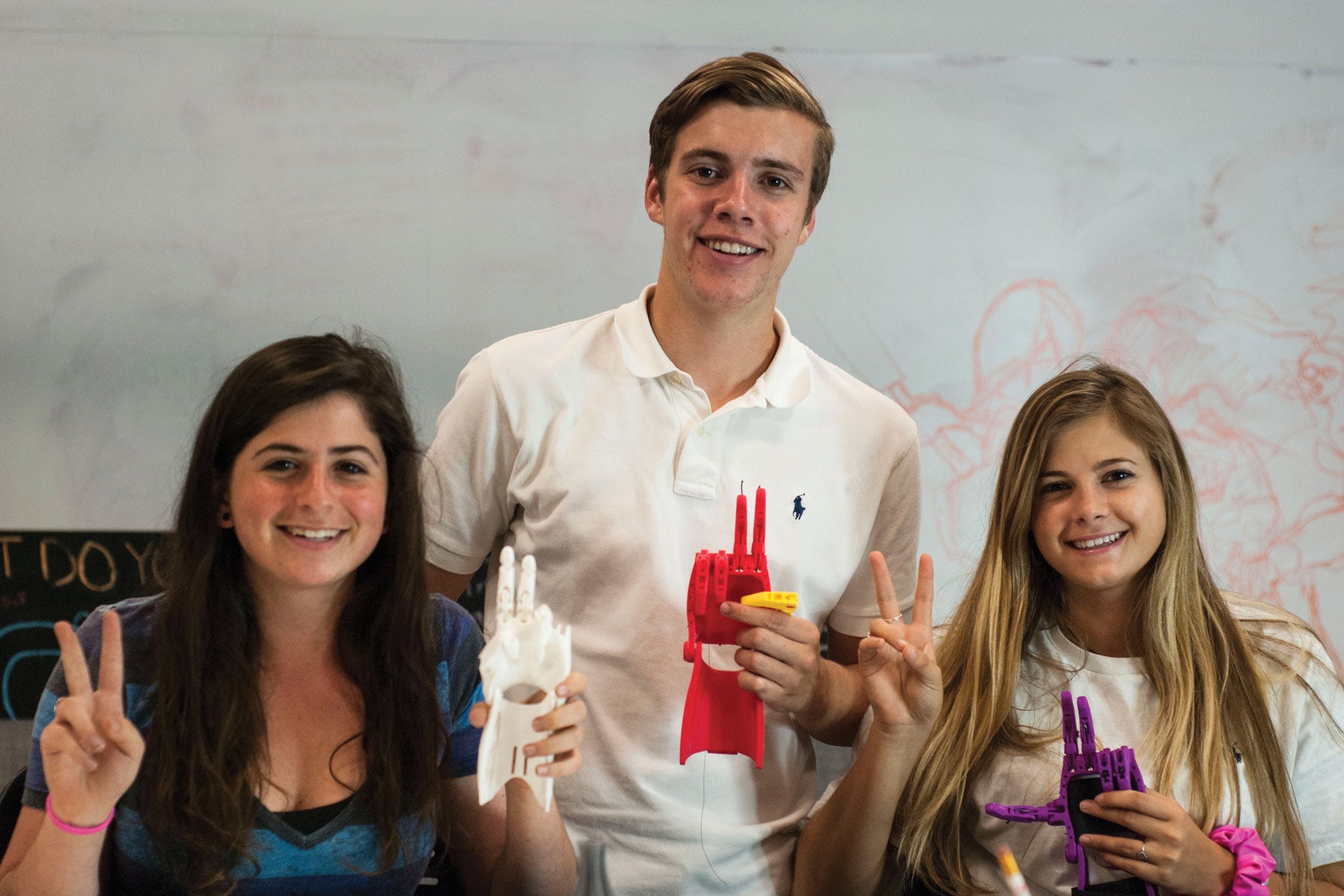 To help children wounded in war-stricken areas, student volunteers from the USC Viterbi School of Engineering and the USC Dornsife College of Letters, Arts and Sciences turned to technology. With the Freehand Project, they created prosthetic hands for kids in Haiti and Syria. "Children who need a hand, no matter where they're from, now have access to a functional, original and low-cost prosthetic customized to suit them perfectly," said Kara Tanaka, an accomplished sculptor and student in the USC Dornsife postbaccalaureate premedical program.
---
Neighborhood school named top feeder school to USC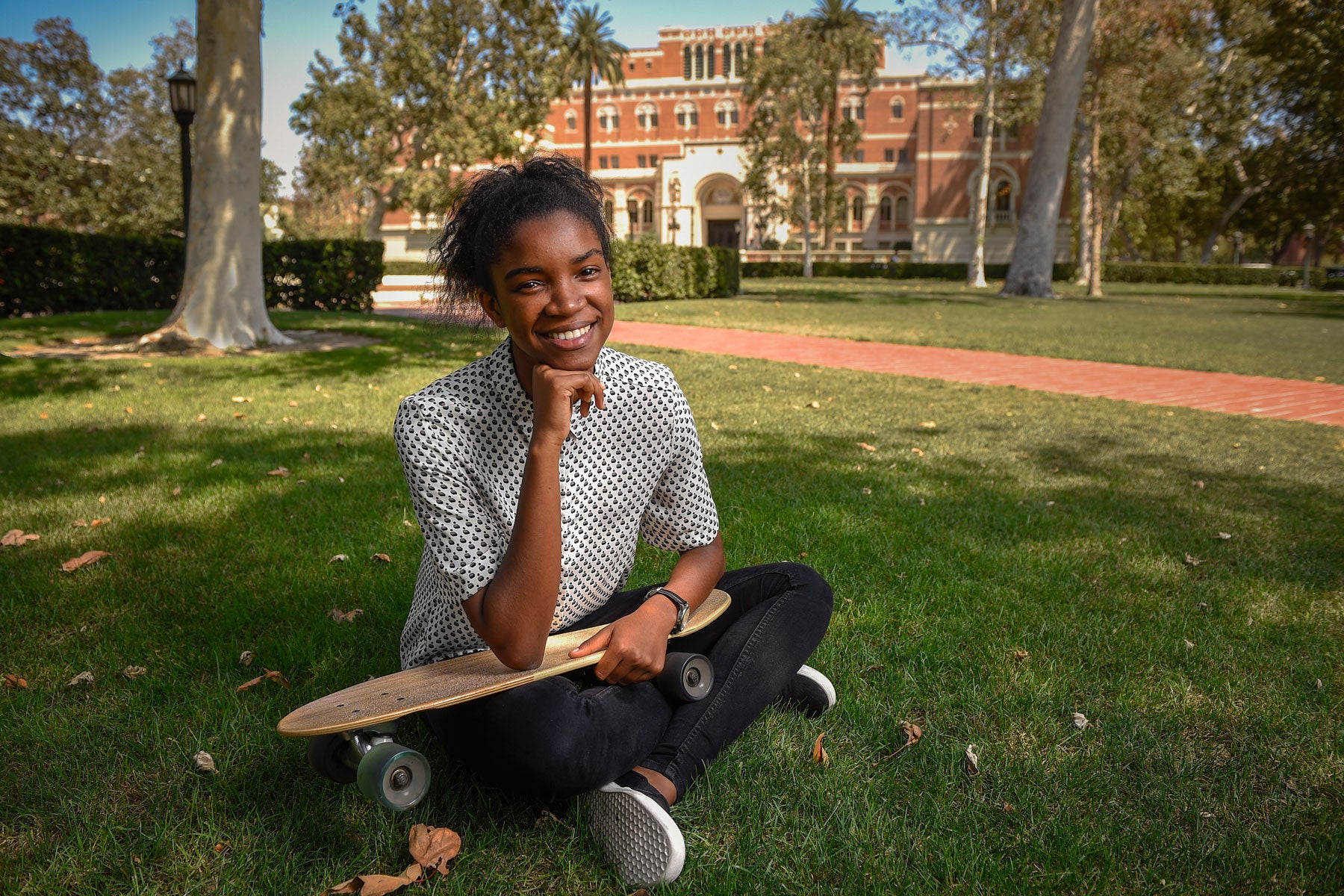 If you're looking for the high school that was home to the most students in the 2016 freshman class, you don't have to go far: It's the nearby Foshay Learning Center in South Los Angeles. Part of the USC Family of Schools, Foshay is also a flagship site for USC's Neighborhood Academic Initiative program and home to other university partnerships such as Thornton Outreach and Mission Science and Robotics. "It isn't an accident that USC has so many students who come from community college and financially diverse backgrounds," said USC Provost Michael Quick, himself a first-generation college graduate from a family of limited means who put himself through college by working in construction.
---
Ice hockey intern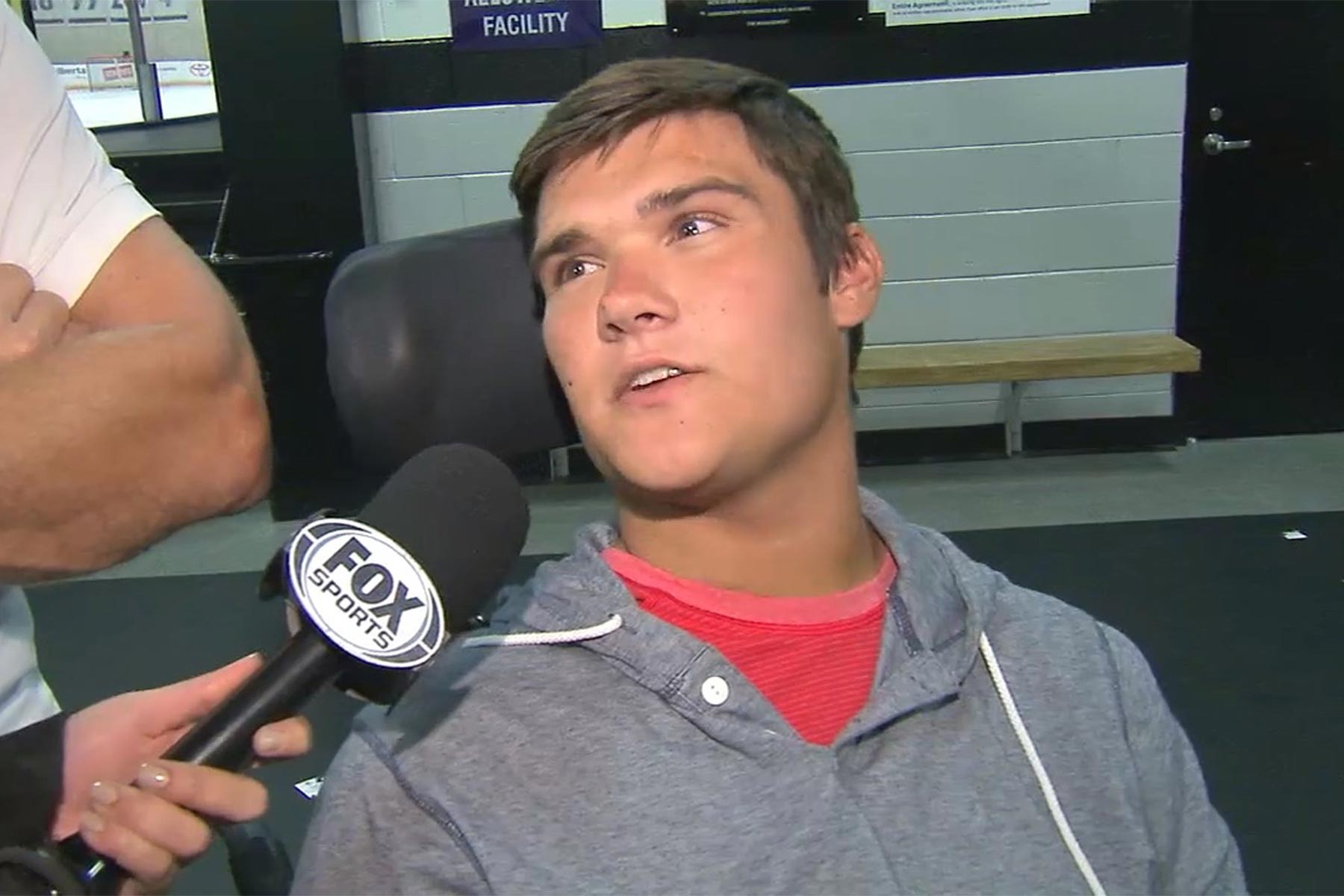 USC does not have a hockey team, but the Trojans are giving a scholarship to a hockey player nonetheless. Jack Jablonski, who was paralyzed from the neck down after an on-ice injury in 2011, is one of the university's Swim With Mike scholarship recipients. When he's not in class, Jablonski is interning with the Los Angeles Kings as part of the team's communications department and working in the press box at Staples Center on game nights. "He has a tremendous amount of passion for the game," said Daryl Evans, Kings radio analyst.
---
Looking ahead at biotech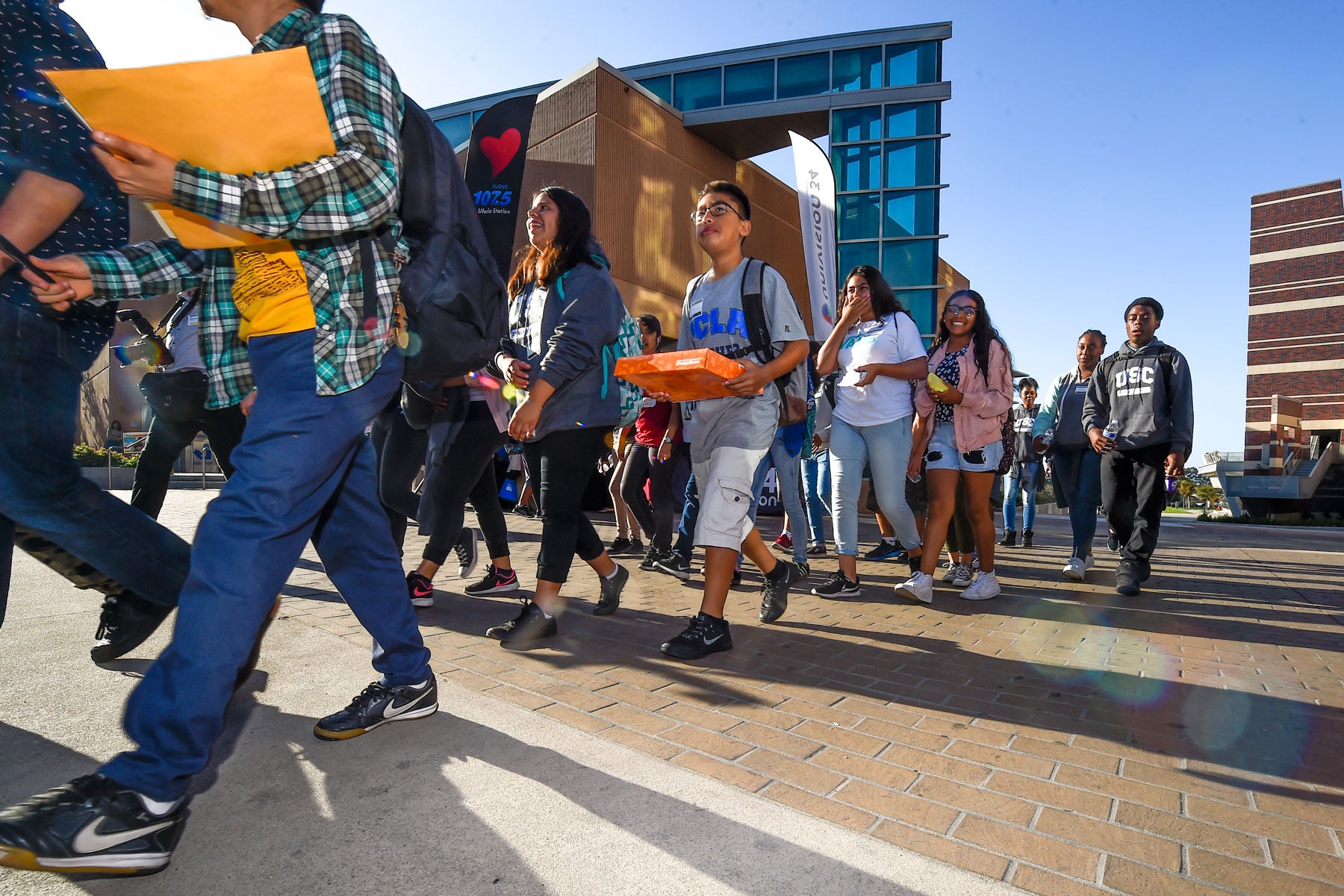 Hundreds of kids and their families came out to Preparing for the Biotech Decade, a free bilingual event to inspire kids of all ages to look into STEM (science, technology, engineering and math) careers. Students and parents got to hear advice from NASA astronaut Carlos Noriega and OBGYN Diana Ramos and attend workshops for topics like pursing STEM research. "It inspired me a lot because I grew up in a community that always brought me down, being a woman of color," said Shelsy Aragon, a teenager from Lincoln Heights. "I want to change that — that percentage, that stereotype. I always told my parents: 'Mom, dad, I want to change the world.'"
---
Feeding the homeless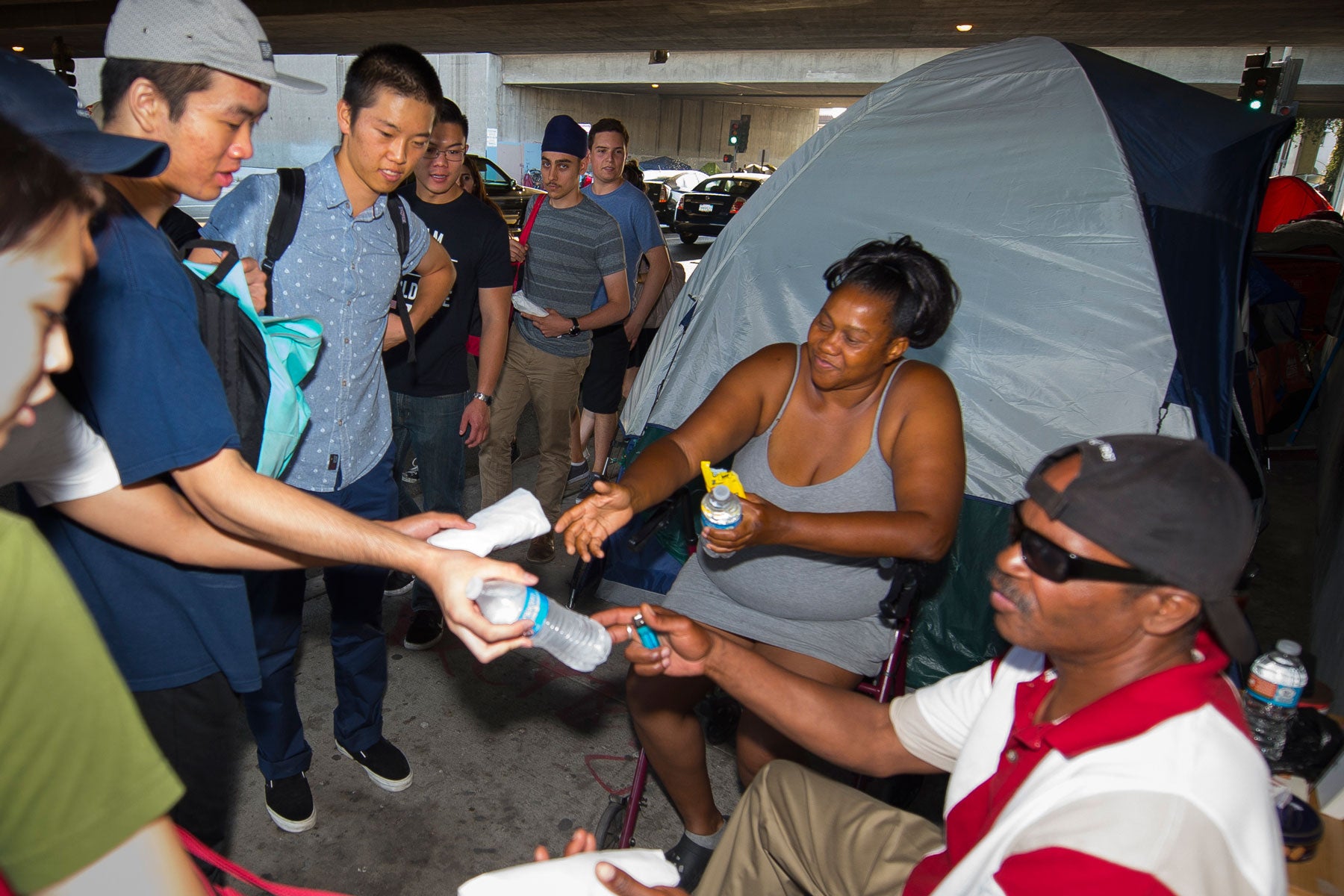 Trojans started their own chapter of Share a Meal, which is related to the local nonprofit Khalsa Peace Corps — handing out free burritos from a food truck. They do it every Wednesday with as many as 50 students showing up to help feed the homeless living near the University Park Campus.
---
Hybrid High graduates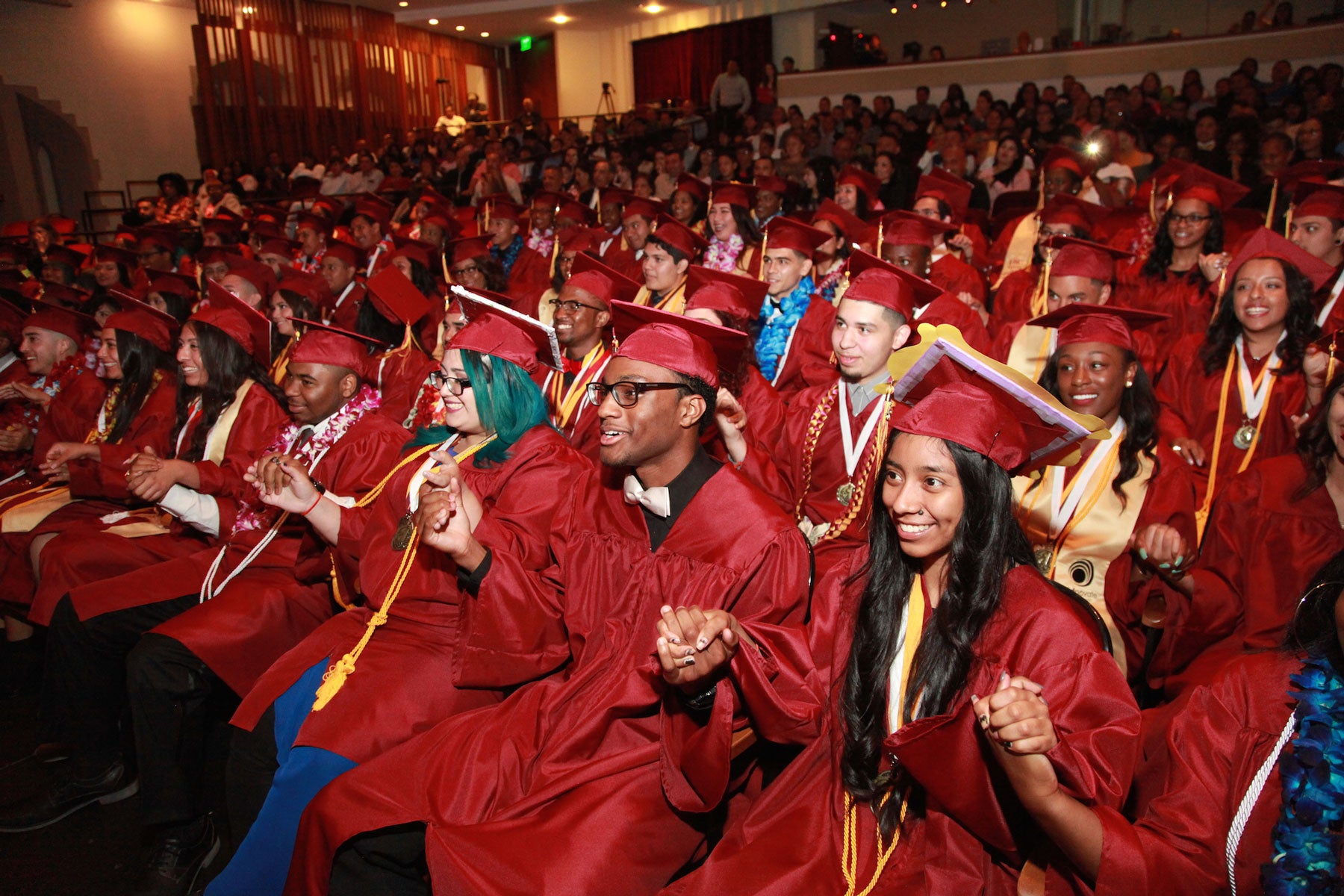 USC charter high school Hybrid High graduated its first class this year with exciting results – 100 percent got into college. The school opened in 2012 and is operated by the USC Rossier School of Eduation and Ednovate, a charter organization that the school founded.
---
Charter project reaches south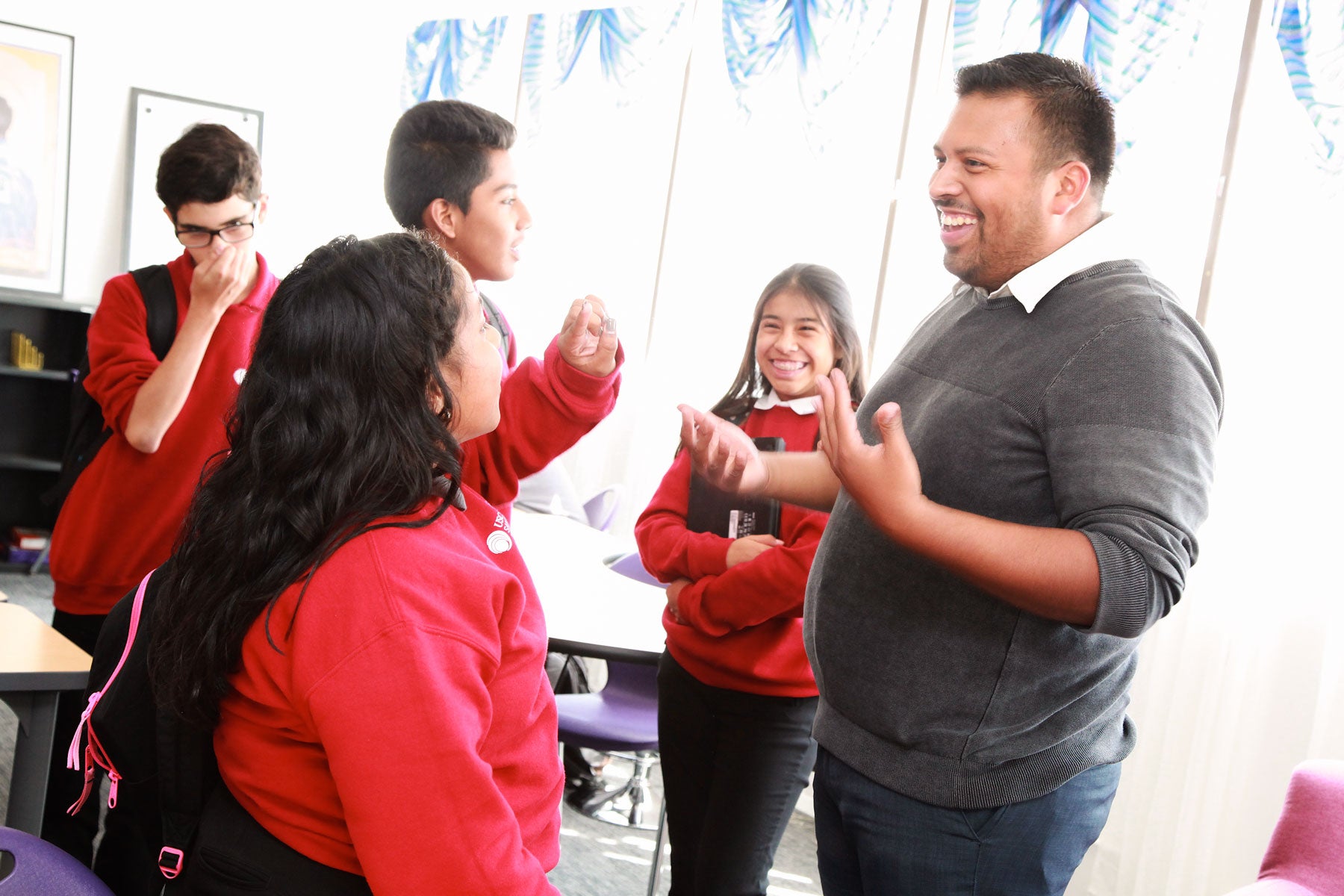 In Santa Ana this year, USC opened its third charter school, which welcomed a class of more than 100 students, 95 percent of whom were Latino. A majority of students would be the first in their families to attend college if they go. The school, part of the USC Rossier School of Education and Ednovate, is stocked with up-to-date technology, and offers students personalized learning and academically rigorous courses.
---
Homelessness awareness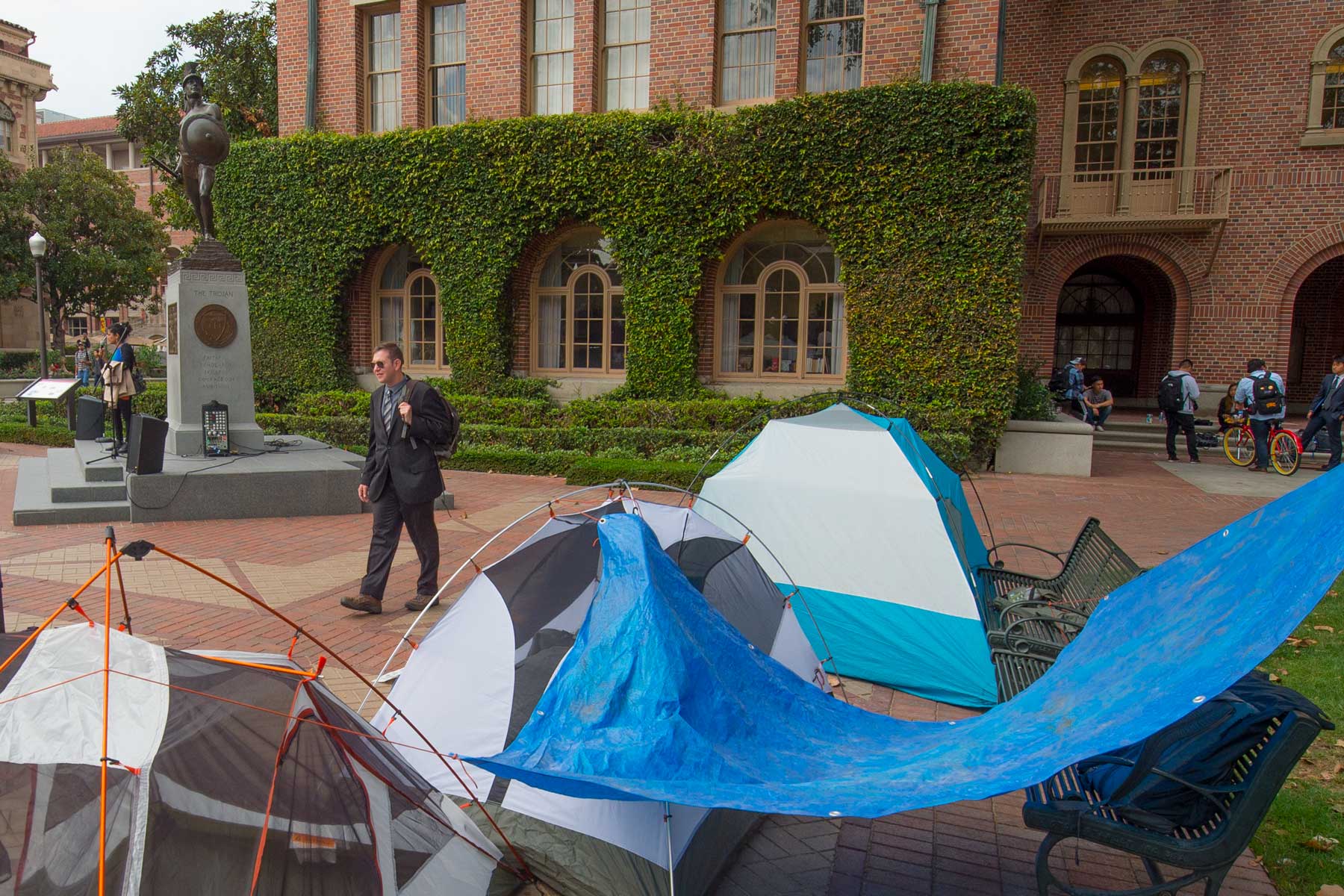 Students got the word out about Los Angeles' homeless crisis — even hosting walking tours of Skid Row — during a week-long awareness campaign. The event was intended to focus on homelessness as an issue the Trojan family wants to tackle from all sides. Provost Michael Quick named it a top priority for the university this year, wanting a cross-disciplinary approach — from architecture to engineering — looking at the issue.