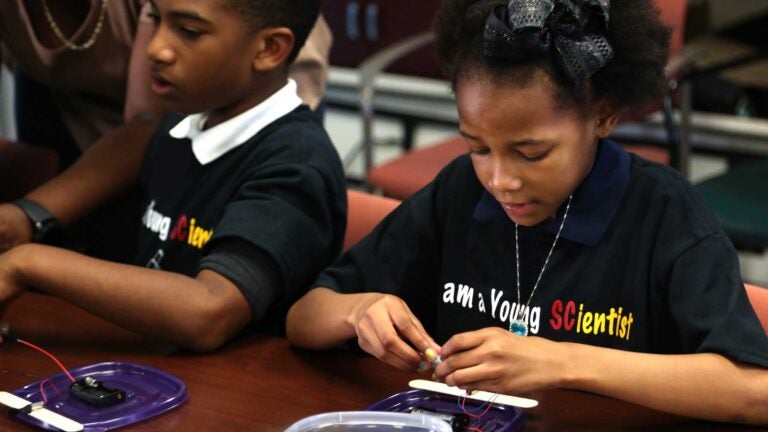 Young minds meet new technology at STEM-focused after-school program
USC's Joint Educational Project introduces fourth- and fifth-graders to virtual reality, 3-D printing and drones
La Bella Saunders gasped as she stepped toward the giant fuchsia nucleus floating in front of her. She giggled as she reached out toward two oblong, orange mitochondria and an electric blue ball of protein, then lowered her head to look through a small pore — one of dozens of openings in the nucleus — to spy the DNA inside.
Saunders, a fifth-grader at Foshay Learning Center near USC's University Park Campus, was exploring human biology using a virtual-reality headset that put her inside a cell.
The experience was part of a Young Scientists Program (YSP) after-school workshop on emerging technologies, held March 22 at the school. YSP is a STEM (science, technology, engineering and math) learning initiative hosted through the Joint Educational Project (JEP) of the USC Dornsife College of Letters, Arts and Sciences.
In addition to exploring virtual and augmented reality, the 25 fourth- and fifth-grade participants experienced 3-D printing and drones — many for the first time.
"We chose these three fields because they are key elements in today's newly emerging technologies," said JEP STEM Program Manager Dieuwertje "DJ" Kast, who organized the workshop.
"I want to show the YSP students what is possible and introduce them to potential careers that could spring from what they're learning about today," she said. "I also want to help level the playing field by giving them the opportunity to get exposure to this technology now, while they're young."
Entertaining exploration
Students spent 20 minutes at different stations learning about the three emerging technologies. YSP teaching assistants were on hand to ensure the youngsters had fun while also understanding the underlying science.
At the 3-D printing station, students designed objects in a virtual space using the 3D Slash computer program. This gave them firsthand experience of how architects and engineers, who work with 3-D concepts, think and design. Thanks to local 3-D printing company Deezmakers, students were able to observe printers in action. They watched intently as their teachers and YSP staff were scanned by the Deezmaker selfie setup, which printed out tiny 3-D models.
At the drone station, students saw professional drone pilot Roee Fung fly a selection of four quadcopter drones. They grinned for the camera as a tiny, remote control aircraft snapped aerial "drone selfies" of them as it hovered overhead.
After watching the aerial drones, 10-year-old Maurice Stepter focused on building a fan-driven drone car of his own using a plastic lunch box, wheels, a propeller and a tiny battery-driven motor. It was the fourth-grader's first time attending a YSP event.
When I got here it was like, 'Whoa, this is cool,' and that made me want to stay.

Maurice Stepter
"Some teachers were encouraging me to come along today so I did, and when I got here it was like, 'Whoa, this is cool,' and that made me want to stay," he said.
Four stations were dedicated to VR and augmented reality, including the "Into the Cell" experience, a VR project built by Smart Sparrow Inc. and presented by Jessica Swann and Joe Tamer from Arizona State University's Center for Education Through eXploration. Students also got to experience a virtual safari, a roller coaster ride and a dive to the depths of the ocean, thanks to WeLens, which donated 50 cardboard VR headsets for students to take home.
Students learned about erosion by playing with the Deezmaker's augmented reality sandbox, which changes the color of sand according to its depth. That allowed YSP staff to explain topographical maps by giving students hands-on experience with creating their own landscapes.
A glimpse of the future
At another station, YSP teaching assistant Michelle Huber, a senior majoring in environmental studies at USC Dornsife, was helping students create holograms by cutting and folding transparencies into a trapezoidal shape and placing them on top of a smartphone inside a black box. As the phone played a video of a blue jellyfish, the images were reflected in the trapezoid, creating a hologram.
Working with YSP helped Huber realize that she wants to pursue a career in teaching. "I want to go into education because I have really enjoyed programs like this one that involve teaching young kids," she said.
Saunders was impressed with the YSP workshop. "I learned all about cells and how drones can help save people by showing firefighters the places they need to put out fires," she said.
Kast emphasized the importance of YSP workshops in introducing students to STEM and helping them advance on the path that will allow them to turn their career dreams into reality.
"These workshops are extremely valuable because they really show students what's possible," she said, "whether that involves careers, experiences or opportunities."
Jasmine Tigolo, Saunders' teacher at Foshay, agreed, saying she was delighted to be able to offer YSP to her students.
"This is the sort of up-to-date technology they need to know in order to be able to compete in the outside world," she said, "so exposing them to something while they're this young is phenomenal."