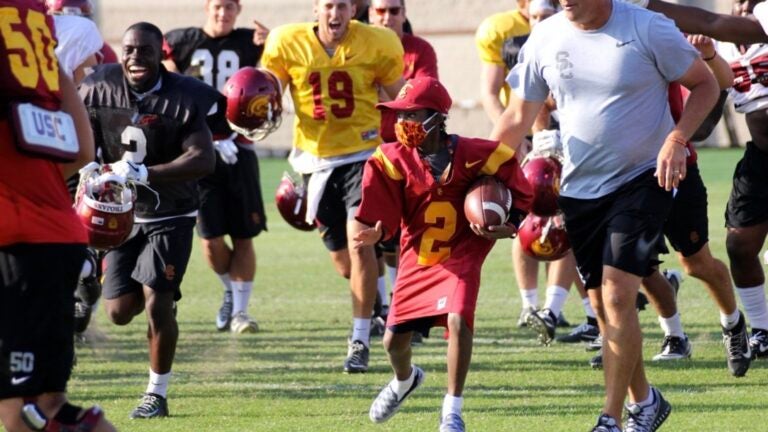 Football festivities remember young USC fan who died of leukemia
The Trojan Family shows its admiration for Taylor Hammond, a boy with a fighting spirit and sense of humor, while spreading the word about the importance of registering to be a bone marrow and stem cell donor
Before leukemia robbed him of his life last December, 11-year-old Taylor Hammond cherished everything about Trojan football.
The little boy from Las Vegas wore USC jerseys, visited the football team during practice, dreamed of attending college at USC and even had a Trojan blanket on his bed while he waited for the end to come.
On Oct. 13, the Trojan Family showed that the feelings were mutual.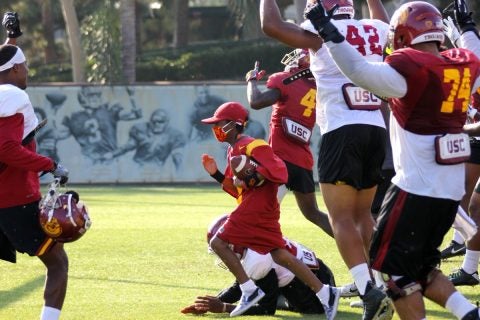 In a private room at Heritage Hall before Saturday's football game against Colorado, the youngster's supporters hosted "Taylor's Tailgate," a party to share memories and honor the life of a child who touched so many with his grace, fighting spirit and good humor. Many football fans followed Taylor's fight against cancer — and his deep love of the USC Trojans — through national media.
And even though Taylor's family — including his five siblings — recently moved to Hawaii because that's where he wanted to die, his dad, Brian Hammond, flew to L.A. for Trojan Family Weekend to commemorate his short life.
"Taylor was a huge Trojan fan," he said. "Last year he was able to live out his dream and he actually practiced with the football team. He even scored a touchdown. But the reason I'm here is to celebrate him. They named this event after him, which I know he's happy about from up above."
On his head, Brian Hammond wore a crimson-colored USC cap. It belonged to his son, and Saturday was the first time he wore it.
"It smells like him," he said.
Attending the party were representatives from City of Hope, Children's Hospital Los Angeles (where he was treated) and other health professionals. Many other young patients and their families, and some of Taylor's relatives, also participated.
The event was organized by McCall Hall, USC Athletics' director of community outreach, who said the university's bond with Taylor was unique. She hopes to make Taylor's Tailgate an annual event.
"It's rare that a kid can touch the lives of not only me, but our players and our coaches," she said. "He just had a thing about him. It really hit everybody really hard when he passed. We have a love for Taylor that will never die. His spirit will live on."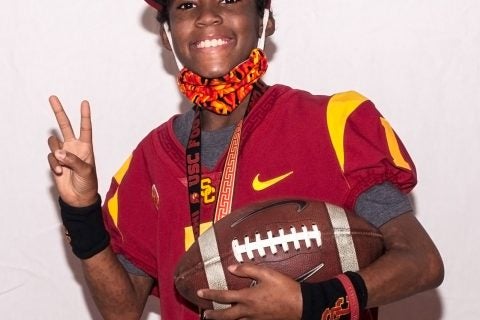 More than a celebration for Taylor Hammond
But the event was more than a celebration. It was a way to spread the word about the importance of registering to be a bone marrow and stem cell donor. Matching donors can save the lives of people suffering from not only leukemia, but also sickle cell disease, lymphoma and other types of cancer.
Taylor's Tailgate organizers hope to reach the Trojan Family with that message. They've set up an online registry at join.bethematch.org/fighton to raise awareness about donation and encourage people to sign up to donate.
"We want to educate students and the campus about the registry," said Clair Bendig, a community engagement representative with City of Hope. "Often the last resort for many treatments is a bone-marrow or stem-cell transplant."
Because siblings and other families often don't have precisely matching cells, patients often must rely on strangers' generosity to save their life, she said. For those interested in signing up, "all you have to do is do a cheek swab and mail it in. Eighty percent of matches are purely through blood and can give the patient a new immune system and a chance to survive."
A way to cap the celebration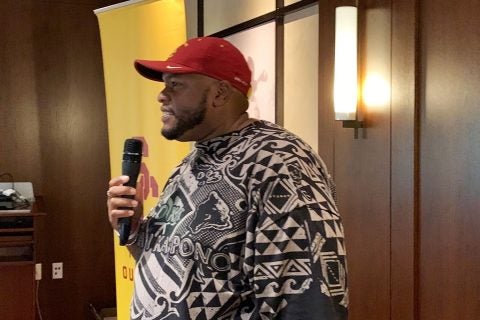 During a brief ceremony at the tailgate, Hall gave Taylor's father a new USC cap, among other gifts. But perhaps the best present was knowing that Taylor would always be one of the team.
"Taylor didn't have the opportunity to attend USC, but I'm almost positive he would have been going here," Hall said. "So if people ask you, you tell them your son is a Trojan. It's Trojan Family Weekend, so I want you to wear it with pride."
Brian Hammond said he understood why people felt so connected to his son.
"It was his genuineness," he said. "He was a Trojan at heart. He always had that fighting spirit, always stayed positive, no matter how he felt, no matter what was going on. He was always up and always wanted you to feel that way. He wanted to put a smile on your face, tell you a joke, give you a high-five. That was his legacy.
"When he came on the field, it was like he was their brother. There are so many players who keep in touch to this day. They still check on the family. That's really awesome."
Watch the video to below to see Taylor at practice