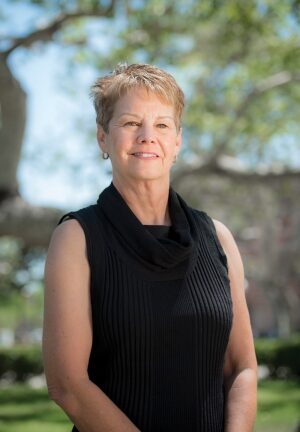 Above and Beyond: Amy Ross PhD '86
From developing cancer diagnostics to serving as president of the USCAA Board of Governors, Amy Ross finds ways to help others.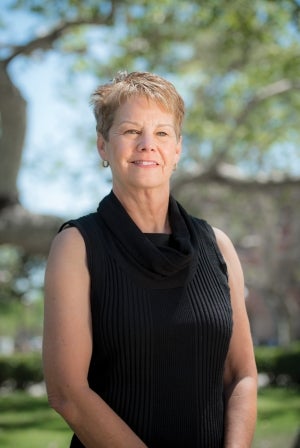 AMY ROSS PHD '86 has never been the type to stand aside and conform to other people's expectations. Whether it's rising from lab tech to cancer-focused research pathologist, or helping to establish USC's first alumni group for lesbian, gay, bisexual and transgender Trojans, Ross has blazed trails to help others.
In May, she stepped into her newest volunteer role: president of the USC Alumni Association Board of Governors.
Ross could have settled into early retirement instead of returning to campus—she hung up her lab coat three years ago—but she sees alumni leadership as a chance to pay forward a debt. "Quite honestly, if it hadn't been for the wonderful education I received at USC, I would not have had this career," she explains. The La Crescenta, California, native the was first in her family to attend college (she graduated from Cal State Northridge) and became a technician on USC's Health Sciences Campus with no thought at the time of graduate school. But encouraged to apply by Nancy Warner, then the chair of the pathology department at the Keck School of Medicine of USC, Ross was admitted to the PhD program in experimental pathology.
"On paper maybe I wasn't the strongest candidate," she says. "But Dr. Warner took a chance on me, and I'll never forget that." Her career highlights have included becoming a Caltech biologist and senior vice president at Nexell Therapeutics.
Ross also was one of the founders of USC's Lambda LGBT Alumni Association in 1992, when few alumni, faculty or students were "out." The group has supported countless Trojan Family members since then.
These experiences shaped Ross' life and now influence her four-point agenda to create opportunities for others through USCAA:
Scholarships
"USC is halfway through The Campaign for USC now, and it has been very successful," Ross says. "But through USCAA, one area we want to put additional emphasis on is increasing contributions toward scholarships." It's a personal passion as well—in 2000, she endowed her own scholarship, which was renamed the Amy Ross Scholarship in LGBT Health Studies in 2011.
Alumni Networks
USCAA's first alumni network based on industries and affinity groups, the Trojan Entertainment Network, has been a great success and counts hundreds of alumni who work in entertainment. Working with the USC Alumni Association Board of Governors, Ross plans for USCAA to launch at least two additional alumni networks in the coming year.
Alumni Mobile App
A new mobile app lets you locate fellow Trojans wherever you are in the world, instant-message with others and connect to employment opportunities. The app is scheduled to roll out in time for Homecoming 2014—making USC the first PAC-12 school with a GPS-based alumni mobile app. Together with alumni networks, it's part of an effort to bring more alumni and volunteer leaders into the USCAA family.
Best Practices
Along with leadership of the USCAA, Ross is reaching out to alumni leaders at other universities to share ideas for delivering a great alumni experience. When she showed Yale leaders the USC mobile app prototype, they gazed in wonder. "I didn't think I was going to get my iPhone back," Ross laughs.
While these university alumni associations can compare notes, there's one asset unique to USC: the Trojan Family. "What makes our alumni association so vibrant and so strong is that everybody feels a sense of ownership," Ross says. "Whether you're doing a Senior SCendoff, spraying over graffiti on the Alumni Day of SCervice or lucky enough to be on the board of governors as I am, all our volunteers go above and beyond what is expected."