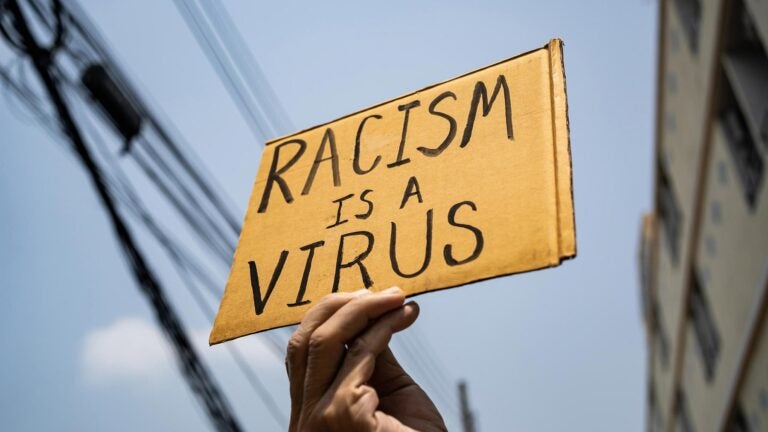 Killings in Georgia raise awareness of ongoing anti-Asian hate and spur calls for action
Asian, Asian American and Pacific Islander students, faculty and staff at USC urge their fellow Trojans to listen, acknowledge the pain inflicted by racism and help fight back.
Jonathan Wang has spent all year helping students emotionally grapple with the racist incidents targeting Asians, Asian Americans and Pacific Islanders during the pandemic. The recent killing of eight people, including six Asian women, outside Atlanta only heightened the stress many Asian Americans feel, Wang said, including those at USC.
The deaths are just the latest and most violent examples of what many have experienced all year — the feeling that COVID-19 has exacerbated their feelings of being unwelcomed, different and outsiders, added Wang, director of Asian Pacific American Student Services, or APASS, at USC.
"It's known that our Asian American communities, including here at USC, are facing increased feelings of both marginalization and discrimination," he said. "The stats are clear to us because of the type of work we do as a culture center. These are stories and narratives students are sharing with us."
Nationwide, nearly 3,800 hate incidents against Asian American and Pacific Islander communities have been documented through Stop AAPI Hate, a national hate crime reporting effort, since the pandemic was declared in March 2020. Additionally, data compiled by the USC U.S.-China Institute shows that even though the total number of hate crimes decreased by 7% between 2019 and 2020, the number of hate crimes targeting Asian communities increased by 149% during the same time period.
According to a fall 2020 survey published this month by USC, nearly 25% of Asian, Asian American or Native Hawaiian or Pacific Islander students at USC reported experiencing discriminatory or harassing behaviors related to COVID-19 because of their race. In contrast, only 4% of non-Asian students experienced the same thing.
USC's Department of Public Safety shared that no hate crimes and three hate incidents have been reported to their department so far this year. In 2020, DPS statistics show one hate crime and four hate incidents reported, compared to two hate crimes and four hate incidents in 2019. These figures include hate crimes based on a variety of protected characteristics, such as ethnicity, race, sex, gender identity and religion.
Another indication of the number of hate crimes and hate incidents at USC is the Annual Security Report, which contains incidents reported not only to DPS but also to the Los Angeles Police Department, USC's Title IX office and other agencies. According to the report, in 2019 there were seven hate crimes at USC. Of those seven hate crimes, three were motivated by prejudice against the victim's sexual orientation, two were connected to the victim's ethnicity, one their national origin and one their religious affiliation. Statistics from 2020 are currently unavailable.
Dismissal of discrimination as 'not a big deal' frustrates, angers AAPI community
The wide gulf between survey results from the Healthy Minds Survey regarding discriminatory and harassing behavior based on protected characteristics, such as race and ethnicity, likely has a number of reasons. One is that the definitions of what constitutes discrimination and harassment and what constitutes hate crimes are different. Further, the low reports of hate crimes to DPS may be because people impacted by those experiences are unsure if they should report them. Some may wonder whether a hurtful comment or racist joke qualifies as a hate incident.
DPS categorizes hate crimes as incidents in which a crime occurred — like assault, battery or vandalism — and the motive for that crime was animosity toward a specific race or protected status. Hate incidents include discriminatory or hostile behaviors that target individuals because of their race or protected class, but there is no underlying crime. People are encouraged to report both types of incidents to DPS.
One of the most frustrating issues Wang sees is that these incidents are often dismissed by non-Asian communities. He notes that several students told him that they've been told by their peers, staff, faculty and the media to laugh off racist rhetoric tying Asians and Asian-Americans to COVID-19.
"Throughout the year, students have reported being discriminated against and not being taken seriously," he said. "Like their pain is trivial. They're told, 'It's a joke, it's not a big deal.'"
Students have reported being discriminated against and not being taken seriously. Like their pain is trivial.

Jonathan Wang
He saw a similar pattern play out after the Atlanta shootings, as representatives from the Cherokee County Sheriff's Department in Georgia initially refused to call the shootings a hate crime. Instead, they theorized that the shooter suffered from sex addiction and was having a bad day — and that the crime might be more connected to misogyny rather than both misogyny and racism.
During the pandemic, USC students regularly gather with other APASS members remotely. In a virtual gathering held in response to the March 16 shooting, students were mostly sad, Wang said, and that sadness is turning into anger.
"This last time, a lot of students just came in grieving and frustrated because of what they've known and what they've seen — not only this year but all of their lives, for some — done to members of the community. And it seems like folks weren't taking it seriously," he said.
APASS plans to have more of these virtual listening sessions in the future. The center also has a team of mental health specialists, including an embedded counselor, available to students.
Recognizing the long history of anti-Asian discrimination
Natalia Molina, professor of American studies and ethnicity at the USC Dornsife College of Letters, Arts and Sciences, has dedicated her career to understanding how historical narratives, public policy and laws shape our understanding of race.
She has seen rhetoric surrounding public health and immigration used to fuel anti-Asian hate during the pandemic. Her first book, Fit to Be Citizens, describes how Los Angeles health officials in the 1880s created worrisome concerns about public health and used them to demean and define racial groups, including Asians. "And here we are, in the 2020s, having these same kinds of assumptions, blaming communities and spreading hate," she said.
Some of our own federal government's responses to the pandemic mirrored what happened in the 1880s, she said, when the federal government enacted the Chinese Exclusion Act. That law barred Chinese immigration into the U.S. for 10 years.
When the coronavirus began to spread in America in 2020, the U.S. banned travel from China to prevent virus spread. Our nation's southern land border still remains closed to nonessential travel. Those actions reinforce the stereotype that immigrants bring disease, she said.
Molina argues that we can expect these racist notions to persist unless they're addressed: "Of course, they are going to last throughout this year. And of course, unless we do something about it, they'll be around for the next 100 years."
How USC students can push back against anti-Asian rhetoric, hate
At the USC Pacific Asia Museum in Pasadena, Calif., Director Bethany Montagano says their exhibitions have been diving into the same issues that lead to anti-Asian racism.
"We've been shouting from the rooftops for a while now about how bad this has gotten," she said, referring to anti-Asian hate.
The museum's in-person exhibitions are currently closed due to the pandemic. But previous exhibits have ranged from female Asian artists talking about the intersection of race and sexual harassment to programs focused on sex trafficking and domestic violence. Another explored solidarity between Black and Asian communities.
The museum offers distance learning and other events virtually. Following the shootings in Atlanta, Montagano said that museum staff have heard students in their programs express anger about anti-Asian racism.
"Our students are afraid, and they are sick of words," she said. "They are looking for action. That's what we are trying to do at this point — putting money and funding behind strategic priorities that make tangible change to enhance the quality of life for all students."
Our students are afraid, and they are sick of words. They are looking for action.

Bethany Montagano
One thing every member of the USC community can do, Montagano urged, is get involved with the Stronger Than Hate initiative. The initiative includes USC's museums and USC Shoah Foundation — The Institute for Visual History and Education. These groups share a mission: to build alliances across differences, counter hatred and foster a culture of antiracism. They do this through collaborative research, community outreach, exhibitions and cultural academic programing.
The initiative hosts a series of forums and events throughout the year, and everyone is invited to be a part of it.
Montagano suggests another way to participate: learn how to call out hatred. A Korean American woman in Los Angeles created a booklet, "How to Report a Hate Crime," containing step-by-step instructions on how to respond to hate incidents. Today, the booklets are available in seven languages and are customized for Los Angeles, New York and the Bay Area. Anyone can go to their website, download a booklet, print copies and distribute them in their community, Montagano said.
Now that more and more people are being vaccinated against the coronavirus, it is important to recognize that anti-Asian discrimination will likely persist after the worst of the pandemic ends.
"As we think about returning to campus, we have to address some of these needs from our students and our communities," Wang said, "by addressing not only anti-Asian racism but racism and discrimination in all forms."
At USC, a coalition of more than 100 faculty and staff members formed the Asian Pacific Islander Faculty and Staff Association. The group held its first meeting in April and is already compiling a list of resources on how to identify, report and stop discrimination against the Asian community.
Co-organizers include Linda Truong, managing director of USC Libraries' IT department, and Grace Ryu, associate director of the East Asian Studies Center at USC Dornsife.