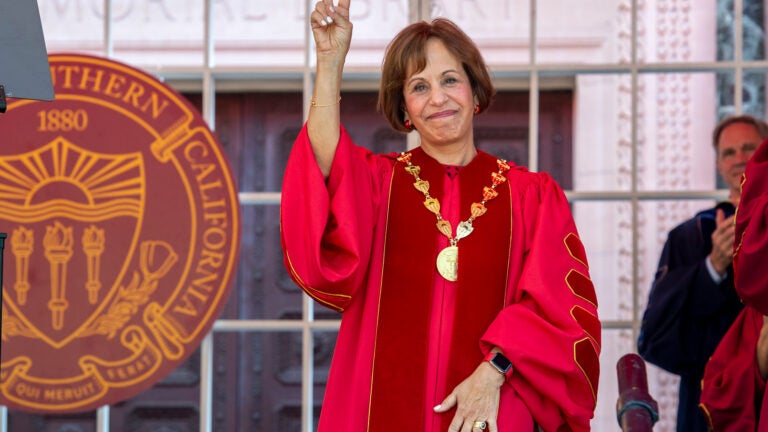 USC celebrates Carol L. Folt's inauguration as the university's 12th president
The experienced academic leader and life scientist formally takes the helm in a landmark ceremony that united the university.
The Trojan Family came together Friday to give an enthusiastic welcome to Carol L. Folt as she was formally inaugurated as USC's 12th president.
Thousands gathered in Alumni Memorial Park for a ceremony that carried forward longstanding traditions but also brought new directions. Faculty, staff, students, alumni, parents and community members welcomed Folt and heard the new president lay out an ambitious agenda for the university and the future.
"This is the decade of collaboration on warp speed. It's the decade when we eliminate barriers and build bridges," she said. "Working as Trojans together, there are no limits on the power of change that we have."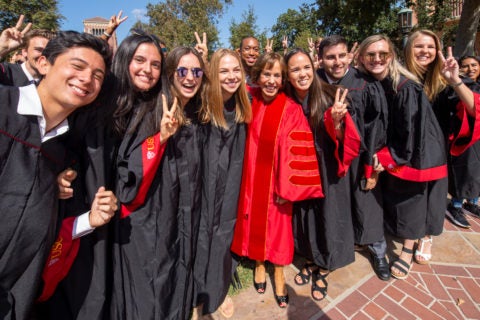 The event underscored Folt's philosophy of putting students at the center of the university, as well as honoring and enabling the contributions of faculty. Students were seated directly in front of the stage at Doheny Memorial Library, and deans representing each of USC's schools were among the first in the procession. Folt left her seat on the stage to pose for photos with cheering student representatives seated at the front of the audience.
"I think everybody is very excited about today, and about you," Trustee Chair Rick Caruso said in his introductory remarks.
The ceremony included salutes from student government officers, community leaders and representatives from the faculty, staff and other key constituencies.
"She has an infectious enthusiasm for students," said Skye Parral, president of Graduate Student Government, to the crowd.
Los Angeles Mayor Eric Garcetti, representing local government, noted the significance of the university installing a woman as its president.
"You ask what history feels like?" he said. "Breathe it in."
Also welcoming Folt to the Los Angeles community was UCLA Chancellor Gene Block, who noted that — despite the two schools' athletic rivalries — "there is much more that unites us.
"We are truly excited that you are here," he said. The remarks echoed Folt's own calls, later in the ceremony, for USC to collaborate more closely with other universities in the region.
Several speakers praised Folt's extensive experience as a higher education leader (she is the former chancellor of the University of North Carolina at Chapel Hill) and student and community focus. Caruso noted that, during the extensive presidential search, Folt quickly stood out among the dozens of candidates.
"When Carol Folt walked into the room and met with the search committee, it was pretty much game over," he said.
New USC president's ambitious agenda
In a key moment of the ceremony, Caruso conferred the responsibilities of the presidency on Folt, and USC Trustee Wanda M. Austin presented Folt with the presidential medallion. Folt then thanked the many members of USC community and acknowledged her presidential predecessors, especially Austin, who preceded Folt as interim president and worked to ease her transition in office.
In her inaugural speech, Folt noted the importance of diversifying access to higher education and positioned USC as an academic center that will be a leader in solving major societal problems. "To be president of one of the nation's leading research universities in one of the most vibrant and growing regions in the world is humbling," Folt said. "But to be given that honor at a time of unprecedented social, economic and technological disruption and discovery is the opportunity of my lifetime.
"I believe deeply in the power of education and exploration to change individual lives and societies. And I have lived it."
Folt pointed out four specific areas in which USC will show its leadership over the next decade:
Expanding affordability, reducing the burden of huge student debt for college graduates.
Furthering sustainability, taking effective and extensive actions to lower the carbon, water and waste footprints of the USC campuses and the L.A. region.
Embracing the urban future, solving problems faced by major world cities and leveraging the power of USC's schools in new ways and in partnerships with USC's neighbors.
Emphasizing areas where USC has a distinct advantage — in creative, entrepreneurial and technological arenas, as well as medical research and treatment in areas including cancer, personalized medicine and Alzheimer's disease.
"We're at our best when we're sparking imagination, and when we're channeling it toward finding solutions that are innovative, sustainable and just," she said.
A better life
In a nod to USC's first-generation, immigrant and international students, Folt underscored her family's own immigrant roots. Her grandparents immigrated from Albania seeking a better life, she said. Could her grandmother have imagined her granddaughter as a scientist and university president? Yes, she could have, Folt said.
"As your president, I want for people from all circumstances and walks of life — including the immigrants and dreamers of today — to have opportunities like this," she said. "I want you to feel as welcome and safe as I feel every day."
Today we're turning a page at USC.

Carol L. Folt
Folt also praised USC's alumni and its strong support from the Trojan Family. She noted the donors whose generosity allows the university to make major improvements, such as renovating the Los Angeles Memorial Coliseum without using public money. The support of generous donors also means USC can provide more than $600 million a year in student aid, tops among leading U.S. private universities.
She also addressed a series of incidents that have kept the university in recent headlines.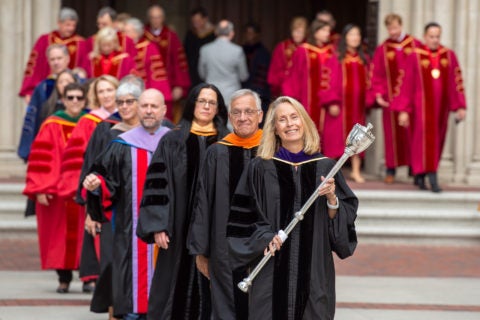 "I'm very confident that we have the expertise, optimism and passion need to build an extraordinary future, but we need that same set of characteristics to move decisively to address the serious issues we have yet to resolve," she said. "These are problems that have harmed our reputation and taken a real toll on the Trojan community."
She noted that the university is looking forward and embracing change. The work of the university's Culture Commission will continue, she promised, and Charles Zukoski, USC's incoming provost, will lead a team to overhaul the university's admissions process.
"Today we're turning a page at USC," she said. "We're starting a journey of exploration that will take this university and all the people who are part of it to amazing places."
She also thanked her family members and former colleagues who traveled to celebrate the inauguration — a ceremony that touched her deeply.
"This whole morning," she said, "has taken my breath away."
Folt's inauguration date coincided with the USC Trojans' football game against Pac-12 rival Utah. To extend the celebration to the university's neighbors, 5,000 tickets were distributed to community partners as well as to local families through the USC Family of Schools and the USC Leslie and William McMorrow Neighborhood Academic Initiative.
The newly inaugurated president oversaw the coin toss before the game and, during halftime, was honored as part of a special performance by the Trojan Marching Band.
---
A thank you to the USC community from Carol Folt
USC celebrated its new president with a slate of student performances, faculty talks and pageantry. Now Carol L. Folt expresses her gratitude in a video for all members of the Trojan Family.