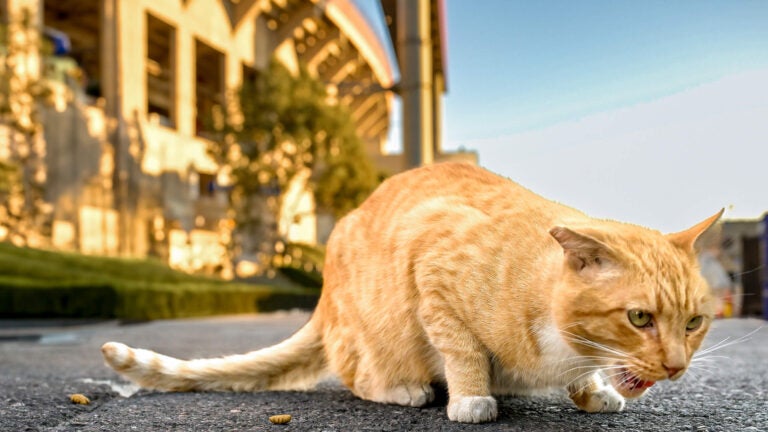 Cats and the L.A. Memorial Coliseum: A purr-fect fit
At the famed stadium, a group of "working" felines keeps rodents in check, charms the staff and occasionally mingles with USC Trojans Football fans.
It's 4 p.m. at the Los Angeles Memorial Coliseum, and security guard Rick Halpin has just finished his shift. As he drives his silver van toward the stadium's main gate, a crew hears the van's familiar sound and knows it's time for a meal break.
Some awaken from naps on the stadium's stairwells in the late afternoon sun. Others emerge from empty boxes, narrow alleyways and other hideouts near Gate 18. Halpin parks his van and shakes a jar of kibble over his head, and they all come running.
These are the cats of the Coliseum, affectionately known as "Coli cats." The motley crew of two to three dozen felines has charmed the Coliseum staff — and not just with their amusing antics. They're "working cats" who keep rodents at bay. In exchange, they're handsomely compensated with food and the run of the venue.
"Our saying is: 'Cats, not rats,'" says Joe Furin, the general manager of the Coliseum, which USC operates. "We are a giant, outdoor, open-air stadium. The opportunity for rodents can be rather high. You would be amazed at how few critters we have thanks to our cat population."
We are a giant, outdoor, open-air stadium. The opportunity for rodents can be rather high. You would be amazed at how few critters we have thanks to our cat population.
Getting the job done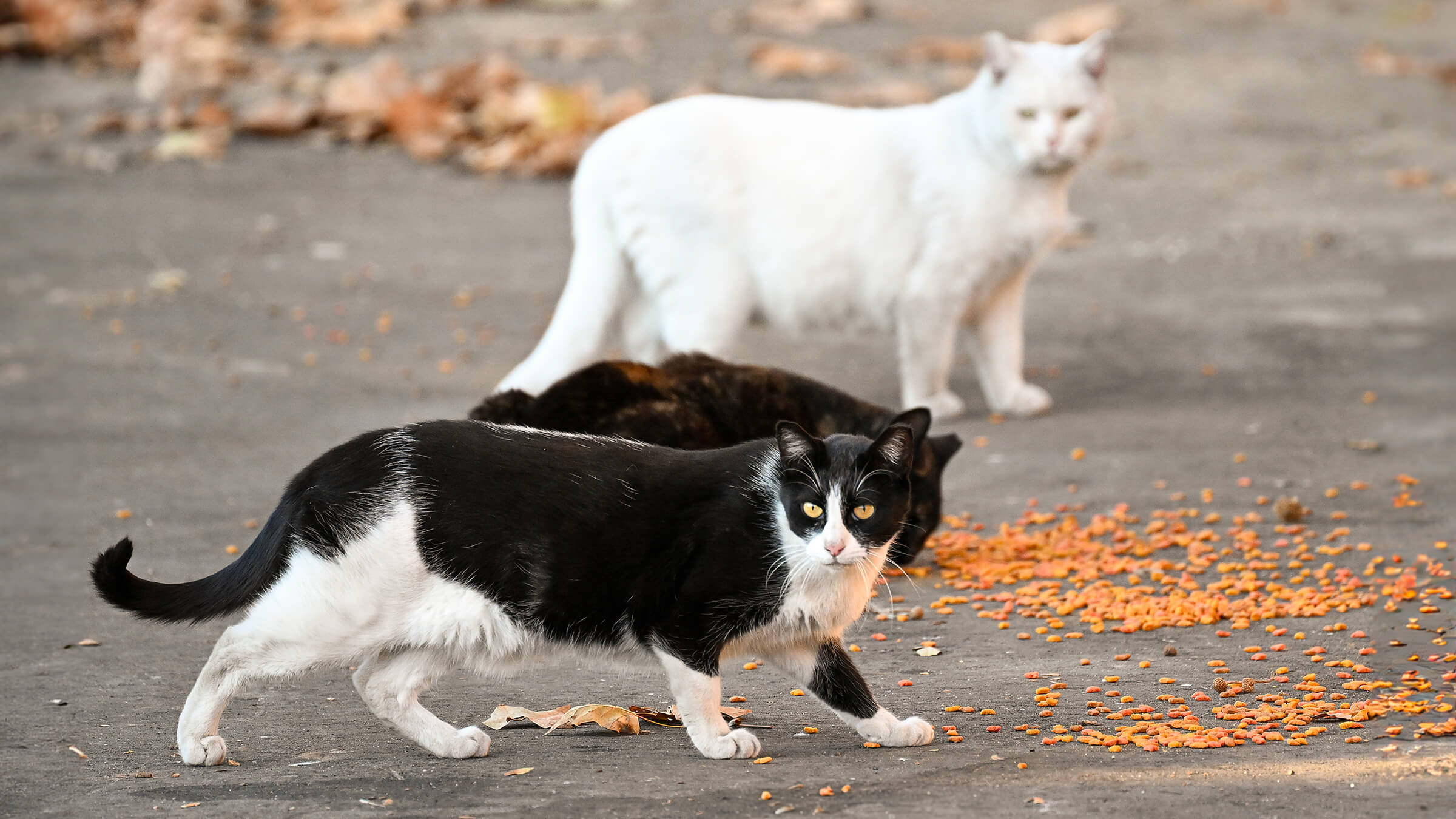 Cats are natural predators of rodents; the mere scent of cats can discourage mice and rats from nesting. Feline prevention provides an eco-friendly alternative to toxic rodenticides. These poisons may accidentally be ingested by wildlife, such as opossums and raccoons, with devastating effects. While the Coliseum has rodent bait stations that prevent larger animals from entering, the stadium's exterminator never finds any rodents inside with cats on duty.
Furin wagers that cats have lived at the Coliseum throughout its 100-year-long history. Since 2015, the stadium has worked with the local nonprofit Kitty Bungalow to keep the feline population in check. New arrivals to the cat colony are humanely trapped, spayed or neutered, vaccinated, microchipped and given flea control before being returned to the stadium — a practice known as TNR (Trap Neuter Return).
Most members of the Coli colony are feral cats, meaning they typically keep their distance from people and tend to hide when the 77,500-seat venue hosts events. But they are friendly with the Coliseum's guard staff members who feed them — especially Halpin.
Halpin is known as the resident "cat whisperer" because the cats have taken such a liking to him. Several cats let him get close and pet them. Wallicia, a black-and-white tuxedo cat, is one of the first cats who emerges from hiding when he shows up with kibble. A white-chested orange tabby that Halpin named Sunny sometimes sits on his lap. Halpin's colleagues have nicknamed him "Catmandu."
"I just love animals," Halpin says. "The cats are part of the place. People like them. They're good for morale."
I just love animals. The cats are part of the place. People like them. They're good for morale.
A safe haven
Because of the TNR collaboration with Kitty Bungalow, litters of kittens are rare among the Coli cats. But some cats, like the gray tabby that Halpin named Mom, evade capture year after year. If kittens are born, Kitty Bungalow works to get them adopted into homes. Halpin himself has adopted three kittens that were born at the Coliseum.
If the kittens are young enough to enter Kitty Bungalow's "charm school," they're socialized with humans. However, adult feral cats are typically deemed unadoptable because they fear human contact. When they wind up in animal shelters, they're often euthanized. Those who live on the streets face other risks, including cars, coyotes and extreme weather.
Putting feral cats to "work" at homes and businesses that provide food and shelter allows the cats to live safely while maintaining independence from human caretakers. Gloria Perez, the community cat program coordinator at Kitty Bungalow, notes that the Coliseum is an ideal place for working cats to thrive.
"Not only does it have great people who take care of them, but it's also huge," Perez says. "If I were to be a cat, I would want to live [there]. You have a lot of snacks — and a lot of places to hide."
Typical cats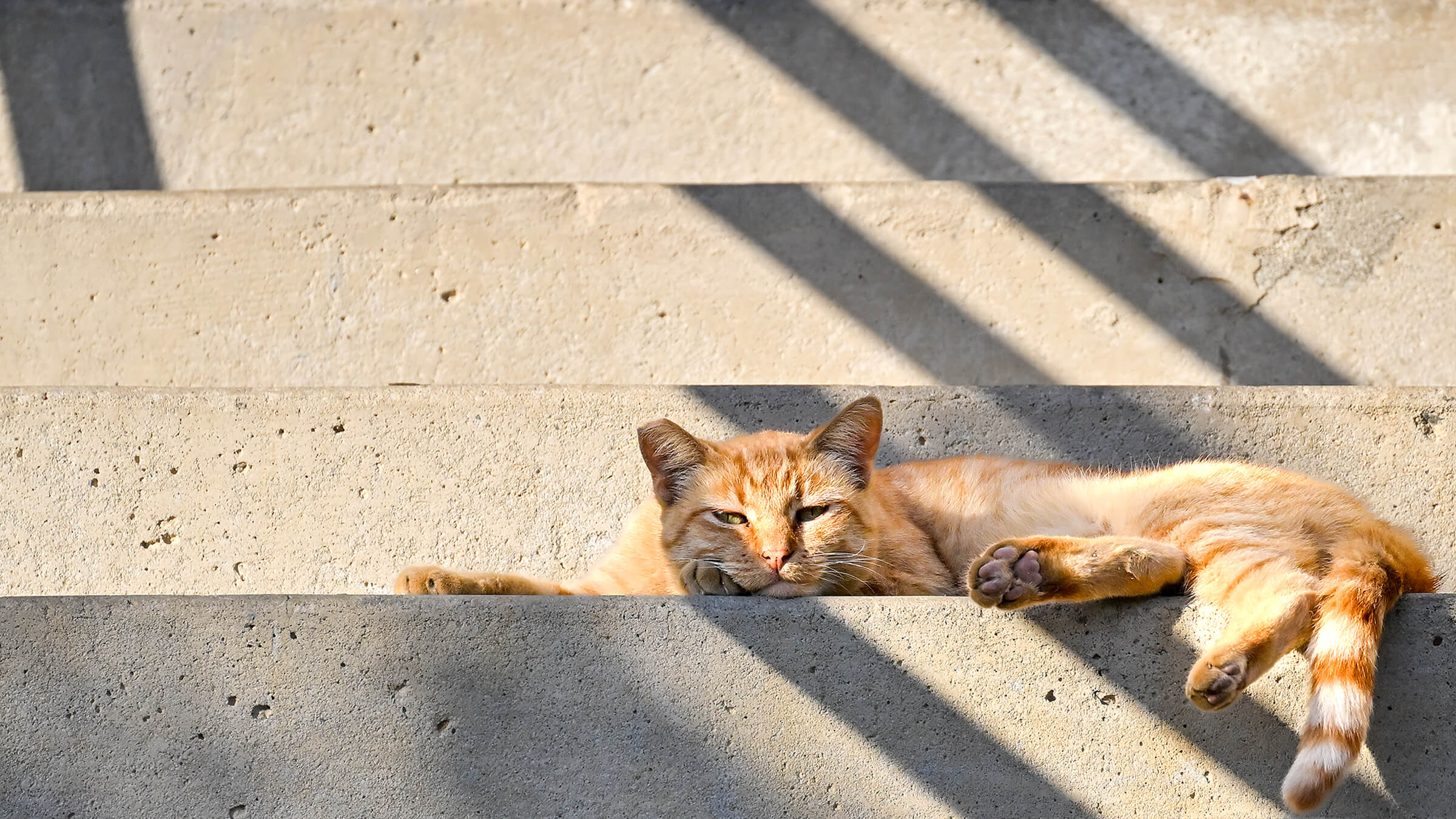 On days when no events are happening at the Coliseum, the cats can be found openly snoozing, bathing themselves and keeping watch. When large crowds fill the stadium, the cats conceal themselves — but they never go far.
"I know where to look for them," says Matthew Buswell, the Coliseum's director of operations, who often spies the cats in nooks and crannies throughout the stadium during football games and concerts. "They look annoyed, like, 'Who are all these people and why are they here?' … That look of just like, 'Why are you bothering me right now?'"
Occasionally, a cat or two will appear on the grounds during a USC Trojans football game (though they've yet to turn up on the field during play).
"We have had people complain," Furin says. "They're at a game. They see a cat. They write us, 'Why don't you do something about this [animal]?' The truth is, we prefer them on-site."
"We love our cats," he adds. "They're living the high life."