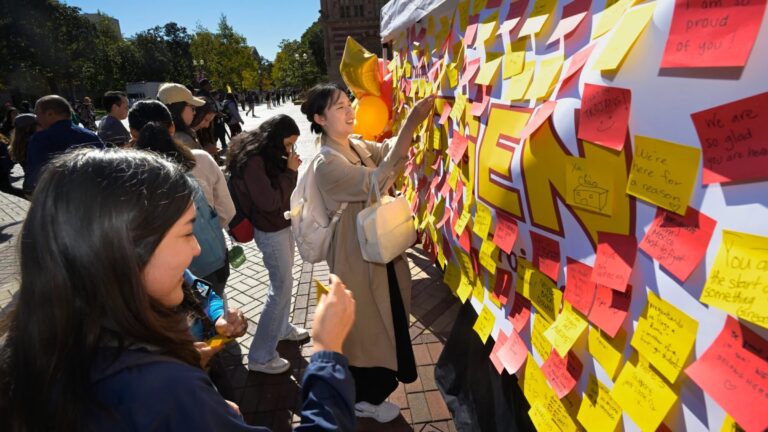 First-generation students gather to celebrate their hard-earned journey to USC
Event in Hahn Plaza features the USC Trojan Marching Band and written messages of inspiration.
During Wednesday's honoring of National First-Generation College Celebration Day, USC senior Evelyn Marquez was among the students who wrote a personal message of inspiration on a small, colorful piece of paper. These messages, supplied by attendees of the event, were added to a makeshift bulletin board set up for the day in Hahn Plaza.
Marquez wrote the motto her immigrant mother would often repeat to her in Spanish: "Preguntando se llega a Roma," which in English means, "By asking, you get to Rome."
The student shared how she has taken her mother's words to heart as she concurrently pursues a Bachelor of Arts degree in non-governmental organizations and social change from the USC Dornsife College of Letters, Arts and Sciences and a Master of Public Policy degree from the USC Price School of Public Policy.
"Being very passionate about what I'm doing has really helped me figure out a path," Marquez said. "It's definitely been a learning curve every single year. But it's about being actively curious and asking questions. It's not going to just come to you and be served on a silver platter."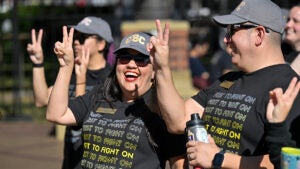 The national celebration of first-generation college students is held each year on Nov. 8. USC marked the occasion with a noontime event presented by the First Generation Plus Success Center, the First Generation Student Assembly, the Norman Topping Student Aid Fund and USC Admissions. It included spirited performances by members of the USC Trojan Marching Band, who shared frequent high-fives with the crowd. Attendees also received T-shirts emblazoned with the slogan "First to Fight On."
"Our students are breaking barriers and filling our institutions with their brilliance, rich cultures, backgrounds and histories," said Alejandra Delacruz Hong, director of Student Equity and Inclusion Programs' Trojan Success Initiatives, who greeted students at an information booth during the event. "They're just making it happen for themselves and their families."
Being first in their families takes work
USC defines first-generation college students as students whose parents do not have four-year degrees. Of the 3,633 first-year students enrolled in fall classes, a record 25% are first-generation. In addition, 28% of fall transfers are first-generation college students.
"If you don't come from a community or a space or a family where other people went into higher education, you don't know a lot of times what it means," Hong said. "Our students have all sorts of questions like: 'What does it mean to do research?' 'What's a fellowship?' 'What are office hours?' 'How do I interact with my professors?' That's what we try to provide, and we collaborate with several campus partners to make sure students have what they need to succeed."
USC's First Generation Plus Success Center was announced in 2020 and opened its doors this fall on the second floor of the Ronald Tutor Campus Center. It serves as a resource hub and aims to create a culture of belonging and inclusion for first-generation students as they transition into college life. The center promotes campus engagement, community building and visibility, with a focus on the retention and success of first-generation students.
Students find different paths to USC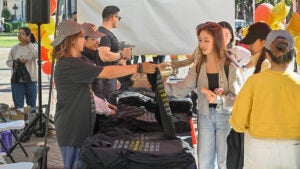 As senior Gabriel Do of the USC Viterbi School of Engineering waited in line to get a T-shirt at the event, he talked about the "nerve-wracking" journey he had applying for college while in high school in San Jose, Calif.
"I had friends whose parents had gone to college, but I mostly had to figure things out on my own," Do said. "But it worked out, and my parents were pretty ecstatic when I got accepted."
Do hopes other first-generation students will be encouraged by his experience and advises them to find the support networks they need.
USC Dornsife senior Alicia Camarena-Millan was also among those who stopped by to leave a message on the bulletin board set up near Tommy Trojan.
"I feel very proud of myself," said Camarena-Millan, who, by coincidence, had just written about her experience of being a first-generation student earlier in the day as part of the application process for a volunteer position. She transferred to USC last fall after attending Victor Valley College in Victorville, Calif., and will begin work on a master's degree after graduation in May.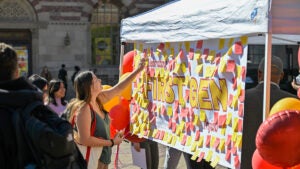 "I loved being a transfer student because it made the whole process a little bit easier," Camarena-Millan said. "I was prepared."
Some of the other messages students, faculty and staff left on the bulletin board included "Fighting on for my family," "Making it easy for my bloodline," "Don't be afraid to [be] the one to pave the way" and "You're a trailblazer!"
A Trojan already paying it forward
USC Dornsife senior Andrew Mecatl has made it part of his mission as a Trojan to help his fellow first-generation classmates get the most out of their collegiate experience.
Mecatl, who is also earning a Master of Studies in Law degree from the USC Gould School of Law, says he initially didn't think about how being a first-generation student would affect his experience as a Trojan until he started classes at USC.
"Once I stepped foot onto campus, I had a realization that people come from different backgrounds and certain groups — certain populations — do have the upper hand and privilege," he said. "They may have had access to resources that students like me do not have."
Mecatl did not want to stand by and accept what he saw as an "unfair situation," so he began to work with others on the establishment of the First Generation Student Assembly. The student group's trial run began this fall; its main goal is to provide social and professional events for first-generation students, to advocate for them in university policymaking, and to increase visibility of these students on campus.
"One of the biggest things I have promised myself is to make sure that with every door that I open, that door remains open for other people to follow behind," Mecatl said. "I think about the other students who graduated before seeing this opportunity come to life. I imagine what they would have experienced if they had something like this during their career at USC."