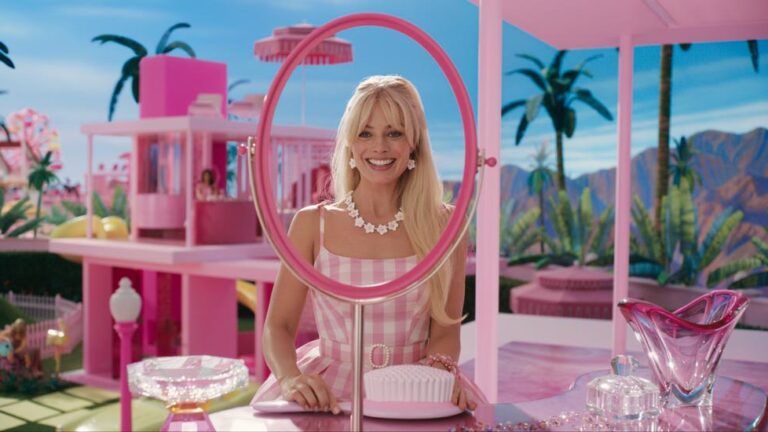 From the Malibu Dream House to the silver screen, Barbie's legacy endures
As Barbie, the iconic doll with a wardrobe that spans generations, prepares to make her big-screen debut, USC experts delve into the lasting legacy of the beloved — and for some, scorned — Mattel toy, fashion icon, and cultural touchstone that has endured as an American symbol for ages.
Contact: Nina Raffio, raffio@usc.edu or (213) 442-8464 or uscnews@usc.edu
Barbie is, and can be, anything you want her to be
"Barbie is sort of a mythic archetype," said M.G. Lord, associate professor of English at the USC Dornsife College of Letters, Arts and Sciences, in a recent Q&A session. "She's like a Space Age recasting of a Stone Age goddess figure. Even if all of these things are contradictory, it really doesn't matter because she's such a wonderful, three-dimensional Rorschach test onto which you can project whatever your beliefs are."
Lord is author of Forever Barbie: The Unauthorized Biography of a Real Doll (Morrow and Co., 1995) and host of a forthcoming LAist podcast on Barbie.
Contact: marylord@usc.edu
For decades, Barbie has inspired kids to dream big
"When kids play with Barbie dolls, they believe that they can be anything when they grow up, from a fashion model, chef, or astronaut. Barbie embodies the ideal that you can achieve anything with style and fun," said Therese Kujawa Wilbur, a former Barbie brand manager and senior international marketing director at Mattel.
"In the marketing world, we call this an aspiration positioning. This is a key brand strategy because Barbie can consistently evolve with current culture and stay relevant. The first ever theatrical release of a Barbie movie is a marketing milestone. The Hollywood A-listers involved in the movie will connect the brand to authentic glamour and star power," she said.
Contact: therese.wilbur@marshall.usc.edu
Mattel needs moms. The film can help win them back.
"This movie targets moms. It evokes nostalgia about her own childhood experience with the brand but it also assures her that Barbie is a safe space for her child. It wasn't that long ago that Millennial moms were rejecting Barbie. They felt she was objectified and too focused on fashion. They worried she projected harmful notions about body image," said Laurence Vincent, an associate professor of the practice of marketing at USC Marshall and an award-winning leader in the field who has developed strategies for some of the world's most beloved brands, including Mattel.
"Mattel has worked for years to win moms back. They changed Barbie's sculpt. They varied the skin tones and hair styles. And they featured Barbie in much more diverse settings and occupations. This movie can be seen as the pinnacle of that effort."
Contact: laurencv@marshall.usc.edu
Barbie's symbolism is a focus of criticism
"Inspired by Bild Lilli, an erotic German novelty doll marketed to adult males that was based on a cartoon character depicted as obsessed with getting money from men, Barbie has both transcended those roots and remained inevitably tied to them," said Diana Blaine, teaching professor of gender and sexuality studies at USC Dornsife.
"Unlike the 'action figure' of G.I. Joe, the action associated with Barbie was purchasing, buying clothes and shoes in order to dress 'her' as the ideal object of the male gaze. That gaze became sublimated to the exciting dynamic of capitalist acquisition for young girls, which helps to explain Ken's relative unimportance in the Barbie universe. Ken, whose existence is necessary to produce the heterosexual desire Barbie embodies, cannot himself be objectified without feminizing him."
"As liberal feminists pushed back against sexism over the decades, agitating for increasing opportunities in the public sphere, Barbie began to evolve as well, an adaptation to keep market share in the face of mounting criticism. Hence the awkward mutation of a former gold-digger toy into an astronaut or a doctor. Attributing such masculine professionalism to a sex object would be impossible were it not for the unstable nature of symbols—particularly a symbol as slippery as Barbie, that seeming reflection of womanhood for which there is no true original. She can be, and is, anything we want her to be, yet she is also inextricably connected to the historic disempowerment of women. The new film must navigate these inherent paradoxes, including nostalgia for childhood, competing constructions of femininity, ongoing sexist social structures, and the problem of attributing agency to a toy—especially a female one."
Contact: dblaine@usc.edu
Confronting Barbie's complicated history through film
Soraya Giaccardi, a senior researcher at the USC Annenberg Norman Lear Center's Media Impact Project, expects the summer blockbuster to confront Barbie's complicated history and serve as an important vehicle for inspiring discussions around beauty standards, body norms and gender roles.
"Our research at the Norman Lear Center shows that nuanced depictions in scripted entertainment can positively shift audience attitudes, beliefs, and behaviors, and it does so best when it doesn't feel like sitting through a lecture. Gerwig's Barbie is likely to generate discussion by packaging powerful social commentary in a fun, colorful, and approachable manner," she said.
Contact: giaccard@usc.edu
Barbie's Malibu is a California cultural icon
Bill Deverell, a renowned historian and expert in the American West, breaks down the role of Malibu, Barbie's home, in the cultural consciousness and iconography of California.
"The history of Malibu is a lot more interesting than the caricatures attached to the place. But, truth to be told, those are interesting, too. It's a famed backdrop to motion pictures. It's nearly synonymous with the jet-set fast lives of the Hollywood rich and famous (and, increasingly, their 'tech bro' counterparts). Gidget came from here, the real-life-turned-movie-icon teenager who helped launch the era of post-World War II modern surfing with lighter, faster boards and that endless summer of life on the beach. Chevrolet named a car after the place, for goodness sakes," he said.
"And the fires: the Malibu fires that burn with increasing regularity, flashing down those canyons, burning everything (that always seems to be re-built atop the ashes, just waiting for the next one)."
Deverell is a professor of history, spatial sciences and environmental studies at USC Dornsife and director of the Huntington-USC Institute on California and the West.
Contact: deverell@usc.edu
Through Barbie, Mattel seeks to establish its franchises as a dominant force in the industry
"Mattel is pursuing a franchise-forward playbook akin to Marvel and Disney, aiming to evolve into an IP powerhouse with a diverse range of products and services that capitalize on their brands, moving beyond dependence on toy sales for valuation," said Aparna Pande, adjunct professor of entrepreneurship at the USC Marshall School of Business.
"CEO Ynon Kriez has successfully assembled a top-notch team of entertainment and marketing experts, driving the larger vision of creating billion-dollar franchises through cultural relevance. The initial stages of their success are evident, as Barbie, after decades of taking a back seat, has resurged into the collective conversation," she said.
Contact: aparna.pande@gmail.com or communications@marshall.usc.edu
Additional experts
Karen Tongson is a professor of gender and sexuality studies, English and American studies and ethnicity at USC Dornsife. She is available to discuss Barbie (and Ken) as a means of exploring how we construct gender, with the characters in the film discovering what it can mean in different worlds and contexts.
Tongson has appeared on multiple podcasts to discuss issues of LGBTQ+ culture and gender issues.
Contact: tongson@usc.edu
###
MARGOT ROBBIE as Barbie in Warner Bros. Pictures' "BARBIE," a Warner Bros. Pictures release. (Photo/Courtesy Warner Bros. Pictures)