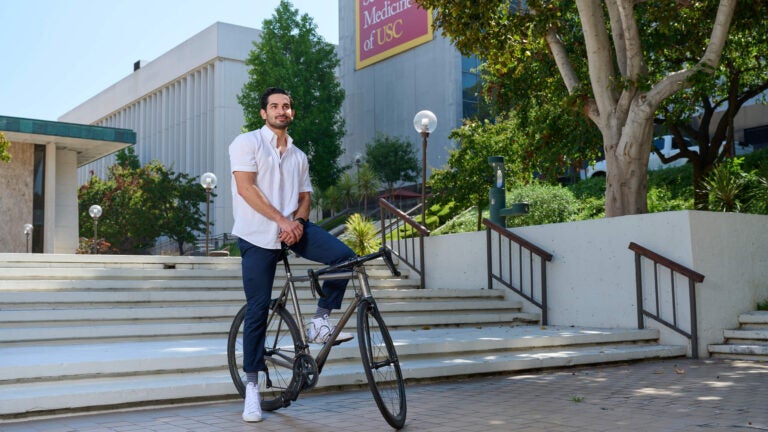 How the One Bicycle Foundation helps orphans around the world get to school
Two students from the Keck School of Medicine of USC created a path to education by providing bikes to orphans worldwide.
The One Bicycle Foundation website has a running tally: Three continents served, nine countries, 20 schools, 1,072 bicycles delivered and 5,360 lives changed. The numbers for the nonprofit, which provides bikes to marginalized communities across the globe, grow daily.
While these numbers are impressive, so is the story behind them. Sebouh J. Bazikian '24, a student at the Keck School of Medicine of USC, was in high school when he started his journey into philanthropy. A decade later, he and his team continue to send bicycles worldwide, providing access to education, careers and health care. As part of their work, they're also teaching others how to organize and benefit others.
"Running a nonprofit or being involved in philanthropy doesn't have to be a full-time job," Bazikian says. "There are so many resources to help you get started, and even the simplest ideas can have a relatively large impact."
The grain of an idea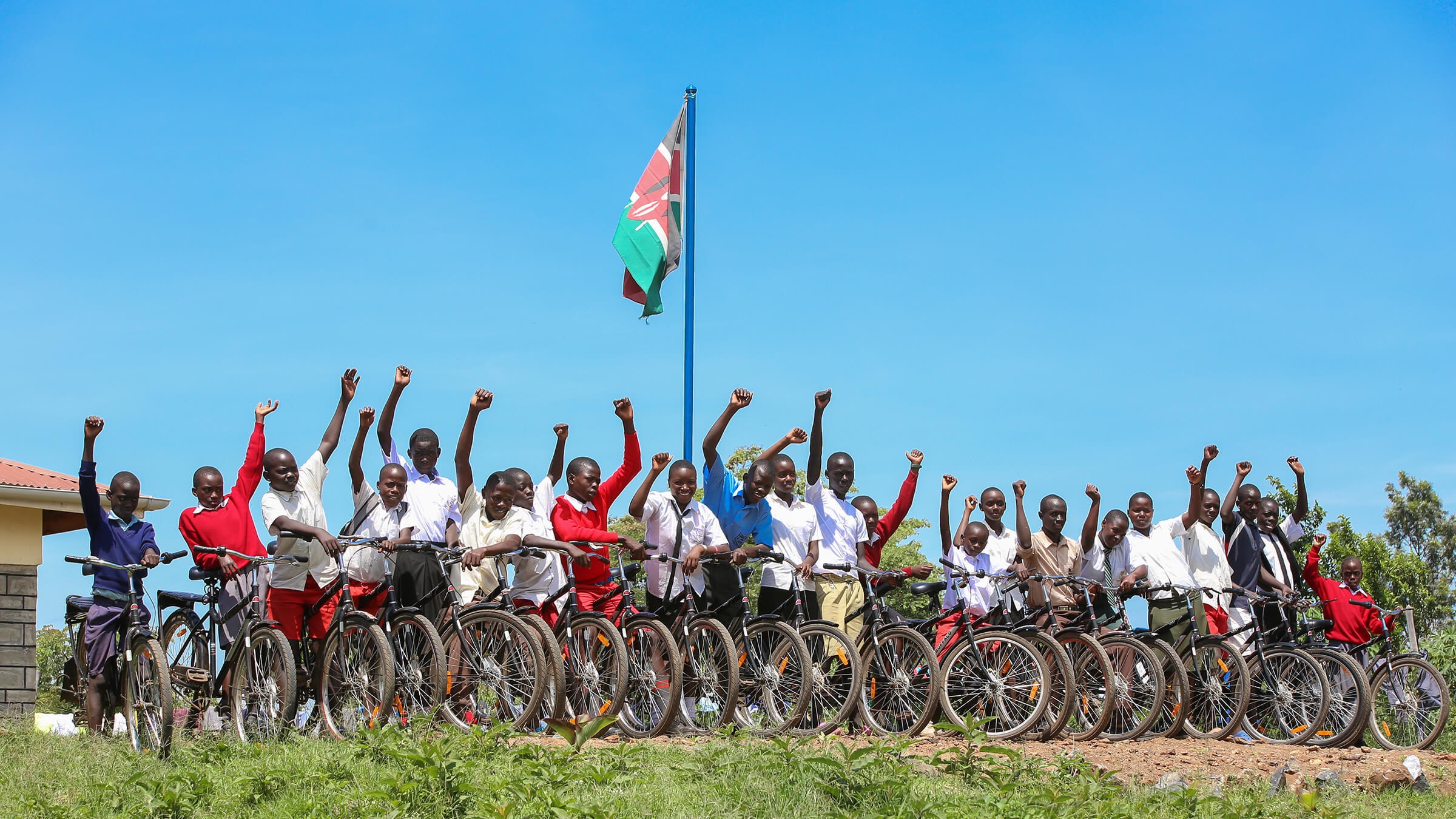 In 2013, a 16-year-old Bazikian was chatting with Carolyn Rowley, a family friend. Rowley was the director of Kenya's Machao Orphanage, and she mentioned that children walked four hours round trip from the orphanage to school.
Bazikian had an idea: "I've always been a passionate cyclist," he says. "So, providing the orphans with bicycles seemed like an ideal solution." He didn't expect that by coming up with the concept, he'd suddenly find himself in the driver's seat for making it happen.
Bazikian enlisted the help of family, friends and his hometown community in Glendale. A core team, including Bazikian's younger brother Shawnt and childhood friend and Keck School of Medicine alumnus Raffi Akay '23, came together, forming Bikes 4 Orphans.
"Growing up, we were both into cycling," Akay says. "Seb's vision of combining a personal passion with helping others resonated with me."
Though Bazikian originally anticipated raising funds for a couple of bikes, Rowley had a different take: All 43 students would get bicycles, or none would. Bazikian realized she was right, so he put all his effort into making sure everyone would receive bikes. "Sometimes you need an external influence and motivation to push you to achieve what you're capable of," Bazikian says.
Sometimes you need an external influence and motivation to push you to achieve what you're capable of.
The trio raised money by organizing bikeathons, seeking business sponsorships and presenting at Rotary Clubs and other similar organizations for funding. A breakthrough came when a friend suggested that they work with the charity Focus on Children Now (FCN).
"FCN donates new clothing, shoes, toys, and hospital beds. They also build playgrounds and provide daily meals for kindergarteners as well as health screenings for children in Armenia," explains Bazikian. Bikes 4 Orphans integrated their projects within FCN, using its nonprofit status to facilitate international money transfers. (In 2014, Bazikian officially partnered with FCN.)
Small changes, big differences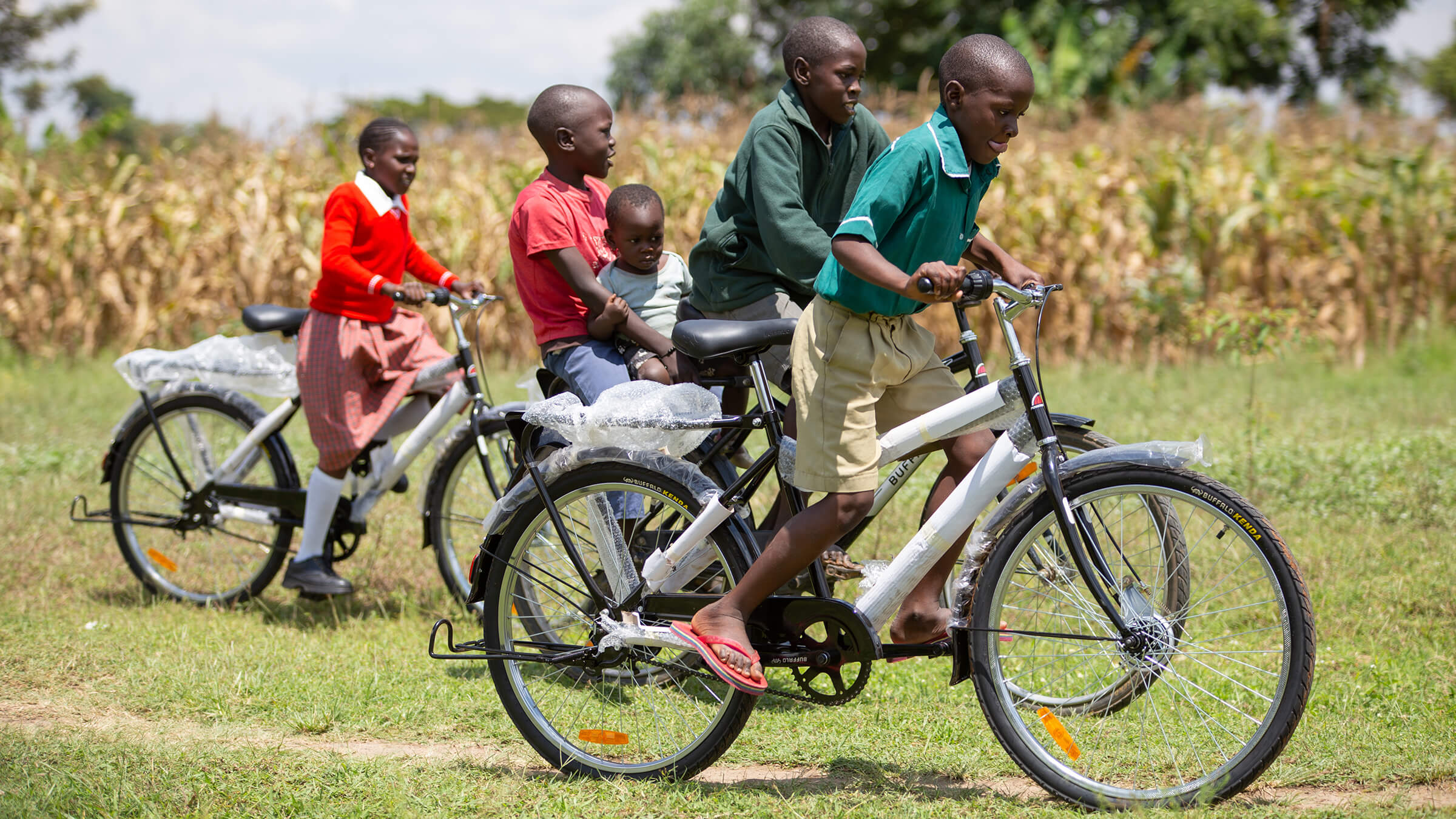 By the time they'd surpassed their target of delivering more than 43 bikes to the orphanage, the team was hooked. "It's amazing how effective and simple the process can be," Bazikian says of philanthropic efforts. "Bikes are sustainable, don't require gas, and maintenance is low. Plus, cycling reduces commutes by up to 75%." The foundation's follow-up surveys found that for students who received bicycles. attendance increased by 25%, and grades also went up by 49%. As an added bonus, Bazikian says, older students are able to use their bikes to find jobs and go to work. Girls who use their bikes are better able to avoid harrassment during their commute.
Akay witnessed firsthand the difference Bikes 4 Orphans was making during a trip to Armenia in 2014. "The small villages outside the central city, such as Dilijan and Yerevan, are poverty-stricken and have minimal access to any sort of infrastructure or education," he recalls.
Bikes are sustainable, don't require gas, and maintenance is low. Plus, cycling reduces commutes by up to 75%.
The trip also had an impact on Bazikian. "A lot of the children were orphaned or given up by their parents, and bicycles were the biggest gift they'd ever received," he says. "Some of the students were also disabled, so we bought them tricycles that they could ride."
The elation they witnessed followed them home. "Seeing that giving students bikes and access to education was a key to long-lasting change was very fulfilling," Akay says.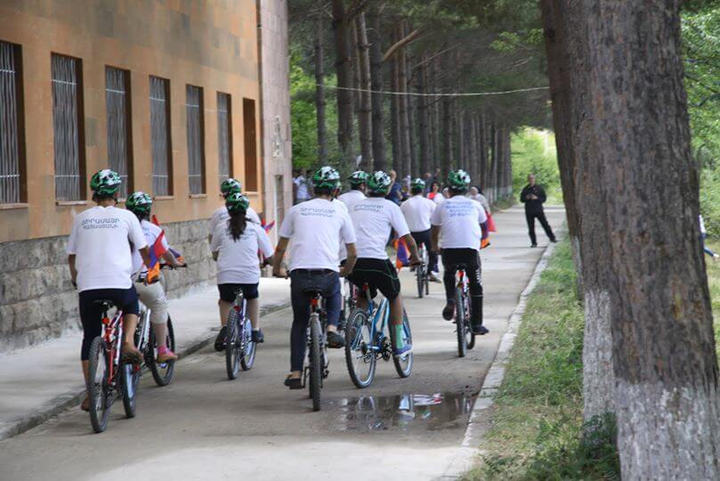 By 2019, the team was ready to become an independent nonprofit apart from FCN. This involved a name change from Bikes 4 Orphans to One Bicycle Foundation and official titles, with Bazikian as co-founder and CEO, his brother Shawnt as co-founder and president, and Akay as the vice president of operations. Since then, they've raised more than $100,000 and have gained valuable insight on the logistics of running a foundation.
"We know how to deliver bikes to areas where that can be difficult and have local suppliers," Bazikian says. "Our fundraising campaigns have become effective and efficient in securing constant donations, such as those generated by monthly donors."
Without needing as much required hands-on time, he says, "We can let the work do its magic."
Lending a hand locally
One Bicycle has also branched out to support the underserved in Los Angeles. In 2017, Bazikian met Kathryn Barger, a member of the L.A. County Board of Supervisors, at a charity event. Barger mentioned that thousands of L.A. County foster children needed school transportation. She wondered if One Bicycle could help them.
Drawing on his experience of cycling to class, Bazikian suggested giving bicycles to Pasadena Community College students in the foster system. "Bikes solve the one-mile problem," Bazikian says. "Public transportation often only gets you so far, then you're left facing that one last mile from the bus stop to the classroom." This past summer, One Bicycle donated 24 bikes to students in the foster system — including some who had aged out — ages 16 to 25.
Bikes solve the one-mile problem. Public transportation often only gets you so far, then you're left facing that one last mile from the bus stop to the classroom.
"One Bicycle's collaboration with PCC and myself to support foster youth has been uplifting and inspiring," Barger says. "The bicycles they provide youth are a tool that equips them to continue their education, pursue a career and achieve their dreams."
Looking ahead
Over the years, Bazikian has spoken at various local schools about One Bicycle. When more students began expressing interest in the foundation, One Bicycle developed the Young Philanthropists Program, giving teenagers the resources and training to get started in the world of fundraising.
"It's a way of outsourcing fundraising and teaching students the skills for creating something bigger in the future," Bazikian says. "It's impactful for people to see teenagers helping other teenagers."
Akay says the skills he's learned from starting One Bicycle continue to serve him well. "I went from being a high school kid with no idea about dealing with finances to attaining sponsorships, to organizing and distributing finances," he says. "There's a lot of business acumen you pick up when running an organization like this."
Despite being busy with college, the team behind One Bicycle Foundation has continued to gain momentum — thanks, in part, to USC alumni who have donated to the foundation and given advice.
Bazikian notes, "The Trojan alumni network always goes above and beyond to help one of their own."