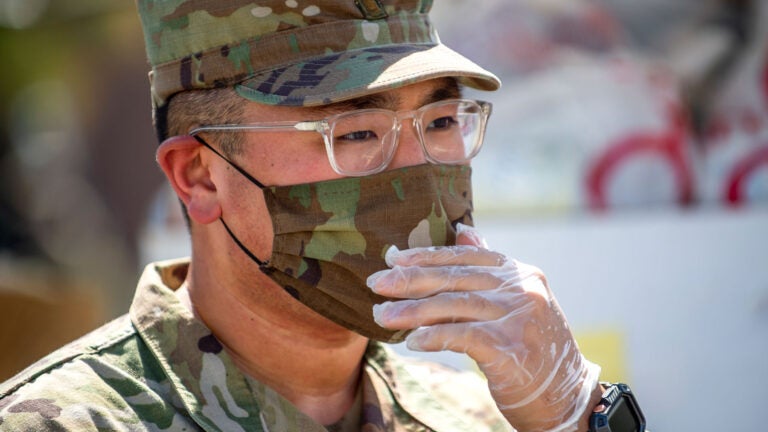 USC master's grad and National Guardsman serves those in need during COVID-19
A commissioned Army officer and recently graduated USC student, Lt. Justin Lee is on the front lines of California's pandemic response.
When his coursework at USC went online in mid-March, Lt. Justin Lee drove to his family home in Oregon with his younger brother. He'd been there just three days when his Army National Guard unit was activated by Gov. Gavin Newsom in response to the COVID-19 pandemic. Lee drove back to Los Angeles without stopping.
Since then, he has been part of a California National Guard humanitarian mission that has served and distributed 15 million meals.
"The service organizations were heavily impacted by the pandemic," Lee said. "Before COVID-19, these agencies were primarily manned by volunteers. Being a vulnerable and at-risk population, the volunteers needed to stay home. We were called in to help, and the need has grown many times over."
Justin Lee: Service in the military and the community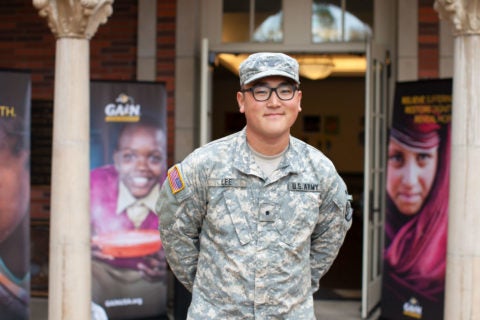 Lee was first in his family to join the U.S. military. As an undergraduate student, he participated in the USC Army ROTC program while volunteering at a local homeless shelter and supporting a student organization that helped resettle Syrian refugees.
He graduated with a bachelor's degree in international relations and commissioned in 2017, then joined the California Army National Guard as an adjutant general officer with the 250th Expeditionary Military Intelligence Battalion.
Rather than immediately pursuing a career on active duty, Lee chose to stay at USC and pursue his master's in social work with a concentration in military social work. This academic year, he was an intern at L.A. Mayor Eric Garcetti's Office of Military and Veteran Affairs, where he gained a new perspective on military service.
"Many veterans face a plethora of challenges surrounding employment, higher education, mental health and general well-being," he said. "It became clear to me that my military-connected community has frequently overlooked barriers while they were wearing uniforms and as they've transitioned to civilian life. I believe that, as a nation, we must take steps to better fulfill our solemn duty to care for all those who have served and continue to serve our country."
National Guardsman and recent USC grad takes action during COVID-19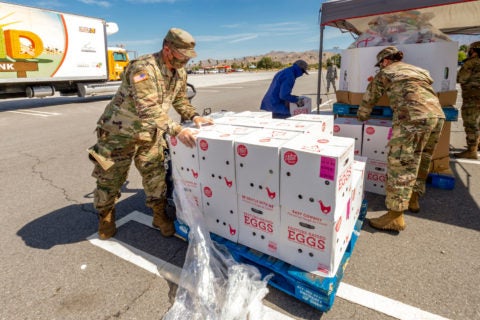 Since he was activated on March 21, Lee has been one of more than 46,000 Air and Army National Guard professionals on the front lines of the COVID-19 response.
In recent weeks, Lee's work has been focused at a tactical operations center, where he oversees platoons on humanitarian missions throughout the region. Lee understands this mission may carry well beyond graduation; his degree is among those virtually conferred on May 15.
"I hope that our communities stay resilient, keep depending on one another and collaboratively practice safety guidelines," he said. "I'm a National Guardsman, a Los Angeles resident and a USC student, and I feel eternally grateful for the commendable leadership that Gov. Newsom, Mayor Garcetti and President Carol Folt have shown throughout this pandemic. Although I am constantly aiming to have a realistic and practical outlook, I will continue to be optimistic as well."